Fifth Harmony – All In My Head (Flex) | Live a The Voice Australia
Il secondo singolo scelto dalla girl band Fifth Harmony si intitola "All In My Head (Flex)" ed è stato inviato alle radio a partire dal 7 giugno. La traccia è stata scritta da Ally Brooke Hernandez, Normani Kordei, Dinah Jane Hansen, Lauren Jauregui, Camila Cabello e Willie Maxwell. Se per "Work From Home" le ragazze hanno chiesto l'aiuto di Ty Dolla $ign, per il loro secondo singolo è stato invece scelto il rapper Fetty Wap. Dunque, la formula di "Worth It" e "Work From Home" è rimasta invariata, della serie: "squadra che vince non si cambia".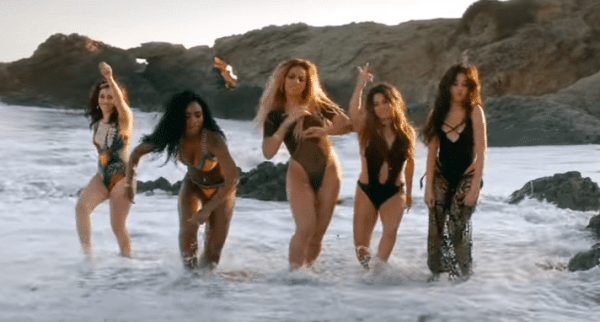 Presentato con una performance nell'aftershow dei BBMA, il brano presenta un sound raggae friendly (più pop che raggae ovviamente, diciamo che quelle raggae sono venature) molto catchy ed attrattivo, un sound diverso da quello di "Work From Home" ma ugualmente potente! Qui tutte le ragazze hanno visibilità, dato a nostro avviso molto positivo. Anche la performance è stata buona, ma purtroppo non è più disponibile alcun video.
Rilasciato l'audio in studio della traccia qualche giorno dopo rispetto alla performance con cui le ragazze l'hanno presentata invece al grande pubblico.
Ecco invece il video del brano, in cui le 5 bellezze si divertono e scatenano in una spiaggia con mise abbastanza succinte ma nulla che appaia fuori luogo in un contesto del genere.
Prosegue, nel frattempo, la promozione della canzone. L'ultimo step delle ragazze le ha portate addirittura in Australia, e nel particolare all'interno di The Voice Australia. Ottima la performance proposta per il brano a nostro avviso, e voi che ne pensate?
Testo
Flex, time to impress
Come and climb in my bed
Don't be shy, do your thing
It's all in my head
I wanna flex with you baby
I'm tryna chill with you
Throwing bands at you
While we flexing boo, baby
Show me different moves
And I love your groove
Cause it's meant to be baby
Ay, make history baby
And you the one for me
And I'm the one for you
So come flex with me, baby
Curtains like life's closing in all around us
Dimming the lights just so that they don't blind us
So tongue in cheek when we're laying on roses
But you're touching my skin and you're leaving me hopeless
I wanna feel you un, feel you under my body
I wanna feel you un, feel you un
Flex, time to impress
Come and climb in my bed
Don't be shy, do your thing
It's all in my head
Flex, time to impress
Come and climb in my bed
Don't be shy, do your thing
It's all in my head, yeah
Curtains like waves closing in all around us, yeah, yeah, yeah
Dimming the lights just so that they don't blind us, ha, nah, nah
So tongue in cheek when we're laying on roses
But you're touching my skin and you're leaving me hopeless
I wanna feel you un, feel you under my body
I wanna feel you un, feel you un
Flex, time to impress
Come and climb in my bed
Don't be shy, do your thing
It's all in my head
Flex, time to impress
Come and climb in my bed
Don't be shy, do your thing
It's all in my head, yeah
I want you to come flex with me, baby
You got what I want and I need it
Say you're a bad motherfucker and I'm sayin'
They can't play with us and you know it
I take a hundred thousand and blow it
Ay, another hundred thou and I love her
Ay, come flex with Zoo 'til it's over
Ay, come flex with Zoo 'til it's over, yeah babe
I wanna feel you un, feel you under my body
I wanna feel you un, feel you un
Flex, time to impress
Come and climb in my bed
Don't be shy, do your thing
It's all in my head
Flex, time to impress
Come and climb in my bed
Don't be shy, do your thing
It's all in my head, yeah
I wanna flex with you, baby
Hey, it's all in my head
Zoovier, baby
It's all in my head
I wanna flex with you, baby
It's all in my head
Baby
It's all in my head