Frank Ocean – Blonde | Recensione CD
A sorpresa, a distanza di 4 anni dall'acclamatissimo Channel ORANGE, Frank Ocean è tornato: nella notte tra il 20 e 21 2016 agosto è stato rilasciato Blonde, un disco la cui pubblicazione è stata avvolta da un velo di mistero visto il succedersi rumors per circa due anni e l'uscita pochi giorni fa di un visual album chiamato Endless. Il disco viene dato in esclusiva ad Apple Music (in vendita anche su iTunes), ma viene anche inserito come allegato ad una rivista intitolata Boys Don't Cry, disponibile in alcuni Pop Up stores a Chicago New York Los Angeles e Londra.
È necessario premettere che recensire e comprendere i brani di Frank Ocean è abbastanza complicato: infatti, i riferimenti sociali, temi ed esperienze personali oltre a beat sempre particolari e raffinati rendono l'interpretazione e l'apprezzamento molto vario da persona a persona e per capire pienamente i suoi testi è necessaria una vera e propria riflessione. Quindi se amate il pop più commerciale, l'hip-hop degli ultimi tempi o anche l'R&B più classico questo Blonde potrebbe non fare per voi.
L'album inizia con le sue contraddizioni già dal titolo, il quale infatti può essere chiamato sia Blond che Blonde, al maschile o al femminile, sicuramente un riferimento alla bisessualità dichiarata dell'artista; il CD contiene 17 tracce, con una maggiore presenza di midtempo e meno skits rispetto al debut album, i temi variano dalle esperienze personali del cantante, l'amore, il desiderio sessuale, l'uso di stupefacenti e con qualche riferimento ai temi sociali di oggi. I featured artists sono dei grandi nomi della scena mondiale Beyoncè, Kendrick Lamar e Andrè 3000 i quali però non sono accreditati come featured veri e propri ma citati solo a fine disco assieme ad atri artisti tra i quali Kanye West, Pharrell e David Bowie.
Se vi aspettavate un progetto sulla falsa riga del precedente rimarrete probabilmente delusi dato che in questi inediti si intravede solo in parte la magia e i suoni di Channel ORANGE, Frank ha voluto variare proprio sound pur rimanendo se stesso, innovandosi e non cercando di ripetere l'irripetibile, caratteristica che sulla scena musicale odierna manca a molti. Di seguito analizzeremo la tracklist track by track.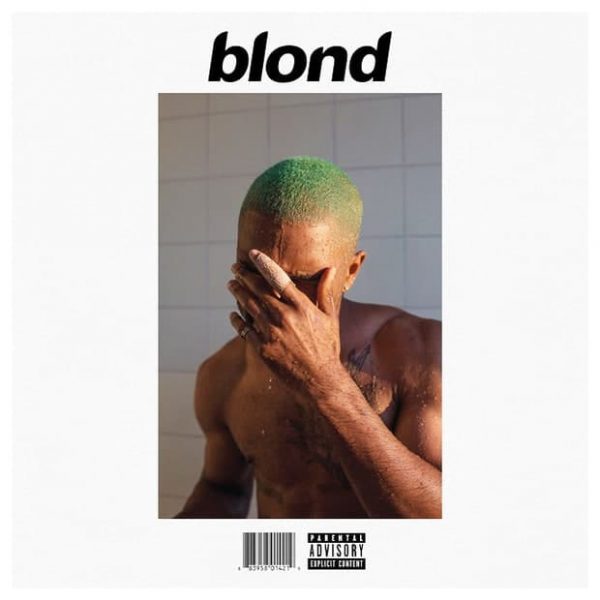 NIKES: Lead single uscito il giorno prima con tanto di video psichedelico. Il tema principale è la critica alla società materialistica ed edonistica, le scarpe Nike sono usate come metafora per indicare i soldi, quelli che i suoi partner vogliono e per cui provano ad avere una relazione con lui. Il pezzo cita anche l'assassinio di Trayvon e le morti dei rappers Pimp C e A$AP Yams.
Il brano è una slowtempo con un beat molto particolare e moderno che la rende comunque potente; Frank canta la prima parte con una voce così modificata da sembrare a tratti femminile, per poi tornare  al suo tono naturale per concludere la traccia. Il beat e la voce modificata si mescolano alla perfezione rendendo Nikes uno dei pezzi di maggiore impatto di Blond. Alla produzione del brano troviamo lo stesso Frank, da solo.
IVY: Canzone dal sound molto dolce e leggero in cui però si parla di un amore passato, del rimorso, di come l'artista provi ancora qualcosa nonostante l'odio che li ha divisi ormai da diverso tempo, e del fatto che sarebbe disposto a tutto pur di passare del tempo con lui/lei. La voce di Frank si fa interprete alla perfezione di questi sentimenti, passando da un tono più alto ed incalzante ad uno molto soft, pacato. Solo sul finale le atmosfere cambiano, e la voce di fa stridula e alterata.
È una canzone molto piacevole, che come sound e impostazione ricorda di più un brano R&B/Pop canonico: troviamo infatti una chitarra come linea guida ed altre chitarre che si sovrappongono, dando alla luce un tipo di produzione abbastanza classica, essenzialmente strumentale, frutto del lavoro di Jamie XX e Tyler The Creator. In questo costituisce un'eccezione nel progetto.
PINK+WHITE: Tra i migliori brani dell'album questa delicatissima traccia ricorda da vicino il vibe di Channel ORANGE. Come produzione ci troviamo ancora una volta davanti ad un brano strumentale, con tamburi, chitarre e piano, tuttavia non manca anche qualche effetto ad impreziosire il tutto. Il ritmo è quello di una mid tempo che prosegue però spedita, senza avvicinarsi mai alle ritmiche della tipica ballad. Alla produzione troviamo Tyler The Creator e Williams, che ritroveremo ancora nella traccia successiva.
Il titolo significa "vagina e cocaina", parti predominanti di una vecchia relazione di cui l'autore parla con uno scopo diverso rispetto ad Ivy: l'artista attribuisce all'ex di avergli insegnato che non tutto è sotto il nostro controllo e che si deve imparare ad accettare i cambiamenti ed adattarsi. Nell'outro rimpiange la sua giovinezza in cui si sentiva quasi immortale e spensierato. Di assoluto rilievo sono i background vocals di Beyoncè che innalzano la canzone quasi alla perfezione.
BE YOURSELF: Skit molto simile a Not Just Money presente nel primo album: qui si parla di una mamma che fa una vera e propria "ramanzina" al figlio appena andato al college, mettendolo in guardia sugli effetti della droga (cocaina e marijuana) e gli consiglia essere se stesso evitando di imitare o frequentare persone poco raccomandabili. Una scena molto comune insomma, che richiama la vita di tutti noi. Si tratta di una semplice interlude, in cui troviamo dunque questa donna che parla con un tono severo e una produzione a base di piano che riesce a creare un'atmosfera intima che va abbastanza in controtendenza con il tono usato dalla donna.
SOLO: Il brano presenta liriche che si riferiscono alla solitudine di Frank ma anche al sentirsi a pezzi e quindi la necessità di salire al cielo e al paradiso. Le strofe sono costituite da una sorta di parlato melodico in cui narra sia di droga sia del problema di avere un figlio da una relazione durata solo una notte con una semi sconosciuta. il ritornello invece è ben cantato e supportato da un ottimo falsetto, il tutto su un beat semplice ma particolare. In sintesi la tipica canzone malinconica alla Frank Ocean. Buoni anche i cori.
La produzione si serve di una pianola sintetica come linea guida ma aggiunge un effetto molto psichedelico e dalle sembianze innaturali, soprattutto nella prima strofa: un connubio di due elementi praticamente opposti dunque, e l'effetto riesce davvero a catturare l'attenzione dell'ascoltatore, che si lascia trasportare dal testo.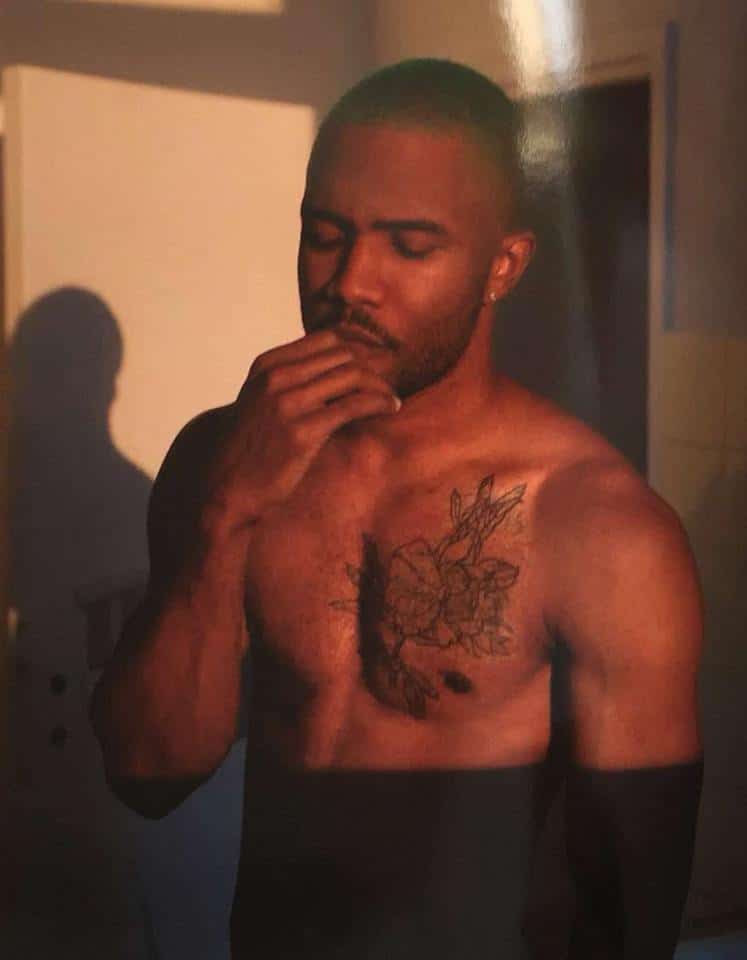 SKYLINE TO: Prodotto dall'amico e rapper Tyler, The Creator (così come anche le due tracce successive) e con la partecipazione, soprattutto in fase di stesura, di Kendrick Lamar. Frank usa ancora la sorta di parlato usato in precedenza per dare voce ai suoi pensieri sul sesso e sulla droga oltre a riferimenti alla violenza e alle auto, di cui è molto appassionato. Pezzo un po' sottotono rispetto ad altre tracce del disco, anche se le poche parti cantate sono effettivamente ottime ed il beat è abbastanza avvolgente. Diciamo che somiglia ad altre tracce del progetto ma non riesce a reggere il paragone a livello qualitativo.
SELF CONTROL: Testa a testa con Pink + White come migliore dell'album questa Self Control è davvero magica. Parla del desiderio di fare l'amore con quella persona che ha da sempre catturato la tua attenzione (magari un ex) anche se non c'è niente di effettivo tra voi due, quella persona ti verrà sempre in mente ogni tanto, un argomento in cui molti possono rivedersi. La base parte con un tripudio di effetti e chitarre molto soft per proseguire poi sempre su questa linea guida, con l'aggiunta di qualche altro effetto ed il sempre maggiore potenziarsi della base.
La produzione è davvero squisita così come la voce di Frank il quale, aiutato dal membro degli Slow Hollows Austin Feinstein nei ritornelli, fa del tutto suo il brano, cantando con trasporto e percorrendo ogni sfaccettatura del beat, da notare anche il progressivo cambio di tono nel ritornello, dalla voce modificata dell'inizio a quella bassa della fine, dimostrando così lo sconforto dell'artista. Mozzafiato anche l'outro dove si sottolinano le parole "I" "Leave" "Tonight" in un tripudio di background vocals armonizzati alla perfezione, procurando quintali di "feels".
GOOD GUY: Brevissima canzone della durata di appena poco più di 1 minuto. Il cantante racconta brevemente dell'appuntamento avuto con un ragazzo conosciuto tramite un amico comune. Frank sperava in un qualcosa che portasse ad una relazione mentre il suo partner di quella sera invece non mirava a niente di serio.
Nell'outro delinea la difficoltà di uscire insieme al proprio fidanzato in una compagnia di amici etero. Il tutto accompagnato semplicemente dalle note di un piano. Anche se corto questo pezzo dona molto e tratta temi delicati e comuni nella comunità omosessuale. La produzione è molto semplice, fatta essenzialmente dal piano, e la voce risulta abbastanza editata.
NIGHTS: Sul podio anche questa Nights, che è di gran lunga la più intrigante e originale del progetto. Essa è divisa in due parti, la prima contiene le riflessioni di Frank sul suo stress dato dalla poca trasparenza che avverte dalle persone vicino a lui anche chi considera amici, l'essere sempre cercato, la violenza e la volontà di rilassarsi attraverso la sempre presente marijuana. il rap iniziale lascia spazio ad uno stupendo ritornello che culmina, dopo un montare di suoni, esattamente al minuto 3.29, istante che segna anche i primi 30 minuti dell'album, rafforzando così la sua dualità sia sul lato sessuale sia dei due lavori Blond e Endless.
Il minuto 3.29 è anche l'inizio della seconda parte di Nights con un beat totalemente diverso, più vicino all'R&B, in cui un Frank ancora più intimo parla della sua giovinezza, della sua città New Orleans colpita dall'uragano e la forzata partenza. Il tutto si conclude con lo stesso hook della prima parte. Una canzone geniale e struggente come solo Frank Ocean sa regalare.
SOLO (REPRISE): Dopo la magnifica magnifica "Pink Matter" Frank Ocean e Andrè 3000 collaborno nuovamente, ed in questa interlude il microfono è ceduto al rapper, il quale con delle rime velocissime parla della desensabilizzazione che sta avvenendo nel pubblico americano a causa dei continui casi di abuso da parte dei poliziotti e dei cosiddetti "mass shooting".
Viene criticato anche il ghostwriting nella musica hip hop (alcuni hanno ipotizzato un diss verso Drake). Questa strofa ha già il suo posto tra i migliori rap degli ultimi anni dando a Blond un grandissimo valore aggiunto, data soprattutto dall'elusività di Andre 3000 visto sempre più come un intoccabile mostro sacro del rap. Alla produzione troviamo Mike Dean.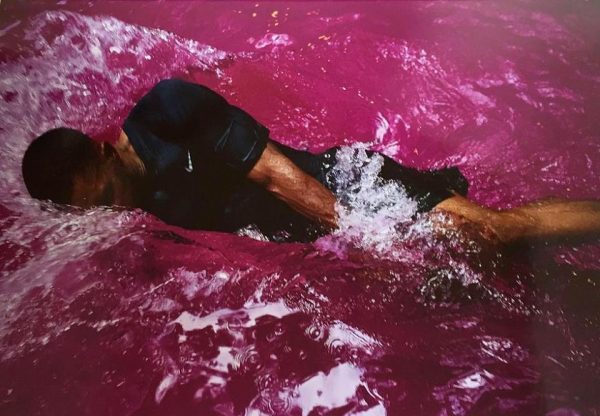 PRETTY SWEET: Traccia più sperimentale del disco che inizia con un assordante mix di suoni per poi non-stabilizzarsi su altre decine di suoni, strutture, voci, cori e temi diversi. Si parte con un tripudio di chitarre elettriche che dona alla traccia perfino contorni rock per poi addentrarsi in un'atmosfera più vicina al gospel, senza mai perdere la grinta iniziale. Sul finale, poi, troviamo addirittura suoni elettronici.
Nonostante la sua eccessiva confusione è un pezzo comunque apprezzabile che fa un po' comprendere la mente dell'artista. La produzione è assegnata a Sebastian.
FACEBOOK STORY: Interlude nel quale si racconta di come curiosamente sia finita una relazione, ovvero per via dell'amicizia non accettata su Facebook nonostante i due fossero insieme da ben tre anni. Questo skit può essere sia una critica allo strapotere dei social networks sia un consiglio ad evitare relazioni del genere. Questa traccia è prodotta da Vegyn.
CLOSE TO YOU: Breve cover di un vecchio brano cantato anche da Stevie Wonder, si ricollega al tema dello skit precedente tuttavia non brilla per qualità. Ne avremmo fatto volentieri a meno. La produzione è anche abbastanza cheap, nulla di entusiasmante.
WHITE FERRARI: Canzone dal vibe molto rilassato, fa riferimento alla cocaina ed a come ti fa sentire, e dell'amore provato per un ex partner. Si può sentire l'influenza di James Blake e Bon Iver. La parte finale è molto bella e intensa anche se nel suo insieme questo brano è sopraffatto da molti altri all'interno di Blond.
La produzione ancora una volta è soft ed introspettiva, riesce a creare un'atmosfera intima ed a farci concentrare sul cantato di Ocean, sui messaggi che vuole farci arrivare. La linea guida è sempre R&B, ma qualche effetto dona alla traccia un sapore quasi rockeggiante. Traccia molto piatta, stanca.
SIEGFRIED: Altra slowtempo simile a White Ferrari ma di qualità superiore. Il titolo si rifà sia all'eroe mitologico, ad un poeta brittanico ma anche alla serie Soul Calibur. Frank ci trasporta nella sua depressione, nella sua mancanza di coraggio, del suo sentirsi diverso dalla società, i pensieri sulla morte. È un brano molto triste e cupo ma che conquista l'ascoltatore sia grazie al beat perfetto per la canzone sia per la straziante voce di Frank. Da qui in avanti tutte le produzioni sono curate da Bob Luwding.
La produzione è sempre lenta ed introspettiva, ma anche un minimo incalzante, e quindi capace di reggere per l'intera durata della canzone senza annoiare l'ascoltatore. Questo anche grazie al magnifico utilizzo della voce dell'artista, che qui si fa apprezzare in tutta la bellezza timbrica.
GODSPEED: Canzone dall'impronta marcatamente religiosa, un po' sullo stile dell'ultimo Kanye West, l'autore parla della giovinezza come il periodo più felice della sua vita nonostante l'essere ricco e famoso e vivere di musica fosse proprio il suo sogno da bambino. L'outro è supportato dalla cantante gospel Kim Burrell che rafforza la natura del brano di infondere speranza e di risollevare gli animi dopo una traccia cupa come Seigfried.
Il brano ha atmosfere davvero soft ed ipnotiche, che prendono più elementi dal mondo del gospel piuttosto che da quello dell'R&B, che riescono a conquistare anche l'amante della musica black più classical, che invece potrebbero storcere il naso davanti ad altre tracce del progetto.
FUTURA FREE: Come già successo con Channel Orange, Frank pone come ultimo pezzo una lunga traccia divisa in due parti. La prima parte vede Frank cantare della sua storia con riferiementi alla fama, alla sessualità e alla religione, di rilievo anche la citazione ai due omicidi delle star Tupac e Selena sente che la fama lo sta soffocando vorrebbe scappare come si augura abbia fatto Tupac inscenando la sua morte.
Dopo un intermezzo di silenzio si possono ascoltare degli spezzoni di interviste ai suoi più cari amici. La prima parte è sicuramente un ottimo modo di chiudere Blond, la canzone vanta infatti un testo molto emotivo e un beat di spessore, le interviste invece sono forse superflue.
Questo è Blonde e questo è Frank Ocean: difficile, complicato, le canzoni non finiscono mai con lo stesso tema da cui sono partite, le metafore non hanno solo due significati ma alle volte di più. Non è musica che ti conquista al primo ascolto, ma per comprenderla bisogna saperne captare l'aura più intima, e dunque servono diversi ascolti.
Blonde in sostanza è un viaggio psichedelico nella mente del suo autore, è diverso da Channel ORANGE, ed un CD che sopravvive alla montagna di hype che si era costruita, essendo un progetto molto valido. Ora Frank potrebbe sparire nel suo mondo nonostante il successo travolgente in classifica o magari potrebbe far uscire un altro album l'anno prossimo: nessuno lo sa, neanche lui.
Recensione a cura di Matteo Berardi ed Umberto Olivo in collaborazione con gli admin di Frank Ocean Italia