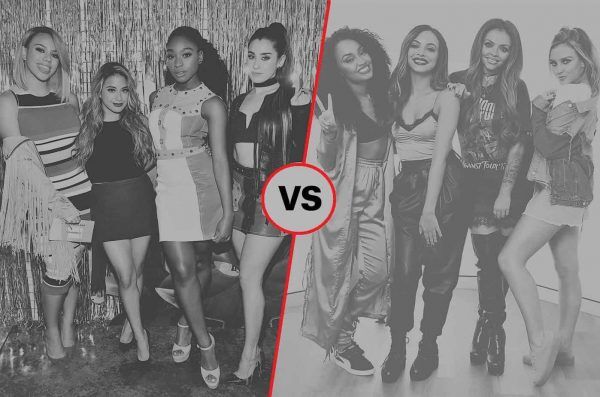 Un'affermazione di Simon Cowell durante la finale di X-Factor UK ha letteralmente fatto scoppiare un putiferio sui social. Il magnate e giudice del talent show, dopo la magnifica performance delle Little Mix, si è lasciato andare a complimenti non da poco, definendole "la più grande girlband del mondo". 
VIDEO | Simon praising the girls tonight, "you won the show, became the biggest girlband in the world and you did it your way" pic.twitter.com/ezVKSIfHbG

— LITTLE MIX UPDATES👑 (@UpdatingLM) 3 dicembre 2017
Questa netta presa di posizione di Cowell nei confronti del gruppo britannico ha riempito di gioia e orgoglio i loro fans, ma non è affatto piaciuta agli Harmonizers, seguaci dell'altra celebre girlband targata X-Factor, le Fifth Harmony (tra l'altro all'epoca facevano parte del team capitanato da Simon Cowell).
Per questo oggi è partito un botta risposta tra i due fandom, che se le sono dette di santa ragione:
You know what is the difference between Fifth Harmony & Little Mix?

Fifth Harmony think they are the "Beyonce" of the groups & don't "need" to practice

While Little Mix look up to Beyonce & her work ethic, performances & work their asses off to top their last performance

— Ines (@ines_mixer) 30 novembre 2017
Fifth Harmony should take notes from Little Mix their performance on the xfactor. Because they could neverrrrrr

— jessica (@jessicabxts) 4 dicembre 2017
So harmos really think Little Mix have more promo than Fifth Harmony ..? How funny is that. They really do try to find any excuses to explain why their 3rd album flop

— Dear Lover (@Loveyaedwards) 4 dicembre 2017
Fifth harmony should be worried about little mix coming to steal their spotlight this glory days era is the beginning of little mix coming to America

— Abby4152 (@abby_4153) 4 dicembre 2017
"being bigger" LMFAO Fifth Harmony are so much more known than Little Mix lol. Fifth Harmony are biggest girlgroup of the generation (not my words btw) LM are barely known in South America, and if people know them, they know them as "Zayn's ex's girlgroup" https://t.co/zcnsIwes1i

— aleiz🇨🇴 (@colombianbrooke) 4 dicembre 2017
Little Mix should've been as, if not more, successful than Fifth Harmony and that's the tea

— Milan (@sIeepyjean) 4 dicembre 2017
@LittleMix are the best thing to happen after the Pussycat Dolls. Fifth Harmony should not even be mentioned.

— HYPERTONIC (@YOUTHlNK) 4 dicembre 2017
Sad that when @LittleMix was slut shamed for their outfit, @FifthHarmony stood up for them. But @LittleMix stay shading them. Y'all are older than @FifthHarmony but stay being petty like your fans. And I used to buy your women empowerment shit. pic.twitter.com/Orx61y1iw9

— A rat is a rat (@k5harmony) 3 dicembre 2017
Look, I like Little Mix. They seem like nice Ish girls and they're very talented. But they are not fifth harmony or the biggest girlgroup

— [Zee] (@New_Harmonies) 3 dicembre 2017
fifth harmony: gma twice, corden, vmas, today show, fallon, k&r, lipsynch battle, kimmel

little mix: x factor https://t.co/3Aw3cpsYYW

— fuck trump. (@dirrtydemi) 3 dicembre 2017
If Fifth Harmony's label give them enough attention they'll be unstoppable. Y'all are lucky cause LM won the X Factor they already had the money the backup dancers the promo everything was ready for them all 5H got is a shitty contract and a team that only cared for one girl.

— Habiba (@pharorminah) 3 dicembre 2017
Ci domandiamo, è davvero necessario tutto questo? Dov'è scritto che due girlband non possano co-esistere all'interno dello stesso panorama? Tra l'altro, mentre alcuni fans combattono a colpi di tweet, le dirette interessate in questi anni hanno sempre e solo dimostrato stima reciproca e rispetto, senza mai spendere parole di troppo o frecciatine. Mixers e Harmonizers, prendere nota…