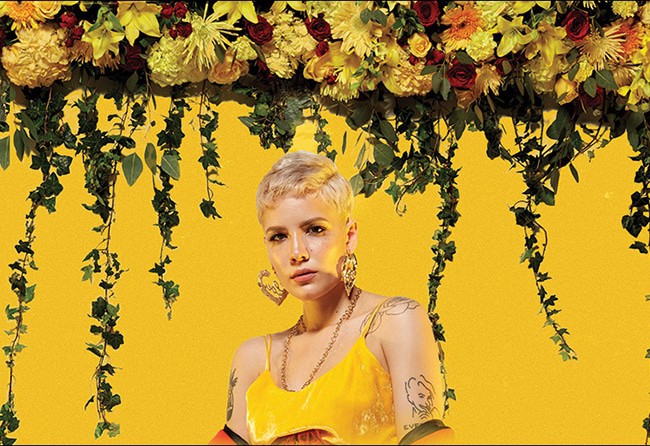 Come annunciato dalla stessa Halsey qualche giorno fa, il nuovo singolo dell'era hopeless fountain kingdom è il remix del brano Alone. 
La cantautrice di New Americana ha infatti scelto di aggiungere alla versione originale l'apporto di due rapper, Big Sean e Stephanie Victoria Allen, in arte Stefflon Don. Si tratta comunque di uno dei pezzi che meno ci aveva convinto al momento della recensione, nella quale l'avevamo presentato così:
Produzione nuovamente nelle mani di Ricky Reed, come si può percepire dallo stile, molto simile a quello di 100 Letters. Alone è una midtempo pop con qualche piccola sfumatura r&b vecchia scuola, forse la traccia meno "da Halsey" dell'intero progetto. In effetti, sarà per questo sound troppo lontano da ciò che l'artista ha fino ad oggi rappresentato nel panorama musicale, o perché già di suo la canzone non presenta chissà quale memorabile qualità, sta di fatto che Alone all'interno del disco sembra quasi un pesce fuor d'acqua. Probabilmente necessita di un maggior numero di ascolti per essere apprezzata appieno, ma per il momento è rimandata.
Sinceramente avremmo preferito una promozione di Strangers (featuring Lauren Jauregui) da singolo promozionale a singolo ufficiale, o che la scelta fosse ricaduta sulle ben più convincenti Heaven in Hiding e Devil in Me. Voi siete dello stesso avviso o Alone vi piace?
Testo
[Halsey:]
Said he tried to phone me, but I never have time
He said that I never listen, but I don't even try
I got a new place in Cali, but I'm gone every night
So I fill it with strangers so they keep on the lights
She said she told you she knows me, but the face isn't right
She asked if I recognized her and I told her I might
See, everywhere I go
I got a million different people tryna kick it
But I'm still alone in my mind, yeah
I know you're dying to meet me
But I can just tell you this
Baby, as soon as you meet me
You'll wish that you never did
(You'll wish that you never did)
[Big Sean:]
Unh, look
I'm a real rare individual
I'm in the physical and the metaphysical
I know you need your alone time, that's critical
But I need some of you time, is that hypocritical?
Damn, you know I relate to you more than fam
So I won't sit around and let you sink in quick sand
Look, I know you got million dollar plans
And you tryna build a brand, living life in high demand
Swerving big b's, your bag got little g's
Gucci down to the socks like Biggie and Little Ceas'
Let's hit the Maldives and hide behind palm trees
Little red wine, weed, and a calm breeze
Cause baby, you been living life inside a bubble
When the last time you had somebody hug you?
Hold up, when the last time you had somebody love you?
Hold up, when the last time you love someone who love you?
[Halsey:]
You know that everywhere I go
I got a million different people tryna kick it
But I'm still alone in my mind
I know you're dying to meet me
But I can just tell you this
Baby, as soon as you meet me
You'll wish that you never did
(You'll wish that you never did)
[Stefflon Don:]
Stay up and have me all night on the rack
You know we say me have the wickedest talk
You always tell me say, me full of attitude
And you don't like mi friend 'cause she rude
Still I, pu-pull up in the Benz with the all-gold ting
Window down 'cause you have to see me with my king
What ya' sipping, boy I'm dipping, now ya' tripping off a fling
I be clipping off your wing, tadah
[Halsey:]
See, everywhere I go
I got a million different people tryna hit it
But I'm still alone in my mind
I know you're dying to meet me
But I can just tell you this
Baby, as soon as you meet me
You'll wish that you never did
(You'll wish that you never did)
Yeah, yeah
(I know you wanna, I, I know you wanna)
You'll wish that you never did, oh
(I, I know you wanna slip under my armor)
(I know you wanna, I, I know you wanna)
You'll wish that you never did