Hip hop a capodanno: Kanye dissa la Nike, Kendrick rilascia due video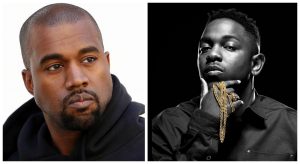 Il rapper e produttore Kanye West ha voluto augurare un buon inizio anno in modo particolare, rilasciando poche ore prima della mezzanotte il nuovo singolo, estratto dal suo upcoming album "SWISH". Abbiamo già parlato delle richieste di Kanye riguardo il suo lavoro: non vuole essere disturbato finché non finirà l'album.
Il primo brano del 2016 di Mr. West è un remix di "Jumpan" di Drake e Future.
La canzone si intitola "Facts" ed è stata rilasciata tramite i profili social della moglie e mamma dei sue due figli, Kim Kardashian e poi postata anche sul profilo soundcloud ufficiale del cantante. La produzione del beat è stata affidata a Metro Boomin.
Nei versi della traccia Kanye attacca e dissa la Nike rappando "If Nike ain't had Drizzy, man, they wouldn't have had nothing", ovvero "se la Nike non avesse avuto Drizzy (Drake), non avrebbe avuto niente". Ricordiamo che West ha un contratto plurimilionario con il brand Adidas, con il quale ha realizzato le sue famose scarpe "Yeezy" e molto probabilmente con questo diss cerca di tirare acqua al suo mulino.
In più, parla della sua candidatura alle presidenziali statunitensi del 2020: "I'ma run the whole election"
Eccola:
Super attivo durante queste festività natalizie anche Kendrick Lamar. Nei giorni di Natale abbiamo apprezzato il suo mini video motivazionale intitolato "Hard Work". Un video di grande impatto che vuole far capire alla gente, soprattutto ai ragazzini, che K-Dot è K-Dot solo grazie al duro lavoro.
Nel video si vedono il rapper e un bambino che giocano a basket in un campetto e tutto a un tratto  un ragazzo passa e si complimenta con Kendrick. Allora il bambino lo guarda e gli dice "sei famoso" e Kendrick risponde dicendo che riconoscono soltanto il suo duro lavoro.
Mentre i due passeggiano, due ragazze si fermano a chiedere un selfie al cantante. Il bambino, estasiato dalla scena, dice "hai tutte le ragazze che vuoi". Kendrick replica: "è grazie al duro lavoro, ricordatelo".
Poi il ragazzino e Kendrick entrano in ristorante e un cliente alla cassa lo riconosce e gli dice che suo figlio ascolta la sua musica. Kendrick apprezza e il signore dice al cassiere che avrebbe pagato qualsiasi cosa che Kendrick avrebbe comprato. Il ragazzino, usciti dal ristorante, ha ormai imparato la lezione e anticipa K-Dot dicendo: "lo so. Duro lavoro".
Alla fine del video una scritta ricorda che Kendrick Lamar è in corsa ai Grammy Awards con ben 11 nomination.
Ieri invece ha rilasciato uno short film di poco più di 7 minuti. Nel video viene fatto un mash-up tra "u" e "For Sale?", due tracce contenute nel suo ultimo lavoro "To Pimp A Butterfly". Nella prima parte si vede lui solo in una stanza che beve da un bottiglia un liquor e piano piano si ubriaca sempre di più. In una recente intervista ha rivelato di avere dei problemi di depressione e di insicurezza e queste scene potrebbero richiamare a essi. Nella seconda parte invece l'artista viene battezzato per espiare tutti i peccati e si vedono donne mezze nude che lo toccano, lo strattonano e li sembra impassibile. Messaggi subliminali appaiono come flash durante il video e l'ultimo di essi è "God Is Gangsta", che poi da il titolo allo short movie.
Video carico di messaggi e di significato. Come al solito, l'arte inconfondibile del rapper di Compton.
Kendrick Lamar a Febbraio sarà ai Grammy Awards con 11 nomination. Il cantante che in assoluto ne ha avute di più in un solo anno è stato Michael Jackson, con 12. Kendrick ovviamente vorrebbe vincerli tutti, ma ha assicurato che non ha pubblicato l'album per avere dei riconoscimenti materiali. Ha detto infatti al New York Times che nell'album ha fatto semplicemente quello che voleva fare. Non era pensato per sbancare tutti i record, ma solo per avere un forte impatto sulle persone e sulla cultura musicale.
Direi che è riuscito in entrambi gli scopi!
Due artisti che sanno davvero dare un significato all'arte. Cosa ne pensate?