I Fall Out Boy feat Demi Lovato – Irresistible | video premiere
Venerdì Demi Lovato pubblicherà il suo quinto album "Confident", tuttavia questo non è l'unico progetto che la popstar rilascerà in questa giornata, sicuramente la più calda dell'anno per i lovatic sparsi in giro per il globo.
Come sapete, la carriera dell'artista è iniziata non con il pop che ha dominato negli ultimi due album, ma con il pop-rock, genere inizialmente influenzato dallo stile dei Jonas Brother e reso poi più personale nel suo secondo album "Here We Go Again". Il fatto che abbia smesso di concentrarsi esclusivamente su questo tipo di musica non vuol dire che Demi se ne sia distanziata completamente, tant'è che anche negli ultimi due dischi sono comunque presenti alcuni brani appartenenti a questo genere.
Adesso, ad oltre un anno e mezzo dalla collaborazione con i The Vamps "Somebody to You", Demi torna a lavorare con un'altra band, questa volta l'artista ha voluto collaborare con una rockband vera e propria rockband: i Fall Out Boy.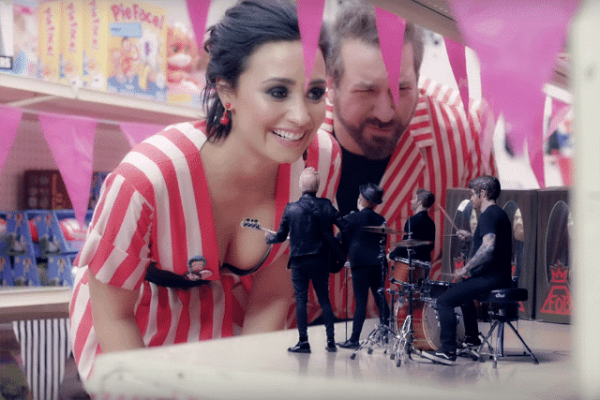 Il brano è una potentissima up tempo pop-rock dalla produzione resa particolarmente incisiva dal magnifico connubio di chitarre presentato nelle strofe e dalla voce dell'interprete, che riesce a valorizzare al meglio ogni singola parola del pezzo e ad estrarre il meglio da questa potentissima.
Francamente non vedo l'ora di ascoltare la voce di Demi su questa base! Personalmente trovo che il sound migliore per la sua voce sia proprio quello tendente al rock, per cui mi aspetto grandi cose da questa interpretazione.
Vedremo se l'effetto "Confident" riuscirà a far balzare in cima alle classifiche anche questo brano! Di sicuro ciò favorirebbe un ritorno della Lovato verso queste ritmiche, ed un sesto album pop-rock non dispiacerebbe a nessuno, magari con un lead single al livello di "Get Back" e non di "Cool for the Summer"!
Eccovi la versione originale del pezzo, ovviamente aggiorneremo con la edit:
Rilasciato con una puntualità perfetta il video del remix con Demi. Come prevedibile, la voce della Lovato calza a pennello con queste sonorità e riesce a farsi energica come non mai, a dare grinta all'ascoltatore, il che potenzia di molto il pezzo. Purtroppo non le è stata affidata una strofa intera, ma già così direi che vada più che bene!
---
Nuovo video per il grintosissimo duetto! Questa volta Demi ed il leader del gruppo interpretano prima gli operai di una fabbrica di giocattoli e poi i rivenditori, ed il prodotto oggetto prima della produzione e poi della vendita sono dei bambolotti animati rappresentanti gli altri 4 componenti del gruppo. Tutto ciò è intervallato a scene in cui gli artisti si esibiscono tutti insieme.
In questa clip possiamo osservare una Demi Lovato più bella e sexy che mai! L'artista sembra aver trovato il giusto equilibrio con la sua nuova immagine, e riesce a risultare una prorompente pantera sul nostro schermo. Direi proprio che la signorina abbia capito come fare per risultare sensuale senza eccedere, e lo dimostra l'effetto che fa perfino il vederla in tenuta da fabbrica. Sarà che il pop rock è lo stile che più le si addice, da ogni punto di vista…