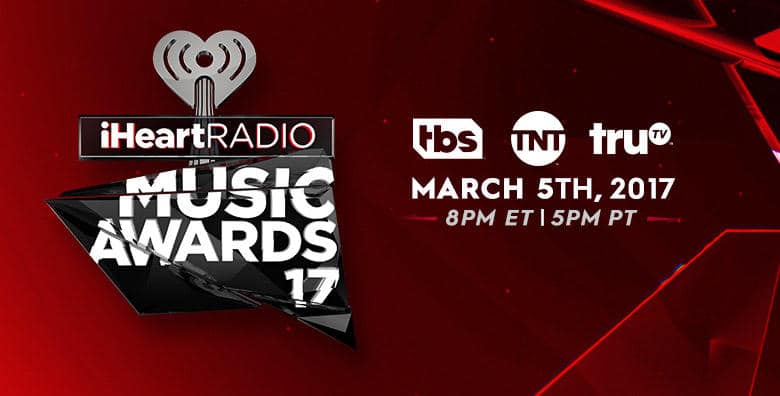 Anche quest'anno iHeart Music torna coi suoi premi per decretare il meglio della musica internazionale dell'ultima annata: i candidati agli iHeartRadio Music Awards 2017 sono stati ufficialmente annunciati con la lista delle nominations resa nota il 4 gennaio. I vincitori saranno invece rivelati durante la cerimonia di premiazione, prevista il 5 marzo a Los Angeles.
Il rapper Drake, dopo le 8 nominations per i Grammys (QUI per approfondire), ha portato a casa il maggior numero di candidature per gli iHeartRadio Music Awards, ben 12, tra cui quella per la sezione "Cantante maschile dell'Anno", "Artista hip hop dell'Anno" e "Canzone dell'Anno" con la hit One Dance. Subito dopo l'artista canadese, i The Chainsmokers seguono a ruota con 11 nominations come quella per la "Canzone dell'Anno" con il singolo Closer ft. Halsey e "Miglior duo/gruppo".
Si difendono bene artisti come Rihanna, Ariana Grande, Twenty One Pilots e Beyoncé.
Sul fronte femminile, per il riconoscimento come "Miglior Artista", si sfidano Adele, Ariana Grande, Rihanna, Sia e Selena Gomez, mentre sul fronte maschile si contendono invece la rispettiva statuetta, Justin Bieber, Luke Bryan, Shawn Mendes, The Weeknd e Drake.
Annunciato tra i performers della cerimonia di premiazione l'hitmaker Bruno Mars, col suo ultimo successo 24K Magic.
Ecco la lista completa delle nominations per gli iHeartRadio Music Awards 2017, i premi assegnati a tutto campo dall'emittente radiofonica online:
Song of the Year: 
– "Can't Stop The Feeling" – Justin Timberlake
– "Cheap Thrills" – Sia featuring Sean Paul
– "Closer" – The Chainsmokers featuring Halsey
– "One Dance" – Drake featuring Wizkid and Kyla
– "Stressed Out" – twenty one pilots
Female Artist of the Year: 
– Adele
– Ariana Grande
– Rihanna
– Selena Gomez
– Sia
Male Artist of the Year: 
– Drake
– Justin Bieber
– Luke Bryan
– Shawn Mendes
– The Weeknd
Best Duo/Group of the Year: 
– Coldplay
– DNCE
– Florida Georgia Line
– The Chainsmokers
– twenty one pilots
Alternative Rock Song of the Year:
– "Bored to Death" – blink-182
– "Dark Necessities" – Red Hot Chili Peppers
– "Heathens" – twenty one pilots
– "Ride" – twenty one pilots
– "Trouble" – Cage The Elephant
Alternative Rock Artist of the Year:
– blink-182
– Cage The Elephant
– Coldplay
– The Strumbellas
– twenty one pilots
Rock Song of the Year:
– "Bang Bang" – Green Day
– "Dark Necessities" – Red Hot Chili Peppers
– "Take Me Down" – The Pretty Reckless
– "The Devil's Bleeding Crown" – Volbeat
– "The Sound Of Silence" – Disturbed
Rock Artist of the Year:
– Disturbed
– Five Finger Death Punch
– Red Hot Chili Peppers
– Shinedown
– Volbeat
Country Song of the Year:
– "Church Bells" – Carrie Underwood
– "Snapback" – Old Dominion
– "Somewhere On A Beach" – Dierks Bentley
– "T-Shirt" – Thomas Rhett
– "You Should Be Here" – Cole Swindell
Country Artist of the Year:
– Carrie Underwood
– Jason Aldean
– Keith Urban
– Luke Bryan
– Thomas Rhett
Dance Song of the Year:
– "Closer" – The Chainsmokers featuring Halsey
– "Cold Water" – Major Lazer featuring Justin Bieber and MØ
– "Don't Let Me Down" – The Chainsmokers featuring Daya
– "I Took A Pill In Ibiza" – Mike Posner
– "Let Me Love You" – DJ Snake featuring Justin Bieber
Dance Artist of the Year: 
– Calvin Harris
– DJ Snake
– Flume
– Major Lazer
– The Chainsmokers
Hip-Hop Song of the Year: 
– "All The Way Up" – Fat Joe and Remy Ma featuring French Montana and Infared
– "Controlla" – Drake
– "For Free" – DJ Khaled featuring Drake
– "One Dance" – Drake featuring Wizkid and Kyla
– "Panda" – Desiigner
Hip-Hop Artist of the Year:
– Desiigner
– DJ Khaled
– Drake
– Future
– J. Cole
R&B Song of the Year:
– "Exchange" – Bryson Tiller
– "Needed Me" – Rihanna
– "No Limit" – Usher featuring Young Thug
– "Sorry" – Beyoncé
– "Work" – Rihanna featuring Drake
R&B Artist of the Year: 
– Beyoncé
– Bryson Tiller
– Rihanna
– The Weeknd
– Usher
Latin Song of the Year: 
– "Ay Mi Dios" – IAmChino featuring Pitbull, Yandel and El Chacal
– "De Pies A Cabeza" – Mana featuring Nicky Jam
– "Duele El Corazon" – Enrique Iglesias featuring Wisin
– "La Carretera" – Prince Royce
– "Ya Me Enteré" – Reik featuring Nicky Jam
Latin Artist of the Year: 
– Enrique Iglesias
– J Balvin
– Nicky Jam
– Prince Royce
– Yandel
Regional Mexican Song of the Year: 
– "Amor Del Bueno" – Calibre 50
– "Cicatrices" – Regulo Caro
– "Me Está Gustando" – Banda Los Recoditos
– "¿Por Qué Terminamos?" – Gerardo Ortiz
– "Solo Con Verte" – Banda Sinaloense MS de Sergio Lizárraga
Regional Mexican Artist of the Year: 
– Banda El Recodo de Cruz Lizárraga
– Banda Los Recoditos
– Calibre 50
– Gerardo Ortiz
– Remmy Valenzuela
Best New Rock/Alternative Rock Artist: (New Category)
– Foals
– Kaleo
– Nathaniel Rateliff & The Night Sweats
– Red Sun Rising
– The Strumbellas
Best New Country Artist: (New Category)
– Chris Lane
– Chris Stapleton
– Granger Smith
– Kelsea Ballerini
– Maren Morris
Best New Hip-Hop Artist: (New Category)
– Chance The Rapper
– Desiigner
– D.R.A.M.
– Kent Jones
– Kevin Gates
Best New Latin Artist: (New Category)
– Carlos Rivera
– Christian Daniel
– CNCO
– IAmChino
– Sofia Reyes
Best New R&B Artist: (New Category)  
– Belly
– Bryson Tiller
– Dreezy
– Kayla Brianna
– Ro James
Best New Regional Mexican Artist: (New Category)
– Adriel Favela
– Banda Los Sebastianes
– Cheyo Carrillo
– Joss Favela
– La Séptima Banda
Best New Pop Artist: (New Category)
– Alessia Cara
– Daya
– Lukas Graham
– The Chainsmokers
– ZAYN
Producer of the Year: (New Category)
– Benny Blanco
– Greg Kurstin
– Max Martin
– Mike Elizondo
– The Chainsmokers
Best Lyrics: *Socially Voted Category
– "7 Years" – Lukas Graham
– "Came Here to Forget" – Blake Shelton
– "Cheap Thrills" – Sia featuring Sean Paul
– "Closer" – The Chainsmokers featuring Halsey
– "Heathens" – twenty one pilots
– "Love Yourself" – Justin Bieber
– "Scars To Your Beautiful" – Alessia Cara
– "Send My Love (To Your New Lover)" – Adele
– "Too Good" – Drake featuring Rihanna
– "You Should Be Here" – Cole Swindell
Best Collaboration: *Socially Voted Category
– "Cheap Thrills" – Sia featuring Sean Paul
– "Closer" – The Chainsmokers featuring Halsey
– "Don't Let Me Down" – The Chainsmokers featuring Daya
– "This Is What You Came For" – Calvin Harris featuring Rihanna
– "Work" – Rihanna featuring Drake
Best Cover Song: *Socially Voted Category
– "All I Ask" – Bruno Mars
– "Ex's and Oh's" – Fifth Harmony
– "Fast Car" – Justin Bieber
– "Hands to Myself" – DNCE
– "Here" – Shawn Mendes
– "How Will I Know" – Ariana Grande
– "Love on the Brain" – Kelly Clarkson
– "Purple Rain" – Jennifer Hudson and the cast of The Color Purple
– "Sound of Silence" – Disturbed
– "Too Good" – Zara Larsson
Best Song from a Movie: *Socially Voted Category
– "Can't Stop the Feeling" – Justin Timberlake (Trolls)
– "Falling for You" – Ellie Goulding (Bridget Jones's Baby)
– "Girls Talk Boys" – 5 Seconds of Summer (Ghostbusters)
– "Heathens" – twenty one pilots (Suicide Squad)
– "Just Like Fire" – P!nk (Alice Through the Looking Glass)
Best Music Video: (New Category) *Socially Voted Category
– "Can't Stop the Feeling" – Justin Timberlake
– "Don't Let Me Down" – The Chainsmokers featuring Daya
– "Formation" – Beyoncé
– "Hasta El Amanecer" – Nicky Jam
– "Heathens" – twenty one pilots
– "Hymn for the Weekend" – Coldplay
– "I Took A Pill In Ibiza" – Mike Posner
– "Pillowtalk" – ZAYN
– "Side to Side" – Ariana Grande featuring Nicki Minaj
– "This Is What You Came For" – Calvin Harris featuring Rihanna
– "Work" – Rihanna featuring Drake
– "Work From Home" – Fifth Harmony featuring Ty Dolla $ign
Best Underground Alternative Band: (New Category) *Socially Voted Category 
– Hey Violet
– Pierce the Veil
– PVRIS
– Sleeping With Sirens
– Tonight Alive
Social Star Award: (New Category) *Socially Voted Category  
– Alex Aiono from YouTube
– Baby Ariel from Musical.ly
– Emma McGann from YouNow
– Hailey Knox from YouNow
– Jack and Jack from Snapchat
– Jacob Sartorius from Musical.ly
– Marcus Perez from Facebook
– Steph Clavin from Instagram
– Todrick Hall from YouTube
– xYego from Smule
Best Fan Army presented by Taco Bell: *Socially Voted Category
– 5 Seconds of Summer – 5SOSFam
– Ariana Grande – Arianators
– Beyoncé – Beyhive
– Britney Spears – Britney Army
– Demi Lovato – Lovatics
– Fifth Harmony – Harmonizers
– Justin Bieber – Beliebers
– Katy Perry – KatyCats
– Lady Gaga – Little Monsters
– Rihanna – Rihanna Navy
– Selena Gomez – Selenators
– Shawn Mendes – Mendes Army
– twenty one pilots – #twentyonepilots