Janet Jackson al lavoro con Bruno Mars per il nuovo album!
Janet Jackson ha pronto un asso nella manica per il suo nuovo album..., viene confermata la collaborazione con Bruno Mars!
Grandi notizie per i fans di Janet Jackson e Bruno Mars. L'iconica star ed il re delle classifiche sono pronti ad entrare in studio per creare qualcosa di speciale che entrerà a far parte del nuovo album della Jackson, già in lavorazione da qualche mese.
I due hanno avuto modo di mostrare stima reciproca in svariate occasioni, tanto più che è stato lo stesso Mars ad introdurre la consegna del Billboard Icon Award a Janet durante gli ultimi BBMAs, a cui è seguito il fantastico show della donna.
Ad annunciare la loro collaborazione è il sito The Metro, che scrive:
I due sono amici da tempo ma dopo essersi incontrati ai Billboard Music Awards hanno deciso che ora è il momento perfetto per collaborare. Bruno è cresciuto con la musica di Janet e quando ha scoperto che lei è una sua fan è rimasto sconvolto. Parlano spesso al telefono e hanno già deciso alcune date per trovarsi in studio e registrare qualcosa per il prossimo album di Janet.
A quanto sembra le prime sessioni di registrazione sono state fissate in uno studio di Londra, dove Janet Jackson vive gran parte dell'anno e dove Bruno Mars approderà presto con la leg europea del 24K Magic World Tour. 
Questi due nomi promettono scintille, voi che ne dite? Questo duetto riporterà Janet nei posti in classifica che le competono?
---
Janet Jackson é tornata nella sua città Natale, Gary Indiana, ed ha parlato dei veri artisti!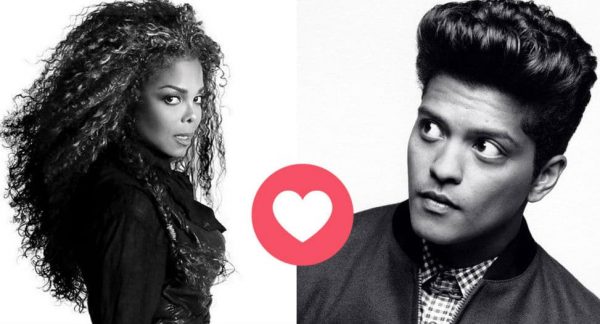 Janet Jackson sta girando gli Stati Uniti con il suo State Of The World Tour, ed é tornata dopo diverso tempo nella sua città natale, Gary, nello stato dell'Indiana.
Lo ha fatto perché sta registrando un documentario per Netflix che parlerà della sua carriera e la sua vita negli ultimi anni.
La cantante ha portato con se il suo amato baby Eissa, ed ha parlato nella casa di "nascita" della famiglia Jackson. Qualcuno é riuscito a registrate un video di questa intervista molto intima con le persone del posto.
Nell'intervista ha parlato della sua carriera, dell'industria musicale, i suoi hobbies, alcune memorie della sua infanzia, chi l'ha ispirata, e gli artisti che ama oggi come oggi, da Bruno Mars a Kendrick Lamar.
Proprio su Bruno Mars ha speso grandi parole, da lei definito un vero e proprio artista con carisma e talento, che secondo lei avrà una carriera lunghissima.
"Bruno Mars é molto talentuoso. Ci sono tanti artisti qua fuori, ma Bruno é un ARTISTA con la A maiuscola, che avrà una lunga carriera. L'ho visto quest'anno a Londra, ho amato il suo spettacolo, oltre ad essere un cantautore e musicista completo, ha anche un carisma incredibile quando si esibisce.

Io e Bruno abbiamo parlato oramai da un pezzo riguardo ad una collabo, potrebbe essere davvero interessante!"