Jennifer Lopez: "Adorerei esibirmi al Super Bowl" (VIDEO)
Aggiornamento:
If you're wondering what's going on between @JLo and @Drake, then you should probably watch this. pic.twitter.com/NFJpqCDBPg

— Ellen DeGeneres (@TheEllenShow) 21 febbraio 2017

Ospite da Ellen, J-Lo risponde sulle insistenti voci che la dipingerebbero come interessata ad esibirsi durante l' Halftime del Super Bowl 2018. La diva latina ha risposto senza esibizione:
"Se me lo chiedono, mi piacerebbe. Credo che sarebbe fantastico. Sarei così eccitata. Mi piace esibirmi dal vivo. E' il mio mondo"
Jennifer Lopez potrebbe essere la prossima performer all' halftime del Super Bowl.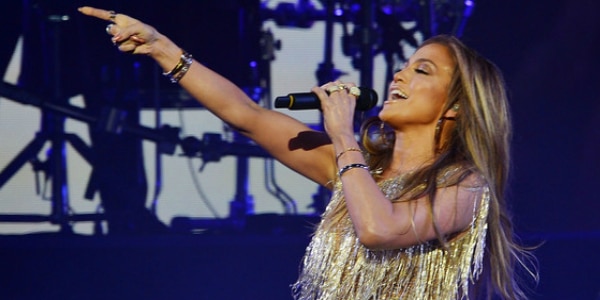 Ogni volta dopo l' Halftime del Super Bowl (quest'anno con una formidabile Lady Gaga), la gente si interroga e discute su chi dovrebbe dovrebbe esibirsi durante l'edizione successiva.
Le esibizioni più viste di sempre sono state quelle tenute da artisti del panorama pop mainstream; nel 2015 lo show di Katy Perry ha avuto il maggior numero di occhi della storia per una performance al Super Bowl, seguito da quello di Bruno Mars nel 2014, poi l'anno scorso il trio Coldplay / Bruno Mars /  Beyonce. Gaga e Madonna sono a pari merito al n 4.  La prossima sarà Jennifer Lopez?
La cantante di "Jenny From The Block" è una delle più attese e desiderate dal pubblico, e di certo grazie alla sua forma smagliante, bravura e carisma potrebbe concedere uno spettacolo incredibile.
Ha un repertorio che spazia ormai per un ventennio, brani di successo che potrebbero infiammare il pubblico nel vero senso della parola, ed attualmente sta mostrando le sue doti durante la sua residency di Las Vegas. Se c'è qualcuno che può assumersi questa responsabilità, quella è lei, e tutto ciò potrebbe succedere, presto.
I due coreografi e coppia sposata nella vita reale, Napoleon e Tabitha D'umo, sono collaboratori di lunga data di JLo. Sono responsabili della sua residency, e lavorano per il suo nuovo talent show incentrato sulla danza. Secondo loro, le trattative per far esibire la Lopez alla prossima edizione del Super Bowl sarebbero già in atto!
Un fan ha chiesto loro di farlo accadere, ed hanno risposto "Trying !!!" Questa non è ovviamente una conferma, ma è un passo nella giusta direzione, che ci lascia uno spiraglio di speranza!
@NAPPYTABS @EGTisme we want @JLo to do the Superbowl Halftime Show next year.. please make this happen 🙏#JLoForSuperbowl2018 pic.twitter.com/KbaRlFQ9wF

— JLoFinallyNoticedMe (@jlogreeknews) 6 febbraio 2017
Trying!!! https://t.co/h9Ls7UJEpC

— Napoleon and Tabitha (@NAPPYTABS) 6 febbraio 2017