Katy Perry – Swish Swish | live a The Voice Australia
AGGIORNAMENTO!
Altra performance live del singolo Swish Swish, questa volta sul palco di The Voice Australia, dove Katy è stata la super ospite della finale (ha cantato anche Chained To The Rhythm con i finalisti). Qui la performance di Swish Swish, decisamente migliore di quella offerta al SNL. Che ne pensate?
---
Katy Perry ha presentato live per la prima volta sul palco del Saturday Night Live l'ultima traccia di Witness rilasciata, Swish Swish. Niente Nicki Minaj a supportarla sul palco, ma una folta schiera di persone che vanno a rappresentare il messaggio che la Perry vuole lanciare attraverso questa canzone, a suo dire un inno contro bullismo e pro diversità. Ecco la performance, servirà alle sorti del brano?
---
Katy Perry non si arrende! La cantante schiera Nicki Minaj per il nuovo singolo, riuscirà a fare colpo?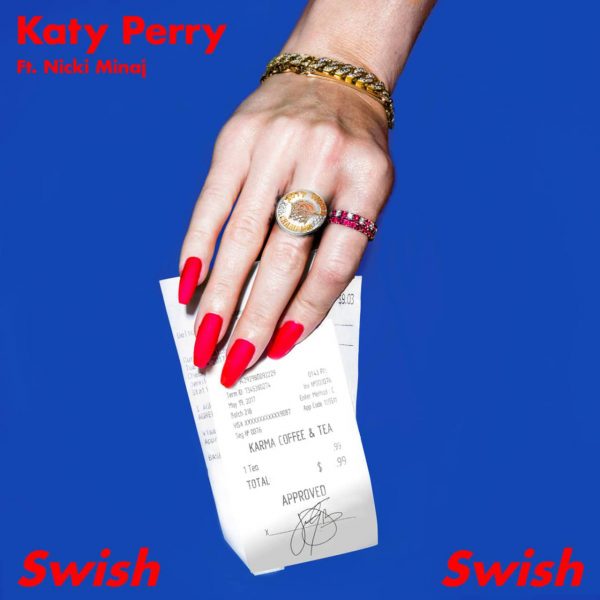 Dopo il flop di "Bon Appétit", scomparso dalla Hot 100 a sole due settimane dalla release e nonostante diverse esibizioni, e con Chained To The Rhythm prossimo all'uscita, urgeva per Katy Perry estrarre un nuovo singolo che potesse trainare il nuovo album "Witness", annunciato nei giorni scorsi.
La cantante propone un nuovo brano intitolato "Swish Swish", in featuring con Nicki Minaj. Il pezzo si rifà alle sonorità garage e house tipiche degli anni '90, che a piccole dosi sono tornate in voga ultimamente. Katy continua a prendere strade alternative rispetto al passato, nella speranza di poter tornare a dominare le charts, cosa che fino ad ora non le sta riuscendo come un tempo.
Molto buona la parte della Minaj, che si dimostra essere versatile come sempre e dotata di un grande carisma,  per quanto riguarda Katy beh, ci troviamo di fronte ad un pezzo piacevole all'ascolto ma sicuramente non incisivo, non è un brano che ti entra in testa e ti spinge a riascoltarlo, quantomeno subito.
Chi si era affezionato ai ritornelli radiofonici di Katy potrebbe trovarsi un po' spiazzato di fronte ad un instrumental che fa da padrone e a dei sussurri che peraltro sono abbastanza piatti vocalmente. Meglio le strofe.
Riuscirà l'interprete a convincere in queste nuove vesti? Voi che ne dite?