Katy Perry: il nuovo album si intitola "Witness"? Gli indizi…
AGGIORNAMENTO!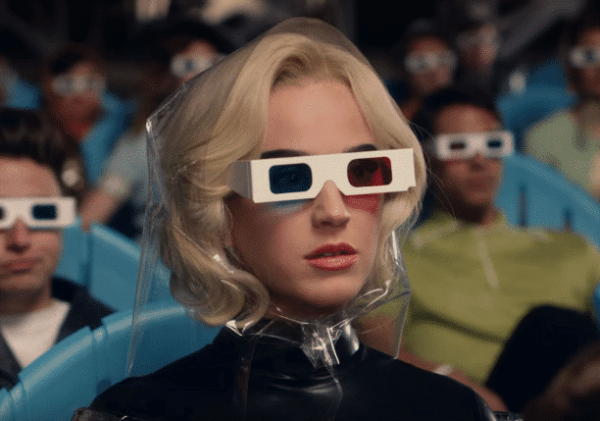 Tra poche ore arriverà il singolo Bon Appétit (Katy l'ha ufficializzato su twitter) secondo estratto dalla KP4 era che, ad oggi, non ha ancora un titolo. La strategia promozionale della "torta di ciliegie" messa in atto l'altro giorno ha portato l'attesa ricompensa a tutti coloro che hanno mostrato alla cantante di aver cucinato la cherry pie seguendo la sua ricetta.
In queste ore i fortunati hanno ricevuto a casa un vinile di Chained To The Rhythm accompagnato da uno strano menù, dove non manca la scritta #BonAppétit. La cosa che i più attenti non si sono lasciati sfuggire è il nome del pseudo ristorante, TEMOIN, parola francese che in inglese si traduce WITNESS. Che sia il titolo dell'atteso KP4?
Se vi ricordate non è la prima volta che emerge il titolo Witness collegato a KP4. A gennaio, infatti, circolava la voce che una traccia di Katy Perry con Chance The Rapper si intitolasse proprio così (per approfondire leggere sotto). Certamente tutto ciò non può essere un caso, ora bisogna capire cosa effettivamente rappresenti questo Witness all'interno del disco.
Thank You So Much @CapitolRecords for the follow and for this @katyperry Vinyl! Im So Happy I could cry lol 😭❤😺 #KatyCats #CTTR #BonAppetit pic.twitter.com/nJ9esVbItP

— O.o (@marteneee) 26 aprile 2017
People are currently receiving a #BonAppétit #Témoin (Witness in French) restaurant menu card: It's coming!
(via @aRIHanaAvenue @artdeco94) pic.twitter.com/JrQ5hF5L4a

— Katy Perry Lately! (@katyperrylately) 26 aprile 2017
---
Mettiamo subito in chiaro che quelli che stiamo per riportare per il momento sono ancora rumors, ma ciò non toglie che moltissime testate musicali statunitensi stanno riportando la notizia secondo la quale il lead single della KP4 Era sarà una collaborazione tra la popstar californiana ed uno dei rapper del momento, Chance The Rapper, nominato in ben 7 categorie ai prossimi Grammy Awards.
La supposizione nasce per via di una foto che un paio di giorni fa è spuntata online, scatto di novembre che ritrae i due artisti uno accanto all'altro in uno studio di registrazione di Los Angeles. Un featuring tra Katy ed il talentuoso MC è più che plausibile dal momento che la cantante ha sempre dato spazio ai rapper all'interno dei suoi precedenti lavori, basti pensare ad E.T. con Kanye West e Dark Horse con Juicy J, entrambe le tracce estratte come singoli. Al di là della semplice collaborazione, la vera notizia sarebbe piuttosto il fatto che proprio tale brano potrebbe rappresentare il lead single della nuova era discografica, e ha già un titolo.
Stiamo parlando di Witness, canzone il cui demo era stato in parte leakkato l'anno scorso (quando venne hackerato l'account twitter della Perry), per poi sparire in men che non si dica da ogni angolo di internet. Chi ha avuto modo e fortuna di ascoltare la breve anticipazione parla di un sound ispirato agli anni 70, potente, ballabile e con qualche sfumatura punk. Sarebbe proprio Witness il featuring con il rapper di Chicago e, visto il successo del ragazzo, l'entourage della popstar e la casa discografica avrebbero pensato bene di puntar anche su di lui per rendere ancor più appetibile il comeback della loro assistita, ovviamente in totale approvazione con la diretta interessata.
Ricordiamo qualche mese fa le dichiarazioni che Katy rilasciò a Ryan Seacrest a proposito di KP4:
"Mi sto prendendo molte libertà, mi sto divertendo sperimentando e lavorando con diversi produttori e nuovi collaboratori in diversi stili. Non sto facendo le cose di fretta".
Che uno dei nuovi collaboratori sia davvero Chance The Rapper, il pupillo di Kanye? Lo scopriremo presto…
@katyperry feat. @chancetherapper = Witness on #KP4

— Melvin Perry (@MelvinKatyPerry) 7 gennaio 2017
KP4 RUMORS :
– THE #KP4 ERA WILL START NEXT MONTH!
– Track 2 : Witness ft. @chancetherapper
– Katy Perry ft. Kimbra – Velvet Girls pic.twitter.com/QT8cMr1yHm

— Katy Perry News (@KatyNewsShade) 16 dicembre 2016
É divulgada uma nova foto do sucessor natural de "Dark Horse", Katy Perry e Chance The Rapper juntos. https://t.co/wa60C6Ebxa pic.twitter.com/fkpvrycFu1

— PAN (@forumpandlr) 6 gennaio 2017