Kesha, l'album Rainbow diventa un film! Annunciata l'uscita
A poco meno di un anno dall'uscita di Rainbow, disco che ha segnato la sua rinascita, Kesha annuncia che il progetto ha ispirato un film omonimo, che uscirà il 10 agosto in esclusiva AppleMusic. A seguire il trailer ufficiale:
ANIMALS I'm so excited to share with you that #RainbowTheFilm is coming on August 10!! 🌈💗🌟🌟💗🌈
Watch it only on @AppleMusic https://t.co/ScnCGJLvaL ✨💜🦄💕🦄💜✨ pic.twitter.com/qy6U4syOQW

— kesha (@KeshaRose) July 30, 2018
Cosa vi aspettate da questo lavoro?
---
Kesha vuole regalare ai suoi Animals un'anteprima dei brani che formano la tracklist della sua nuova fatica, Rainbow, negli scaffali a partire dall'11 agosto.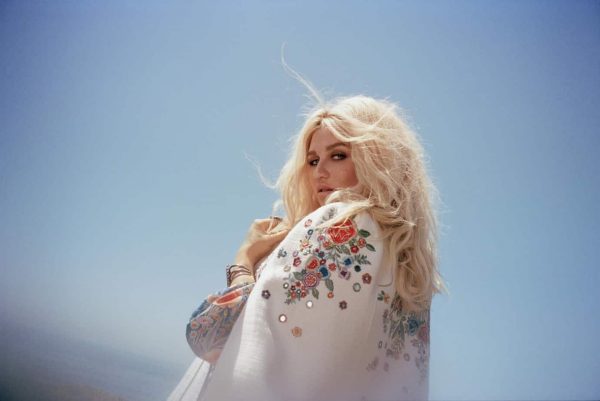 Dopo avervi parlato del tour da poco presentato (QUI per approfondire), ecco che arriva un altro annuncio che riguarda la ritrovata popstar Kesha.
A pochi giorni dall'uscita del nuovo album Rainbow, che ricordiamo sarà rilasciato il prossimo 11 agosto, la ragazza ha promesso delle belle sorprese per tutti coloro che si collegheranno sulla sua pagina YouTube tra pochissimo.
A quanto sembra, o per lo meno per come l'ha presentato, si tratta di un mini live nel quale eseguirà in anteprima alcune (o anche tutte) tracce che andranno a comporre il suo attesissimo comeback album, prima fra tutte la già annunciata Hymn. 
"Animal guardatemi cantare per la prima volta nuove canzoni tratte da Rainbow, domani a partire dalle 2 (orario L.A) su YouTube"
Qui il link per poter assistere alla sorpresa.
Ovviamente siamo curiosi di scoprire cos'ha in serbo la ragazza, certo è che ci sembra davvero tornata con una grinta ed una convinzione di una che vuole davvero mettercela tutta per riguadagnarsi quel posto nel musicbiz che le è stato "portato via" per colpa dei problemi legali legati alla vicenza Dr. Luke.
Chi di voi sarà collegato in diretta per assistere alle première? Tornate domani per tutti gli aggiornamenti.