Kesha storpia "Jealous" di Nick Jonas e teme il peggio da Dr. Luke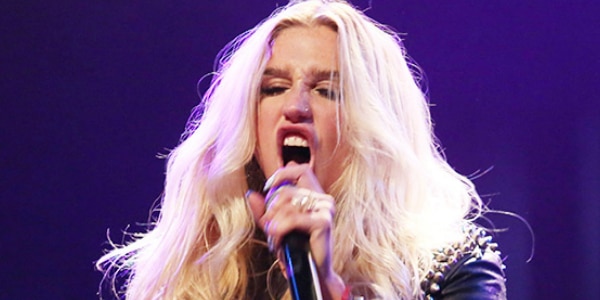 Come era stato annunciato più volte, pare che Kesha stia lavorando su un nuovo disco di inediti da pubblicare nei prossimi mesi. Del progetto si sa ancora molto poco e la cantante non sembra voler rilasciare alcun dettaglio, nemmeno il più piccolo. Recentemente poi l'artista ha dato molte preoccupazioni ai suoi sostenitori, soprattutto a causa di una forma fisica trascurata e appesantita (Qui per vedere le foto).
Non solo: si è cimentata anche con alcune cover, con risultati non certo esaltanti. Di certo l'interprete di "Tik Tok" non ha mai impressionato il pubblico con le sue doti vocali, ma davvero poco (per non dire orribile) riuscita è stata la performance di "Till The World Ends" di Britney Spears, co-scritta da Kesha stessa tra le altre cose (Qui per vedere l'esibizione). Adesso è la volta di "Jealous", singolo di Nick Jonas, che è stata definita dalla cantante la sua canzone preferita dello scorso anno. Il tutto è accaduto durante un concerto a Shanghai per il suo Kesha And The Creepies Tour che si è chiuso a Guangzhou tre giorni fa. L'esito di questa performance è piuttosto scadente, con notevoli imprecisioni a livello di intonazione, quanto ci manca la versione di Nick, che per quanto se ne dica, è un bravo cantante. Sinceramente non comprendiamo perchè una cantante così poco capace con la voce si ostini nel proporre versioni acustiche di brani.  Ecco il video
Nel frattempo continua senza sosta la guerra con Dr. Luke. Gli avvocati della diretta interessata, secondo quanto riportato, avrebbero fatto appello alla corte di New York di fermare la pubblicazione e proteggere un documento di 913 pagine contenenti informazioni sulle condizioni di salute della cantante degli ultimi 10 anni, incluse visite psichiatriche e riabilitazione. Tuttavia, i difensori del produttore si sono opposti sostenendo che è stata l'artista la prima a mettere sul tavolo la sua cartella clinica per provare le sue accuse e pertanto non è ammissibile una richiesta del genere. Il 26 ottobre il caso tornerà in aula e vedremo cosa succederà.
Voi cosa ne pensate?