La Battaglia delle Leggende, Mariah, Janet, Mary J. e Madonna
Tra Novembre 2007 e la Primavera 2008 usciranno i nuovi album di vere e proprie Big Divas, Leggende, Icone,
chiamatele come preferite, si tratta delle artiste che hanno ognuna a suo modo influenzato la musica di oggi, le newbie di oggi prendono tutte un qualcosa da loro, le nuove leve del Pop prendono ispirazione dalla figura camaleontica di Madonna, qualche passo di danza di Janet, le nuove icone della musica R&B vorrebbero tutte la voce unica di Mariah, ed il carisma vocale di Mary J.!
L'unica delle 4 divas che fino ad ora è uscita allo scoperto con il primo singolo è Mary J., che pubblicherà il suo nuovo CD la prima settimana di Dicembre, il singolo si chiama "Just Fine" ed è una canzone freschissima un po' Jacksoniana che sta andando già fortissimo in America, e che hanno cominciato a mandare in radio anche da noi! Mary J. risulta una delle favorite in questa battaglia, dato che il suo ultimo album è stato un ritorno in grande stile, con diversi singoli estratti, un Tour molto intimo che è andato benissimo, ed ha anche acchiappato tanti nuovi fans! Il suo nuovo CD però dovrà essere veramente valido per bissare il successo di "The Breakthrough"! Di certo può contare su una voce unica e caldissima, su dei producer validissimi, e su una figura molto "seria" che le ha fatto guadagnare tantissimi fans adulti!
Mariah Carey è un'altra che arriva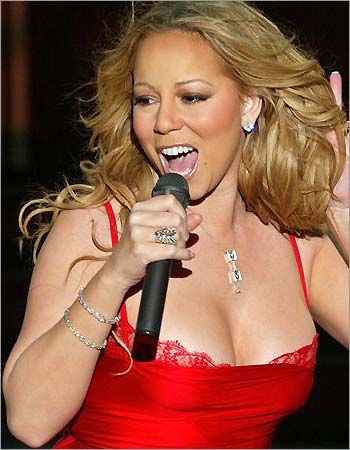 da un CD di successo, "The Emancipation Of Mimi" è stato l'album migliore del 2005, ha venduto moltissime copie 6mio. ad oggi solo negli USA, c'è stata una re-release anch'essa di successo, un Tour tiepido che non ha fatto troppo parlare, ed anche lei dovrà veramente faticare per ripetere il grandioso successo del suo ultimo CD! La forumla? Sicuramente trovare le note giuste per uno slowjam (e qui bisogna vedere quale producer sarà capace di creare una nuova "We Belong Together"), e poi ritrovare la sua "voce" al meglio, si sa che con gli anni che passano la sua voce ha perso potenza, ma se la curerà bene saprà senz'altro regalarci ancora molte emozioni!
Negli USA Mariah è ancora favorita su Madonna, quest'ultima vuole in tutti i modi riprendersi un mercato che dai tempi di "Ray Of Light" non ha più molto interesse verso di lei, il mercato Statunitense a differenza di quello Europeo, ha preso in maniera tiepida il suo ultimo CD, "Confessions On A Dancefloor" che ha venduto solo un mio. e mezzo di copie, certamente più delle 700mila copie di American Life, ma molto lontano dai numero strabilianti che Madonna riesce a vendere solitamente! Per questo motivo, ha preso la palla al balzo, ed ha assunto il miglior producer in circolazione nell'ambito R&B-Pop, parliamo di Timbaland, ed insieme a lui anche Justin Timberlake (artista maschile di quest'anno) farà parte del nuovo progetto di Maddy! Un nuovo cambiamento per la diva! Qua i pronostici non si possono fare, ma se proprio dobbiamo farli le possibilità sono due… se la chimica tra Timbo e Maddy funzionasse il CD diventerebbe un best-seller negli USA, ma può anche darsi che Madonna risulti inadatta al genere Timbo, e potrebbe deludere anche i fans che la seguono da sempre per la sua diversità e per la sua "attitudine" ad uscire dal coro!
La Diva che se la gioca tutta è Janet Jackson, dopo due album tiepidi, Janet lascia in questo nuovo progetto dei collaboratori che hanno "fatto" la sua musica da sempre, parlo di Jimmy e Terry, ed ha ora in mano diversi producer di grido per il suo nuovo CD! "Damita Jo" e "20YO" sono stati due flop per una serie di eventi che hanno causato "vento contro" Janet, il primo è lo scandalo del SuperBowl, che ha colpito la diva in maniera fortissima, l'opinione pubblica l'ha punita severamente a livello morale è scaduta tantissimo (strano che un certo Justin è rimasto illeso, per capire quanto ancora maschilista e razzista sia il popolo "campagnolo" degli States), altro evento contrario è stata l'etichetta discografica, trattasi della Virgin records, completamente impreparata a promuovere una diva come JJ! Ma passato è passato, e con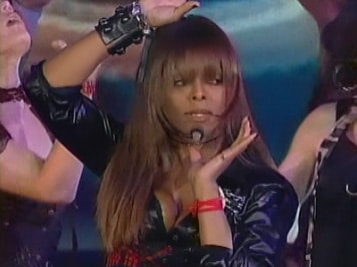 un film di successo, e LA Reid che l'ha presa sotto l'ala protettiva, sembra schiarirsi notevolmente la situazione per Janet…! La musica però dovrà essere più che convincente, a detta degli insider i producer che stanno con lei possono veramente portarla in avanti! Il trucco per non fallire? Lasciarsi dietro il periodo over-sexed... e penso che gran parte dei fans di Janet siano d'accordo con me…
Ho fatto un resume sull'apocalisse che queste divas creeranno nel futuro prossimo, chiaramente il tutto è stato calcolato alla situazione attuale, i posticipi sono sempre dietro l'angolo! Per ora l'unica che ha fatto il passo del "primo singolo" è stata la coraggiosa Mary J.!
Non ho tenuto conto di un'altro comeback attesissimo, quello di Whitney, sappiamo ancora troppo poco, e soprattutto non sappiamo assolutamente quando nel 2008 la grande voce Houston tornerà. Sarà comunque una delizia per tutti i fans, vedere queste grandi tornare, e sono certo che ognuna di loro ci saprà deliziare, ma se dovete scommetterci…
Quale delle 4 vincerà a livello di consenso, vendite, e prestigio?