La stampa critica P!nk per la gaffe pre-inno. Lei risponde
Ogni cosa è buona per far polemica! Vari giornalisti attaccano P!nk, definendola maleducata per un motivo ai limiti del ridicolo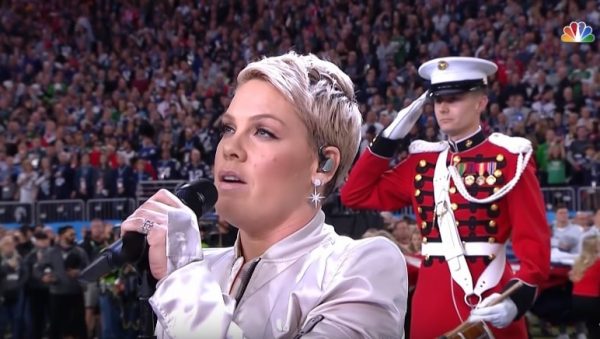 "Gaffe disastrosa prima dell'inno nazionale", così hanno definito alcune testate il gesto di P!nk, beccata in diretta dalla telecamera mentre toglieva dalla bocca la pastiglia per la gola pochi secondi prima dell'esibizione. 
Esatto, pastiglia per la gola, non chewing-gum, cioccolatino o caramella. Una pastiglia per la gola, medicinale che avrebbe potuto darle un po' di sollievo nell'attesa di portare a termine una performance tanto difficile quanto importante dopo giorni di influenza.
Super Bowl 2018: Pink makes DISASTROUS onscreen gaffe moments before singing the national anthemhttps://t.co/VeqfAivRrx pic.twitter.com/PtnzydOHct

— Daily Express (@Daily_Express) 5 febbraio 2018
Persino la diretta interessata è dovuta intervenire per giustificare la cosa, prima di condividere il messaggio di un altro giornalista che, al contrario di molti colleghi, è andato ad informarsi prima di parlare di gaffe e gomme da masticare.
It was a throat lozenge

— P!nk (@Pink) 5 febbraio 2018
It was a throat lozenge. She's had flu and obviously needed it to ease the pain. Despite being ill she turned up and did a great job. She deserves praise, not gutter journalism with no fact checking or sense of balance. @Pink #Pink

— Neil Saunders (@NeilRetail) 5 febbraio 2018
Invece di attaccarsi ad una pastiglia, tenuta in bocca fino all'ultimo secondo non certo per divertimento ma per semplice beneficio, questa gente non potrebbe semplicemente apprezzare l'esibizione della donna?
Un'artista che porta a termine un live del genere in determinate condizioni fisiche non può che avere il nostro massimo rispetto e la nostra totale stima. Brava P!nk!