Lady Gaga: ecco come il mondo del Web ha reagito a "Perfect Illusion"!
Come annunciato dalla popstar stessa alcune ore fa attraverso il suo sito ufficiale e i suoi profili social, il primo singolo di Lady Gaga si chiamerà Perfect Illusion (QUI per scoprire tutte le info), e potrà vantare la collaborazione di Mark Ronson, il celebre hitmaker di Uptown Funk e grande amico della compianta Amy Winehouse, che aveva già da alcuni mesi confermato la sua presenza in LG5 e ha oggi dichiarato che la nuovissima track di Gaga è stata realizzata assieme al gruppo rock Tame Impala e al songwriter BloodPop.
L'annuncio dell'uscita di Perfect Illusion, confermata per il prossimo settembre, è stata ovviamente un fulmine a ciel sereno, diventando in brevissimo tempo un argomento di tendenza in rete, soprattutto sui social. Alcuni hanno incominciato a formulare ipotesi sullo stile del singolo, con la speranza di ritrovarsi con una canzone in linea con il repertorio ormai consolidato di Lady Gaga e di non avere aspettative deluse (ecco QUI quello che noi ci aspettiamo e non ci aspettiamo dal brano), altri invece hanno preferito comunicare la loro reazione sull'annuncio sorprendente della cantante, soprattutto su Twitter, dove l'hashtag #PerfectIllusions è diventato in brevissimo tempo l'argomento di maggior tendenza mondiale.
Ovviamente,  l'annuncio del comeback di Lady Gaga ha diviso la platea italiana (così come quella mondiale) di Internet, e in modo particolare di Twitter: parecchi sono stati i fan che hanno reagito emozionati alla sorpresa della cantante, altri invece hanno approfittato dell'occasione per screditare il lavoro della popstar fatto in Artpop e Cheek to Cheek, mentre altri ancora hanno manifestato il loro disappunto per il ritorno della Germanotta, criticando anche il titolo per la somiglianza con quelli di due canzoni degli One Direction (ossia Perfect e Illusion). Vi lasciamo ora alle reazioni che abbiamo raccolto su Twitter.
LADY GAGA TORNA A SETTEMBRE #LadyGaga #PERFECTILLUSION pic.twitter.com/BklhzWP485

— Den (@Den_Zeo) August 17, 2016
Io così mentre saluto tutte le altre puttanpop. THE QUEEN IS BACK BITCHES #perfectillusion pic.twitter.com/DaUGuSAoFJ

— xoxo, Jose Ph 🔥 (@gppmainagioia) August 17, 2016
Questo è il mio mood da quando Gaga ha annunciato #PerfectIllusion : pic.twitter.com/2Bm7aDrr2I

— vanessa (@vanessacatwalk) August 17, 2016
Stasera esco nudo saltando e ballando #PERFECTILLUSION

— JohnWayne (@Mr_born_to_lose) August 17, 2016
Io sto praticamente morendo e non è uscito ancora nulla #PERFECTILLUSION

— JohnWayne (@Mr_born_to_lose) August 17, 2016
Ora voglio proprio capire come minchia ci arriviamo a settembre. DISPERESCION #PERFECTILLUSION #GAGAISBACK pic.twitter.com/8qAXvyldbj

— L'ANDRE (@AndreaLoria_) August 17, 2016
Quando leggo chi parla di #PERFECTILLUSION screditando Artpop non capendone l'eclettica e folle bellezza. pic.twitter.com/Jh0WWgnVOr

— Vincenzo (@VinceLentini) August 17, 2016
http://twitter.com/offmarvin/status/765933573945827328
Perfavore, niente Jazz e niente artflop, voglio il pop di una volta #PerfectIllusion

— iRaffi (@_Eleeee_) August 17, 2016
CREDEVO FOSSERO I TITOLI DELLE CANZONI DEI 1D RIDO #PerfectIllusion

— YOUNGBLOOD; 🐺 (@29giugno14_) August 17, 2016
http://twitter.com/onlydieghito/status/765959004971536384
#PERFECTILLUSION si..mi ero illuso..pensavo avesse smesso.
Vita di merda. #LadyGaga #colera

— Zero (@ZeroReale) August 17, 2016
La grafica palesemente fatta con paint #PerfectIllusion pic.twitter.com/zsBMytJD10

— alex (@_alexxnavy) August 17, 2016
Ma le probabilità faccia schifo sono altissime #perfectillusion

— Davide (@Dagghii) August 17, 2016
HELP #PerfectIllusion pic.twitter.com/LoGQdZ5M58

— ssoɹ 💧 (@rossycola) August 17, 2016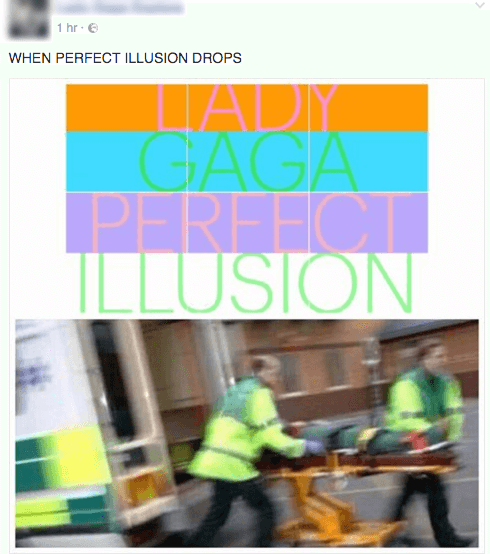 Quali sono state invece le vostre reazioni sull'annuncio di Perfect Illusion? Fatecelo sapere nei commenti!