Lady Gaga: La sua storia, agli esordi a The Fame Monster – primo capitolo
La grande storia di una delle più grandi icone del Pop dell'ultimo decennio: Lady Gaga!
Cantante, musicista, compositrice, produttrice ed entertainer di enorme talento, ma anche icona di stile e della moda, talent scout per la sua Haus of Gaga, team creativo di talenti artistici emergenti composto da DJ, producer, coreografi, stilisti, make-up artist, hair stylist, fotografi, designer e scenografi, autori delle creazioni audio/visive utilizzate dall'artista nelle sue stravaganti performance, fenomeno di cultura e costume, attivista nel sociale, con la sua associazione no-profit Born This Way Foundation.
Sempre in prima linea nella lotta a favore dei diritti omosessuali, dei quali è una delle madrine più esposte e riconosciute, così come nella propaganda contro gli abusi sessuali (ha confessato di averne subito uno all'età di 19 anni), attrice da Golden Globe, in questi 8 anni di carriera "Mother Monster", come si fa chiamare dai suoi fan, ha ampiamente dimostrato di essere un'artista completa, capace di avere successo in diversi ambiti dello spettacolo (cosa che è accaduta raramente nella storia del Pop), affermandosi come uno dei personaggi più potenti ed influenti della nostra generazione, grazie anche a delle qualità che l'hanno decisamente contraddistinta nel panorama musicale mondiale: eccentrica, innovatrice, provocatrice, camaleontica, Lady Gaga, che la si ami o la si odi, è senza dubbio una Diva dei nostri tempi.
Grazie a StampaPrint per la Bio in immagini!
Noi di RnBJunk vogliamo celebrare Lady Gaga con questa biografia celebrativa, che sarà divisa in due parti, dove ripercorreremo nel dettaglio la sua storia, dagli esordi ad oggi, analizzando i suoi incredibili successi, ma anche gli scivoloni e dove scopriremo insieme qualche curiosità in più su di lei, in vista del suo attesissimo comeback, che dovrebbe avvenire nei prossimi mesi, dopo il flop di 'ARTPOP', l'ultima fatica discografica solista, che non ha raggiunto il successo commerciale che ci si aspettava.
L'adolescenza ed un sogno: diventare una cantante
Stefani Joanne Angelina Germanotta nasce il 28 Marzo 1986 a New York, più precisamente nell'Upper West Side di Manhattan, da una famiglia di origini italiane, della provincia di Messina, Sicilia.
Scopre l'amore per il palcoscenico durante il liceo, dove viene scelta dalla scuola cattolica che frequentava, il Convent of the Sacred Heart, famosa per essere una delle più selettive e costose della città, per interpretare il ruolo da protagonista in diverse produzioni teatrali.
Così come concordato con i genitori, una volta ottenuto il diploma, Stefani lascia il nido e si trasferisce nel Lower East Side di Manhattan, per cercare di sfondare nella musica. Non volendo pesare in alcun modo sull'economia della famiglia per questa scelta, va a convivere in una casa con i componenti di due band emergenti, pagandosi l'affitto con i guadagni delle sue esibizioni in un burlesque bar, dettaglio tenuto all'oscuro di mamma e papà, che una volta scoperta l'attività intrapresa dalla figlia, le esternano il loro totale disaccordo, motivo per il quale i rapporti con i genitori si logorano in questo periodo.
Ma è proprio in quel luogo che avviene il primissimo contatto con un mondo che diventerà la principale influenza della sua carriera e che rappresenterà il tratto distintivo della sua immagine, contribuendo in maniera importante al processo creativo del suo personaggio artistico: il mondo delle drag queen e delle stripper.
Rob Fusari, la nascita del personaggio "Lady Gaga" e l'incontro con Lady Starlight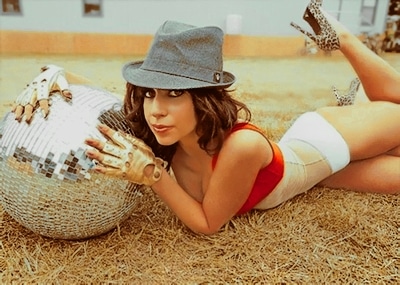 Stefani muove i primi passi nella musica come frontwoman della Stefani Germanotta Band, con la quale si esibisce in diversi bar di New York e registra due EP, 'Words' e 'Red and Blue', risalenti al 2005, venduti durante i concerti del gruppo, che iniziano così ad ottenere diversi sostenitori in città.
Ma la prima, vera opportunità arriva qualche mese più tardi, quando l'assistente del produttore musicale Rob Fusari, in giro per i club a caccia di nuovi talenti per suo conto, nota la cantante in un live e la invita ad un incontro col produttore ed il suo staff.
In questo meeting nasce il fortunato nome d'arte che, qualche anno dopo, l'avrebbe resa famosa in tutto il mondo: da una citazione del brano 'Radio Ga Ga' dei Queen, da sempre uno dei gruppi musicali preferiti dell'artista, Stefani Germanotta diventa Lady Gaga.
All'età di 19 anni firma il suo primo contratto discografico con la Def Jam Recordings, appartenente al gruppo Universal Music e si esibisce in vari concerti e manifestazioni locali in compagnia della DJ e ballerina Lady Starlight, con la quale si instaura un rapporto fraterno (sarebbe poi diventata infatti la sua migliore amica, nonché futura opening-act di tutti i suoi tour). Insieme partecipano anche al celebre festival alternative-rock Lollapalooza nel 2007. Nonostante questo, il tanto agognato successo non arriva e la casa discografica decide di sciogliere il contratto.
Da autrice per la Interscope a 'Just Dance': l'incredibile debutto di Lady Gaga
Scaricata dalla sua casa discografica, nel 2008 viene scritturata dalla Interscope Records che, scherzo del destino, è anch'essa di proprietà della Universal Music, ma questa volta in veste di compositrice. In questo periodo scrive e produce brani per interpreti del calibro di Britney Spears, Pussycat Dolls e Fergie.
Nel Febbraio del 2008 Gaga propone alla Interscope il pezzo che sarebbe poi diventato il suo singolo di debutto, stiamo parlando di 'Just Dance', scritta col suo storico produttore RedOne. Nei credits compare anche il cantante Akon, che presta la voce nei cori del brano (quest'ultimo inizialmente dichiarò di aver collaborato con Lady Gaga per aiutarla ad emergere, anni dopo invece rivelò che l'aveva fatto solo per soldi e che non credeva in lei come artista).
Positivamente colpiti dal sound accattivante e particolarmente radiofonico, i dirigenti della Interscope iniziano a vedere in lei una potenzialità come popstar che finora nessuno aveva ancora visto e decidono di pubblicare il singolo a suo nome, supportata nel canto dal cantautore americano Colby O'Donis.
E' così che, l'8 Aprile del 2008, inizia ufficialmente la carriera da cantante di Lady Gaga.
Il pezzo inizialmente fa fatica ad ingranare, ma un anno dopo dalla sua pubblicazione, 'Just Dance' raggiunge inaspettatamente la #1 in sette paesi, tra i quali il mercato musicale più ambito, gli Stati Uniti. Quell'anno il singolo ha venduto l'importante cifra di 7.7 milioni di copie, ottenendo otto dischi di platino solo negli USA e altri diciotto mondialmente e tre dischi d'oro, piazzandosi alla quarta posizione dei singoli più venduti al mondo nel 2009. Detiene inoltre il record di "Singolo di debutto più venduto di sempre negli Stati Uniti".
 'Poker Face': la consacrazione mondiale di Lady Gaga
Nei primi mesi del 2009 viene pubblicato mondialmente il suo secondo singolo ufficiale, anche questo prodotto con l'inseparabile RedOne, stiamo parlando di 'Poker Face'.
Se il grande successo del primo singolo fu lento ed inaspettato, lo stesso non si può dire per quello ottenuto da questo, che al contrario esplose letteralmente fin dalla sua uscita, protagonista di una sovraesposizione mediatica che ha dell'incredibile e rarissimi precedenti nella storia della musica e che in alcuni Paesi ha addirittura oscurato il singolo precedente. 'Poker Face' la sentivi ovunque: in radio, in TV, in discoteca, al bar, al supermercato, nelle macchine ferme al semaforo, praticamente tutti in quel periodo ascoltavano questa canzone (complice anche il campionamento del popolare brano degli anni 70 'Ma Baker' dei Boney M), che ha così raggiunto dei risultati commerciali che fanno impallidire quelli già ottimi di 'Just Dance'.
numero 1 in 23 paesi
trentasei dischi di platino (uno dei quali in Italia)
disco di diamante negli Stati Uniti
singolo più venduto al mondo nel 2009
tra i singoli più venduti al mondo nella storia della musica
vincitore del World Music Award per Best Single e del Grammy Award per Best Dance Recording
Con questa canzone è ufficialmente nata una superstar internazionale: tutti, in ogni angolo del globo, parlano di questa irriverente artista emergente che sta cambiando il corso della musica pop.
Qualche mese più tardi "Stefani Germanotta" sarà ospite del programma TV "Quelli che il calcio", vittima di un'alquanto imbarazzante intervista con la Diva della televisione italiana Simona Ventura, che farà divertire milioni di telespettatori.
'Paparazzi': la creazione del "mito musicale" ed il boom delle teorie complottistiche
Il 6 Luglio 2009 viene pubblicato il terzo singolo (a livello mondiale) 'Paparazzi', scritto insieme a Rob Fusari, il suo ex-produttore, che abbiamo conosciuto qualche capitolo fa.
A differenza dei singoli rilasciati finora, questo è meno electro ed è caratterizzato da una struttura prettamente pop. Anche il testo e gli argomenti trattati sono diversi e affrontano a pieno il tema dell'album dal quale è tratto: la fama, il successo, la ricchezza, il potere e tutto ciò che può conseguirne. Un'aura misteriosa, inquietante avvolge questo pezzo, che si discosta completamente da ciò che aveva proposto prima, nel quale Gaga si atteggia a superstar talmente importante da essere ossessivamente perseguitata dai paparazzi, senza permettere però a chi la ascolta di capire se questa cosa la infastidisca o se invece ne sia compiaciuta: sembra quasi infatti che l'essere costantemente sotto i riflettori sia per lei un sogno che si avvera, anche se in un modo che può apparire "malato", "contorto", sbagliato.
Tutti questi messaggi li ritroviamo nel potentissimo video di questa canzone, diretto dal genio visivo di Jonas Åkerlund, grazie al quale Lady Gaga riesce definitivamente nell'impresa che si era prefissata: diventare agli occhi di tutti un "mito musicale", una figura talmente seguita da riuscire ad influenzare il mondo con le sue idee. L'uscita di questo video coincide con un periodo in cui nell'industria musicale ci fu un vero e proprio boom delle cosiddette "teorie complottistiche". Per via di una serie di immagini e di simboli inseriti nei suoi video, Gaga viene accusata dai sostenitori di queste teorie di far parte di una nota e potente setta massonica. Vennero tirati in ballo anche altri artisti come Rihanna, Beyoncè e Jay-Z, colpevoli di aver utilizzato gli stessi simbolismi nei loro video.
In realtà, non appena queste teorie cominciarono a diffondersi tra il pubblico, le label non fecero altro che continuare a riempire i video dei loro artisti con simboli massonici e messaggi subliminali, con lo scopo di ottenere attenzioni, visualizzazioni e quindi successo. La tattica funzionò per qualche anno, finchè l'attenzione non scemó.
Stando a queste teorie, il video di 'Paparazzi' rappresenterebbe l'uccisione spirituale di Stefani Germanotta a favore della nascita del personaggio mediatico di Lady Gaga. Queste polemiche si sono poi intensificate con l'iconica performance del brano eseguita agli MTV Video Music Awards 2009, dove Gaga inscena un "suicidio in cambio della fama".
Lady Gaga 'Paparazzi' music video
Lady Gaga 'Paparazzi' live @ MTV Video Music Awards 2009
Anche questo singolo è stato un grande successo: sette dischi di platino (uno dei quali in Italia), sei dischi d'oro e due MTV Video Music Awards.
Inoltre vi segnaliamo un bellissimo remix del brano curato da Stuart Price, storico produttore di Madonna, tratto dal disco 'Lady Gaga: The Remix'.
'The Fame': il primo album di Lady Gaga
Il 19 Agosto 2008 fu pubblicato 'The Fame', il primo album di Lady Gaga.
Il filo conduttore del disco è la fama e i cambiamenti che questa può portare nella vita di una ragazza: soldi, potere, sesso, scandali sono i temi affrontati nella maggiorparte delle tracce. La smania di successo, la voglia di arrivare, di far sentire la propria voce ed il percorso, difficile e a volte pericoloso, intrapreso per vedere avverarsi quel desiderio che sembrava irrealizzabile. Un'interessante analisi della sua "favola", che l'ha vista trasformarsi da cantante timida, introversa ed insicura a spregiudicata superstar planetaria sulla bocca di tutti.
Lady Gaga si è ispirata ad un album rivoluzionario per la cultura pop di quel periodo, ma purtroppo bistrattato da critica e pubblico, 'Blackout' di Britney Spears, che ripropose dopo un decennio sonorità electro-pop. 'The Fame' è sostanzialmente un lavoro sulla falsa riga di quello di Britney, che a causa dell'esposizione mediatica favorevole del personaggio, riuscì a riscuotere molto più successo. Dopo l'enorme exploit di Gaga, tutti gli artisti del panorama pop (e non solo) si sono adeguati a queste sonorità, nella speranza di raggiungere lo stesso, incredibile riscontro.
Il disco rimase nella Billboard 200, la classifica album americana, per 150 settimane consecutive, ottenendo quattro dischi di platino per aver superato le 4 milioni 500 mila copie vendute solo negli USA. Mondialmente ha raggiunto la cifra da capogiro di oltre 15 milioni di copie, con settantacinque dischi di platino (quattro dei quali in Italia), dodici dischi d'oro e due dischi di diamante. Si è aggiudicato inoltre un Brit Award e un World Music Award per il Best International Album, un Billboard Music Award e un Grammy per il Best Dance/Electronic Album.
Oltre ai singoli di maggior successo 'Just Dance', 'Poker Face' e 'Paparazzi', dall'album venne estratto anche 'LoveGame', singolo che divenne popolare sopratutto per quel "DiscoStick" cantato poco prima del ritornello, una parola coniata da Lady Gaga e successivamente divenuta di uso comune, che ha inequivocabili riferimenti fallici.
Altri singoli promozionali estratti dal disco furono:
'Beautiful, Dirty, Rich' utilizzato per promuovere la serie TV della ABC "Dirty Sexy Money"
'Eh Eh (Nothing Else I Can Say)', divenuto popolare su YouTube grazie al video-tributo all'Italia, paese di origine della cantante.
Infine da questo album vogliamo farvi ascoltare due tracce che non sono state estratte, ma che secondo noi meritano di essere menzionate.
Leggera, fresca, colorata, senza pretese. Un pezzo davvero piacevole, che avrebbe potuto rivelarsi un buon singolo estivo.
Una delle mie preferite del disco, forse perchè si differenzia completamente da tutte le altre tracce, spiccando per le sue marcate influenze urban, mostrando un lato di Lady Gaga all'epoca assolutamente inedito. Possiamo ascoltare uno stralcio di questo brano nell'introduzione del video di 'Telephone'.
'Bad Romance': il grande ritorno di Lady Gaga
Tutti gli occhi sono puntati su Lady Gaga ed il suo comeback. Il rischio di ripetersi e di deludere, dopo il boom dell'era 'The Fame' è dietro l'angolo e le aspettative sono altissime.
Il 3 Ottobre 2009 presenta in anteprima mondiale nel famoso show americano Saturday Night Live la superba 'Bad Romance', con la quale rientra sulle scene in grande stile, alzando il livello qualitativo forse al punto più alto della sua carriera. Per l'occasione mette in piedi anche uno sketch comico con la rivale(?) Regina del Pop Madonna, che diventerà subito virale.
Questo pezzo è così potente e martellante che sarebbe diventato il suo più grande successo insieme a 'Poker Face', un vero e proprio tormentone, accompagnato da uno dei visual meglio realizzati di quegli anni, emblema del sodalizio artistico con lo stilista e amico Alexander McQueen, designer della maggior parte degli abiti indossati in questo video.
numero 1 in 21 paesi
venticinque dischi di platino (due dei quali in Italia) e due dischi d'oro
disco di diamante negli Stati Uniti
secondo singolo più venduto al mondo nel 2010
oltre un miliardo di visualizzazioni su YouTube
vincitore di sette MTV Video Music Awards (Video of the Year, Female Video, Pop Video, Dance Video, Best Direction, Best Choreography, Best Editing) e di un MTV Europe Music Award per Best Song
vincitore di due Grammy Award per Best Female Pop Vocal Performance e Best Video
tra i 100 brani migliori di sempre secondo il TIME
Di seguito l'infuocata performance del brano eseguita agli American Music Awards 2009.
'Telephone': il fortunato connubio artistico con Beyoncé
Dopo gli incredibili successi collezionati finora, tutti aspettano la prossima mossa di Lady Gaga, chiedendosi cos'altro potrà mai inventarsi. E' arrivata ad un punto talmente alto della sua carriera, che l'idea che possa fare di meglio sembra assurda e quasi ci si aspetta un suo passo falso. Ma il genio creativo di Gaga è ancora in buona salute e partorisce l'ennesimo grande colpo.
Inizialmente scritta per Britney Spears, in collaborazione col famoso produttore americano Darkchild nel periodo in cui Stefani lavorava come compositrice, 'Telephone' venne scartata da Britney e Gaga la mise da parte, in attesa di decidere cosa farne. Dopo averla riarrangiata per renderla attuale, si accorge che manca ancora qualcosa a questo pezzo, apparentemente "frivolo", "adolescenziale" e troppo distante dall'immagine di "donna imbattibile" che si era costruita e manda la demo ad una delle esponenti Pop'nB più forti ed amate del mondo, Beyoncé, proponendole un duetto. Quest'ultima, rimasta particolarmente colpita dal pezzo, accetta, rendendo possibile una delle collaborazioni più proficue e meglio riuscite dell'ultimo decennio.
E' il 15 Febbraio 2010 quando il singolo viene pubblicato ed i fan di entrambe le artiste sono letteralmente in visibilio. La canzone esplode fin da subito ed è il giusto seguito al grandissimo successo di 'Bad Romance'. Ora tutti sono in trepidante attesa del video, dopo che Gaga ha annunciato che sarà il seguito di 'Paparazzi', visual che ha contribuito a cambiare per sempre la sua immagine e che avrà lo stesso regista, il bravissimo Jonas Åkerlund.
L'11 Marzo 2010, in anteprima mondiale sul canale E!, viene trasmesso il video di 'Telephone', sprezzante e coloratissimo cortometraggio della durata di 9:34 minuti. Il visual è palesemente ispirato ai film dell'italo-americano Quentin Tarantino, regista preferito della cantante, tanto che al suo interno ritroveremo la mitica Pussy Wagon, l'auto guidata da Uma Thurman nel celebre pulp-movie 'Kill Bill Vol. 1'. Particolarmente notevole l'impegno della Haus of Gaga nel creare oggetti di scena che sono rimasti nella storia della cantante: come dimenticare i mitici occhiali da sole con le sigarette fumanti, le lattine di Diet Coke usate a mó di bigodini, l'abito realizzato col nastro giallo utilizzato dalla polizia americana sulle scene del crimine, l'iconico cappello azzurro a forma di telefono o la parrucca bionda con i capelli a forma di cornetta telefonica?
Il singolo quell'anno vende 7.4 milioni di copie, risultando il quarto più venduto al mondo nel 2010, collezionando quattordici dischi di platino (uno dei quali in Italia) e cinque dischi d'oro. Vince il premio Best Collaboration agli MTV Video Music Awards e si piazza al primo posto nella classifica dei Migliori video del 2010 stilata dalla bibbia musicale americana Billboard.
Lady Gaga restituirà poi il favore all'amica Beyoncé, duettando nel singolo di quest'ultima 'Video Phone', una sorta di "versione urban" di 'Telephone', che si aggiudicherà il BET Award come Video of the Year.
'Alejandro': l'opera più significativa ed emozionante di Lady Gaga?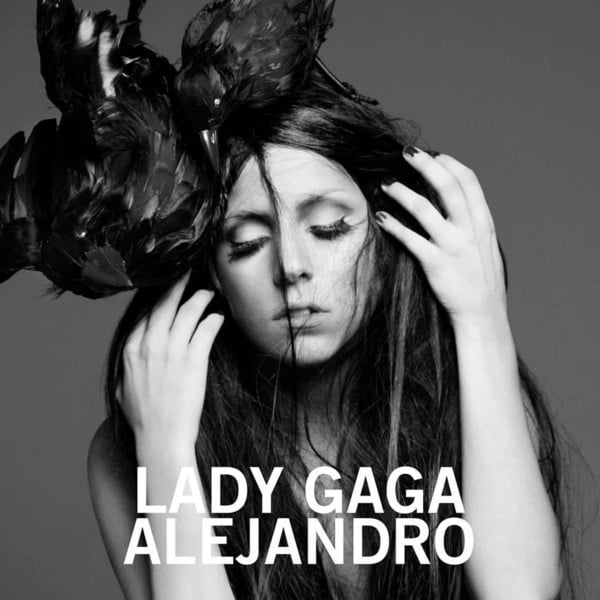 Ennesima collaborazione tra Lady Gaga e RedOne, 'Alejandro' viene pubblicata il 20 Aprile 2010.
Caratterizzata da un sound molto  orecchiabile, non è un segreto che la sua base è fortemente influenzata dalla HIT anni 90 'All That She Wants' degli Ace of Base, oltre ad avere diverse citazioni, sia nella base che nel testo, dello storico gruppo europop anni 70 ABBA, in special modo del brano 'Fernando', nome che viene utilizzato da Gaga anche nel ritornello della canzone. L'introduzione di 'Alejandro' vede protagonista la struggente, malinconica melodia di un violino, anch'essa una citazione, dell'opera del 1904 intitolata 'Csárdás' del compositore e musicista classico italiano Vittorio Monti.
Il video, diretto dal fotografo di moda Steven Klein, è stato al centro di diverse polemiche per le immagini in esso contenute, che hanno urtato la sensibilità di alcuni spettatori ed è stato addirittura attaccato dalla Lega Cattolica per blasfemia, a causa di alcuni fotogrammi in cui una Lady Gaga vestita da suora mette in bocca un rosario, subendo censura in diversi paesi. Appaiono chiari anche molti riferimenti alla Seconda Guerra Mondiale e all'"omocausto", genocidio che ha interessato gli omosessuali in quel periodo.
In realtà, la forza più grande di questo singolo sta proprio nel suo controverso e scomodo video: Lady Gaga e Steven Klein si servono di tragici momenti politici e religiosi della storia dell'umanità e li cuciono insieme in un cortometraggio di fortissimo impatto non solo visivo, ma sopratutto emozionale, dall'ambientazione talmente cupa, dark e algida da risultare quasi fastidiosa e con un'atmosfera misteriosa, pesante da sopportare, talmente intrinseca di sofferenza da lasciare lo spettatore stordito da così tanta aggressività, inducendolo a riflettere sul messaggio nascosto che c'è dietro a tutto questo: il male che l'essere umano è capace di commettere.
Per quanto riguarda la trama del video, Lady Gaga in un'intervista al Times ha dichiarato:
«Si tratta di una celebrazione alla purezza del rapporto che ho con i miei amici gay e di quanto io non sia stata capace a provare le stesse sensazioni con un uomo eterosessuale fino ad ora. È un inno, un encomio dell'amore gay, dove esprimo la mia invidia per il coraggio e la prodezza con i quali loro riescono a stare insieme.»
Nonostante le censure e la propaganda messa in atto dalla Chiesa per oscurare il video di 'Alejandro', questo ottiene in pochi mesi la certificazione Vevo per aver superato le 100 milioni di visualizzazioni su YouTube ed il singolo è l'ennesimo grande successo: quattordici dischi di platino (due dei quali in Italia) e tre dischi d'oro.
'The Fame Monster': l'EP di transizione verso una nuova Lady Gaga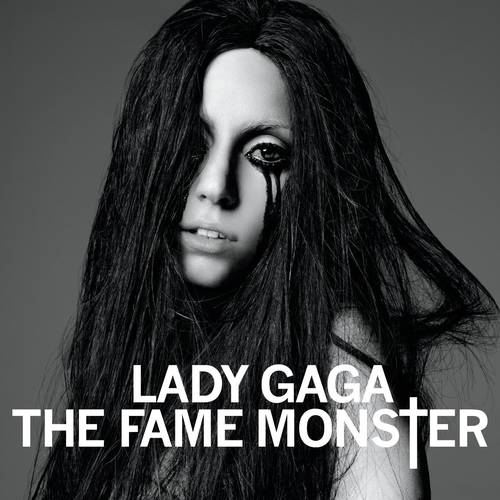 Il 18 Novembre 2009 fu pubblicato 'The Fame Monster', un EP con 8 tracce inedite, considerato a metà tra la riedizione del primo album 'The Fame' e il processo di transizione verso quello che sarà il capitolo successivo della sua carriera. Dal disco sono stati estratti i singoli 'Bad Romance', 'Telephone' e 'Alejandro' e tutti e tre hanno ottenuto un ottimo riscontro mondiale.
Con questo disco il sound di Lady Gaga perde la sua tipica "luccicanza", quell'irresistibile "glitter" da disco-ball che tanto l'ha resa famosa, per dare spazio a suoni più cupi, gotici, organici. Anche i testi si fanno più impegnati, introspettivi, viscerali, svelando un lato sensibile e molto intimo della sua personalità. Gaga si mette a nudo e dichiara al mondo di aver raggiunto una maturità artistica ancora sconosciuta al pubblico, di essere pronta a mostrarsi in una veste totalmente inedita. Tutti questi cambiamenti riflettono anche sulla sua immagine, che abbandonate le abbaglianti luci della disco anni 80, si lascia contaminare da atmosfere più dark, misteriose e in alcuni casi anche violente.
Lady Gaga ha così spiegato la natura di questo progetto in varie dichiarazioni:
«Sono ossessionata dalla decadenza della celebrità e il modo in cui la fama è diventata un mostro nella nostra società. In 'The Fame Monster' ho scritto tutto quello che non avevo scritto in 'The Fame'. Viaggiando per il mondo ho incontrato diversi tipi di mostri e ho dedicato a ciascuno di loro una canzone nel nuovo disco: il "mostro del sesso", il "mostro dell'alcool", il "mostro dell'amore", il "mostro della morte" e il "mostro della solitudine" sono quelli che ho incontrato più spesso e li ho esorcizzati tramite queste nuove canzoni. Le atmosfere di 'The Fame' e 'The Fame Monster' sono opposte e li definirei rispettivamente "Yin" e "Yang". Sono pronta per il futuro, ma rimpiango il passato. E' un vero e proprio rito di passaggio, bisogna lasciar andare le cose, bisogna piangerle come faremmo con una perdita, affinché si possa andare avanti ed è questo ciò di cui parla l'album.»
L'EP ottiene un enorme successo: album più venduto al mondo nel 2010 con 5 milioni 800 mila copie, cinquantacinque dischi di platino (due dei quali in Italia) e un disco di diamante.
La maggiorparte delle tracce in esso contenute è dotata del potenziale necessario per poter essere singolo. Per questo motivo vi segnaliamo due meravigliosi brani che non sono stati estratti (ed è davvero un gran peccato).
Cosa dire su questo pezzo, mi verrebbero in mente una serie di aggettivi qualificativi, ma vi lascerò trarre da soli le vostre conclusioni. Schiacciate play e godetevi questa meraviglia.
Vi è mai capitato di sentire una canzone e di trovarla talmente bella da pensare che dovrebbero ascoltarla tutti? Questo è ciò che mi succede ogni volta con questo brano. Una ballad sublime, molto probabilmente la migliore della sua intera carriera. La pretendevo come singolo ed il fatto che non lo sia stato è una cosa che non riesco a perdonarle.
Siamo arrivati alla conclusione di questa prima parte della nostra biografia di Lady Gaga. Se siete arrivati fin qui, grazie!
Nella seconda parte analizzeremo l'era 'Born This Way', 'ARTPOP' e 'Cheek to Cheek', fino ad arrivare agli eventi più recenti. Nel frattempo, fate anche voi gli auguri a questa Icona del Pop nei commenti, o condividendo l'articolo sui vostri social e fateci sapere cosa ne pensate!
[td_smart_list_end]