Lady Gaga Vs. The Chainsmokers: volano insulti pesantissimi sui social network!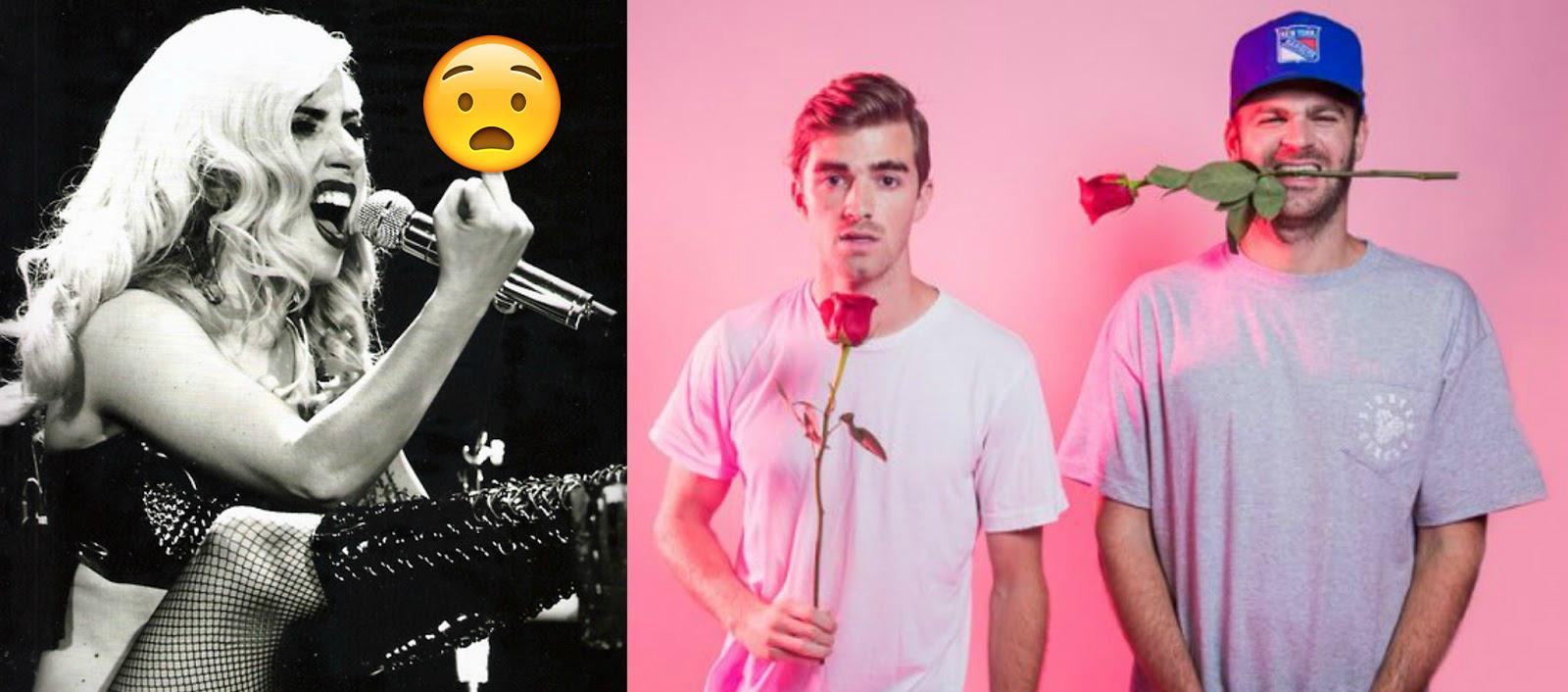 Mentre la loro "Closer" non si scolla dai vertici delle classifiche, i Chainsmokers sono diventati personaggi abbastanza discussi mediaticamente. In particolare, di recente una loro intervista concessa alla celebre rivista musicale Rolling Stone, il duo ha fatto parlare molto a causa di una considerazione poco carina nei confronti del lead single di Lady Gaga "Perfect Illusion", una dichiarazione in linea con quanto dichiarato da molte persone, ma che in bocca a due hitmaker del momento ha fatto infervorare ancora di più i Little Monster, pronti sempre a difendere la loro beniamina.
| QUI per riscoprire l'intervista in questione qualora ve la foste persa |
Ebbene, a quanto pare questa dichiarazione non era passata inosservata nemmeno a Mother Monster in persona che così, ora che il suo nuovo singolo "A-YO" è stato pubblicato con tanto di copertina ed annuncio da una radio molto rinomata (QUI per saperne di più), ha deciso di mandare una punzecchiatura di spillo al duo attraverso Twitter:
#AYO @TheChainsmokers maybe u guys'll like this 1 better ✌️️🚬🚬🚬🚬#NowPlaying
Apple: https://t.co/u0r8kOeLCr Spotify: https://t.co/iCwMjenJut

— Lady Gaga (@ladygaga) October 18, 2016
Ragazzi, Chainsmokers, magari questa può piacervi di più…
…con tanto di emoticon della sigaretta, quasi come a prendere in giro il duo per il loro nome, o per dire che fossero fumati. Tempestiva la risposta dei due:
https://twitter.com/TheChainsmokers/status/788453835870089216
Subito dopo, però, un messaggio molto offensivo appare sull'account di uno dei due Chainsmokers, Drew Taggart:
Lady Gaga [tua zia] Joanne viene stuprata all'inferno, tu sei una brutta ermafrodita
Un messaggio davvero triste e deplorevole, che tuttavia sembrerebbe non essere stato scritto da lui, almeno a sua detta:
Guys calm down my account was hacked. I would NEVER tweet anything like that to one of my friends.

— D R E W (@drewtaggart) October 18, 2016
Ragazzi calmatevi il mio account era stato hackerato. Io non twitterei MAI nulla del genere ad uno dei miei amici
Noi davvero speriamo che il suo account sia stato hackerato, perché se così non fosse un messaggio del genere assolutamente non è giustificabile. Passi pure l'insulto diretto alla persona, ma il "tua zia viene stuprata all'inferno" è davvero un'uscita infima. Chiunque l'abbia scritto dovrebbe vergognarsi. Voi che ne pensate?