Lana Del Rey esegue dal vivo "Love" al SXSW Festival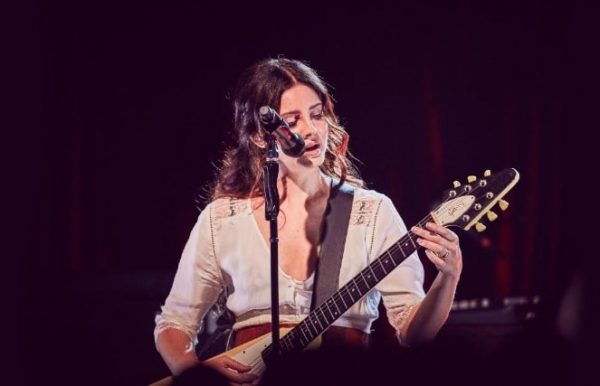 In occasione del SXSW Festival di Austin, Lana Del Rey si è esibita a sorpresa nel corso di un evento speciale organizzato da Apple Music. Qui la cantautrice ha avuto l'occasione di eseguire per la prima volta dal vivo il nuovo singolo Love (testo e traduzione qui), che dovrebbe anticipare l'uscita del suo prossimo album.
Ecco il video dell'esibizione:
Un mini-concerto che però non le ha impedito di ampliare il suo repertorio con alcuni dei brani più celebri, come Ultraviolence, Born to Die, Shades of Cool, Video Games e Yayo, destreggiandosi con eleganza tra i vari problemi tecnici che hanno interferito con l'esecuzione delle canzoni.
Lana ha recentemente dichiarato, in un'intervista per la BBC Radio 2, di voler pubblicare un album "socialmente consapevole",
"Ho iniziato a lavorarci pensando ai dischi degli anni '50 e '60, ispirandomi a Shangri-Las e Joan Baez. Poi però, con il cambiamento del clima politico, mi sono resa conto che tutti i testi parlavano di quello. Quindi ho cercato di aggiornare il sound, affinché possa arrivare alla parte più giovane del pubblico. È un lavoro socialmente consapevole."
La cantante ha inoltre rivelato di aver collaborato ad alcuni brani con Miles Kane, musicista britannico e membro dei The Last Shadow Puppets, anche se non si tratterebbe di musica destinata all'album della cantante. Si parla di un progetto diverso che vedrà la luce in futuro. La data di pubblicazione e i numerosi artisti che hanno collaborato alla realizzazione del disco, ha spiegato la popstar, saranno rivelati presto.
Una cosa è certa: il nuovo album in studio, a cui sta lavorando insieme allo storico produttore Rick Nowels, sarà un omaggio ai suoi fan:
"Ho fatto i miei primi quattro album per me, ma questo è per i miei fan e riguarda il luogo verso il quale, spero, siamo tutti diretti."