Lauren delle Fifth Harmony scoppia a piangere in concerto: cosa succede? (VIDEO)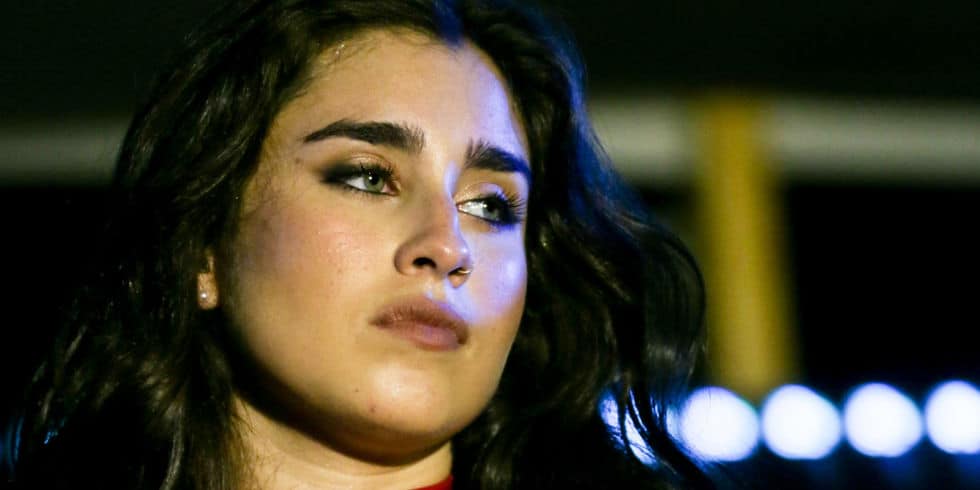 Lauren Jaregui è da sempre il membro delle Fifth Harmony per cui abbiamo parteggiato di più. Una voce bellissima ed una brava interprete oltre che una bella ragazza ed una buona performer spesso messa in un angolo per mandare avanti altri membri delle Fifth Harmony, ma che non appena ha la possibilità di mostrare di che pasta è fatta riesce sempre a sottolineare il suo talento, per quanto ancora neanche lei sembri in grado di poter avviare una carriera da solista.
Nonostante la sua bravura e le polemiche che vengono spesso scatenate dagli stessi harmonizer per il poco spazio che le viene concesso nella maggior parte di case, durante l'ultimo concetto del "7/27 Tour" Lauren ha fatto parlare per via di un piccolo inconveniente capitato nel bel mezzo di una performance. Mentre stava cantando la sua parte di "No Way", traccia molto emotiva inclusa nella deluxe edition di "7/27", Lauren è scoppiata a piangere ed ha lasciato che la base andasse avanti senza alcuna controparte vocale (fra l'altro, nessuna delle ragazze è riuscita ad improvvisare nulla per tamponare il danno), per poi riprendere a cantare solo qualche secondo più tardi.
https://twitter.com/adoringcabeIIo/status/774309766185091072
Sul momento, nessuna spiegazione è stata data per questo avvenimento. I fan hanno tuttavia iniziato a twittare l'hashtag #WeLoveYouLauren, portando così la cantante a postare il seguente tweet:
And thank you guys so much for the love and concern(: I'm feeling a lot better today! Lyrics just made me extra emotional yesterday❤️ ily

— Lauren Jauregui (@LaurenJauregui) September 9, 2016
Grazie mille ragazzi per il vostro amore e per il vostro sostegno. Oggi mi sento molto meglio! Quel testo ieri mi ha reso davvero super emotiva <3
Qualche mese fa, Lauren aveva spiegato cosa significhi per lei questa traccia con le seguenti parole:
E 'folle quello che abbiamo passato con "No Way". In realtà è stata registrata circa 2 anni fa, quando abbiamo iniziato a registrare il nostro primo album, Reflection. Quando abbiamo creato questa canzone ricordo che abbiamo ascoltato più e più volte la traccia insieme alla demo registrata dalla sua autrice Victoria Monet (che ha una delle più belle voci di sempre) ed ho iniziato a connettermi super intensamente con il testo. Era così crudo e onesto su un rapporto semplicemente tossico, ma dalla prospettiva di come bisogna fare per curarsi a vicenda fra parner… di un amore difficile per cui si ha lottato e vinto. Adoro il modo in cui il brano che porta in un viaggio emotivo e come si sente il dolore e l'indecisione di queste persone, il dilemma "amare o lasciarsi andare". Siamo stati in grado di emozionare ed emozionarci in un modo che non avevamo mai fatto prima con nostra musica e penso sia il mio momento preferito di questa avventura. Riesco sempre a percepire mille emozioni dietro quella canzone. Non avevo mai sentito una traccia che mi prendesse così tanto.
Questa sincera emozione dietro la sua musica ci fa davvero vedere un futuro roseo per Lauren, e noi non vediamo l'ora di vederla esplodere e mostrare tutto il suo potenziale al mondo. Di seguito la studio version del meraviglioso brano. Ascoltate il ritornello cantato da Lauren: emozione pura.