Le migliori canzoni del 2015: la Top 10 (Alberto)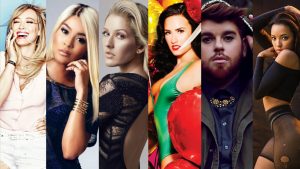 Il 2015 è stato un anno pieno di sorprese in ambito musicale. Come back di grandi artisti del passato snobbati, newbie che spuntano da ogni dove, successi inaspettati e molti buchi nell'acqua non meritati.
Personalmente saranno diversi i brani che ricorderò dell'anno da poco terminato, e non sono certo le classiche canzoni che capita di ascoltare alle radio del Bel Paese, fatta eccezione forse per un paio di loro: i pezzi che più ho apprezzato sono interpretati principalmente da cantanti americani e non tutti sono famosi per essere stati dei singoli di successo, anzi! Nella top 10 troverete semplici album track, artisti semi-sconosciuti, ma al contempo delle perle pop che sono riuscite a cavalcare l'onda del successo e a raggiungere buone posizioni nelle classifiche musicali. Una top 10 molto variegata, che include per metà successi appartenenti alla prima metà di questo 2015, e per l'altra metà brani rilasciati più di recente.
Per mettere in piedi questa classifica mi sono affidato al numero di riproduzioni che ognuno di loro ha ottenuto, tenendo conto ovviamente della loro data di rilascio. A tratti vi sembrerà la classifica dei brani-wannabe o legato principalmente ai newbie, ma in realtà mi sono semplicemente mantenuto saldo ai miei gusti, evitando di omologarmi a ciò che le radio decidono di trasmettere e di farci piacere. Se apprezzate come il sottoscritto la musica pop unita all'hip hop e alla dance, sono certo che troverete qualche perla sconosciuta tra i brani che ho scelto di includere in questa classifica di fine anno. Buona lettura.
10 – "Reflection" (Reflection) – Fifth Harmony
Partiamo con la canzone che ho deciso all'ultimo di includere in questa classifica del mio 2015: "Reflection". Il brano appartenente a una delle girl band americane emergenti, le giovanissime Fifth Harmony, non è mai stato estratto come singolo ufficiale dal loro ultimo album studio, anch'esso intitolato Reflection, ma, nonostante ciò, è stata una delle tracce da me più ascoltate durante quest'ultimo anno.
Ciò che più ha catturato la mia attenzione è stato il testo molto ironico del brano, nel quale le ragazze stanno parlando a un altro soggetto, al quale fanno complimenti per la sua bellezza, per il suo fascino e più in generale per la sua perfezione. Solo nel ritornello sveleranno di essere rivolte al loro stesso riflesso e non a un qualche ragazzo, come poteva sembrare ai più.
Nel bridge le ragazze si pongono domande davanti a uno specchio (attendendo una risposta che nel brano non arriverà mai) riguardo il da farsi con il loro compagno, riprendono la celebre frase della strega del film "Biancaneve e i sette nani", "Mirror Mirror On the Wall…" (Specchio specchio delle mie brame…).
Il ritmo di Reflection risulta di primo acchito piuttosto semplice ma dopo un paio di ascolti riesce a coinvolgere l'ascoltatore insediandosi nella propria testa, soprattutto a causa del motivetto "I ain't talking 'bout you, I'm talking to my own reflection" ripetuto nel ritornello.
Dall'ultimo album delle Fifth Harmony, questa non è certo l'unica canzone che ho apprezzato: assieme a Reflection mi sento di consigliare sia la traccia in collaborazione con Meghan Trainor, "Brave Honest & Beautiful", sia l'ipnotica "Them Girls Be Like"; se vi va di ascoltare qualche brano pop senza grandi pretese, sono certo che le apprezzerete tutte e tre.
https://www.youtube.com/watch?v=X-Qjyh1qCYY
9 – "The Way We Are" (Do It For Love) – Alesha Dixon
Salendo di una posizione troviamo un altro brano sconosciuto ai più, ma in questo caso non perché sia una semplice album-track, bensì a causa del flop commerciale della traccia, uno tra i più pesanti di questo 2015: sto parlando di "The Way We Are", della bellissima Alesha Dixon.
Dopo essere stato scelto come promotore dell'ultimo album di Alesha, il brano non è riuscito ad entrare in alcuna classifica musicale, risultato incredibilmente scarso per un'artista amata come lei, soprattutto per la sua nazione d'origine, il Regno Unito. La ragazza è da sempre molto amata e seguita in madrepatria, sia per la sua presenza come giudice di "Strictly Come Dancing" (Ballando Con Le Stelle) e di "Britain's Got Talent", sia come ex membro della nota girlband Mis-Teeq.
Sebbene il pubblico non abbia apprezzato molto The Way We Are, io ci ho perso la testa: la carica incredibile che riesce a trasmettere è unica, rimanendo fresca, semplice e per nulla invasiva.
Nel brano Alesha ci spiega come tutto quello che faccia come artista sia realmente voluto da lei, non come spesso accade nel music biz, mondo in cui le star si fanno comandare dalle label senza aver diritto di parola.
La Dixon si è anche esibita a Britain's Got Talent durante una delle ultime serate per promuovere il brano, ed è stata una performance fenomenale che mi ha fatto apprezzare ancor più (se mai fosse stato possibile) il pezzo. Ho deciso proprio per questo motivo di condividere con voi il live di "The Way We Are", per farvi godere appieno le doti vocali della giovane Alesha e per farvi capire perché la sorte che è spettata alla traccia non è certo quella che si sarebbe meritata.
8 – "Love Me Like You Do" (Delirium e Fifty Shades Of Grey: Original Motion Picture Soundtrack) – Ellie Goulding
Pubblicata la prima settimana dello scorso Gennaio, "Love Me Like You Do" è riuscita a stracciare i rivali nelle classifiche di tutto il mondo, riuscendo a toppare le chart in paesi come Germania, Regno Unito, Australia e Italia. Il brano cantato dall'angelica Ellie Goulding, prodotto da Max Martin, Ali Payami e composto dagli stessi con l'aiuto del duo Kotecha-Salmanzadeh e dalla invidiabile mano della cantante svedese Tove Lo, venne utilizzato per promuovere la soundtrack del celebre film "50 Sfumature di Grigio", divenuto famoso per i suoi temi a sfondo sessuale.
Il pezzo è una vera e propria dedica d'amore dell'artista nei confronti del proprio amato, nel quale vengono confessati i suoi sentimenti e l'inspiegabile attrazione nei confronti del partner, riuscendo ad amalgamare parole romantiche e innocenti ad altre di dipendenza e dolore profondo.
Ho letteralmente amato, per rimanere in tema, "Love Me Like You Do" perché, pur essendo una ballad molto romantica, non risulta affatto banale, né per il contenuto, né per il ritmo electropop.
Il pezzo è stato molto importante per me ed è forse anche per questo motivo che la annovero in questa classifica, tra i tanti brani usciti in questo 2015.
Purtroppo il pezzo è stato abbracciato anche dalle radio italiane, le quali lo misero in rotazione ininterrottamente dal suo giorno di pubblicazione, riuscendo a lungo andare a mandarmelo in odio, come ahimè spesso accade. Rimangono però innegabili la buonissima fattura di questa perla pop e la splendida voce di Ellie.
7 – Do It Again (Non-Album Song) – Pia Mia ft. Chris Brown e Tyga
Saliamo alla settima posizione e troviamo "Do It Again", un brano correlato alla giovanissima cantante e modella Pia Mia, pubblicato lo scorso 4 Maggio con ogni probabilità con l'intento di lanciare la carriera musicale della ragazza.
Il pezzo vede la collaborazione di due artisti di grande calibro come Chris Brown e Tyga, i quali, entusiasmati dal ritmo della traccia, chiesero al manager della cantante di poter figurare nel pezzo in questione.
Il risultato è una bomba: un brano hip hop molto incisivo che a tratti si ricollega a "Let's Do It Again", pezzo di un artista reggae americano, tale J Boog, molto amato da Pia Mia. "Do It Again" comincia con un suono che ricorda l'atterraggio di un missile, in seguito al quale comincia la parte di Tyga, che anticipa la voce soave ma decisa della giovane Pia, il tutto in un crescendo che porterà al ritornello, parte focale del pezzo. Una volta terminato il ritornello ecco spuntare Chris Brown, al quale è riservata l'intera seconda strofa. Nel brano gli artisti parlano di voler rivivere un momento speciale, un incontro con un soggetto preciso, dal quale partire per costruire qualcosa di più di una semplice amicizia. Questo "qualcuno" è una persona incontrata a una serata, serata che vorrebbe essere ripetuta dalla cantante, perché teme di aver perso l'occasione della vita.
Il video risulta molto semplice, ma con un paesaggio speciale, quello della splendida spiaggia di Malibu, nella costa californiana.
Ho apprezzato "Do It Again" per il suo ritmo fresco ed energico, e per la bravura della cantante, la quale anche nelle esibizioni live riesce a cantare e a ballare senza rovinare il pezzo, facendo annoverare Pia tra le newbie più promettenti di questo 2015. "Big Up" per Pia Mia.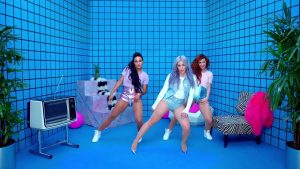 6 – Sparks (Breathe Out. Breathe In.) – Hilary Duff
E Pia Mia non è stata certo l'unica ad aver scelto le spiagge di Malibù per un suo video. Anche Hilary Duff scelse lo stesso scenario per registrare il video che avrebbe accompagnato il primo singolo della sua nuova era musicale, il brano "Chasing The Sun", estratto dal suo ultimo LP "Breathe In. Breathe Out." Il pezzo venne estratto nel lontano 2014, e venne accompagnato a poche settimane di distanza da un'altra traccia, intitolata "All About You", altro singolo atto a promuovere l'ultimo progetto dell'interprete di "Reach Out".
Entrambi i brani furono dei buchi nell'acqua, vuoi per la banalità dei pezzi, vuoi per la poca promozione a loro riservata: fu forse più sentita la voce del ritorno di Hilary piuttosto che i brani scelti per il suo comeback.
La cantante decise quindi di fare un passo indietro e di attendere qualche mese prima di rilasciare altro materiale: era Aprile 2015 quando Hilary decise di pubblicare un'ulteriore traccia, questa volta cercando di fare le cose per bene, rilasciando dapprima un teaser, accompagnato alle anteprime del film da lei stessa girato Younger, e successivamente l'intero brano, cercando di promuoverlo in show d'eccellenza, come The Ellen Show e Good Morning America. Il pezzo in questione si chiama "Sparks", ed è una delle tracce che più mi hanno preso in questo 2015 e proprio per questo ho deciso di posizionarla alla posizione numero 6 della mia top 10: Sparks si presenta come un pezzo d'avanguardia per la Duff, molto legata a un pop semplice e in linea con i successi dei suoi stessi brani sotto Warner Bros. Passando a una nuova casa discografica, la RCA, finalmente Hilary è riuscita a personalizzare la sua carriera, passando ad un genere più dance/synthpop, che potrebbe finalmente rilanciare la sua immagine in quanto in linea con i ritmi apprezzati oggigiorno dalla massa, molto peculiari e originali, ma comunque orecchiabili e insidiosi – il fischiettio del ritornello di Sparks non è certo facile da dimenticare!
"Sparks" venne composta da Tove Lo, nota cantante svedese già citata in "Love Me Like You Do", Sam Shrieve, Christian Karlsson e Peter Thomas. Gli ultimi due risultano anche produttori del brano, assieme a Emily Wright.
Le sorti del brano furono purtroppo abbastanza negative: riuscì a malapena a entrare nella Top 100 Americana e il video ufficiale ottenne critiche a non finire per aver incluso una continua pubblicità di Tinder in esso. Nonostante ciò, Sparks è riuscito a farmi apprezzare una Hilary nuova, e con lei il suo ultimo progetto, l'album "Breathe In. Breathe Out.".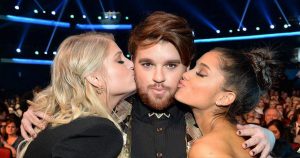 5 – Boys Like You (Non-Album Song) – Who Is Fancy ft. Meghan Trainor e Ariana Grande
Erano i primi giorni di Novembre quando, mentre stavo navigando nel web, vedo spuntare rumors riguardo un possibile nuovo singolo a tre con Ariana Grande e Meghan Trainor, e ovviamente non ho fatto altro che sperare in una Bang Bang 2.0: e così è stato!
Who Is Fancy + Meghan Trainor + Ariana Grande = BOOM! Cosa ci si poteva aspettare da un trio del genere se non un pezzo bomba come quello poi rilasciato?
Il cantante Who Is Fancy, gay dichiarato, è stato al centro delle attenzioni in questo 2015 per i video pubblicati per promuovere il suo primissimo brano pubblicato ufficialmente intitolato "Goodbye": tutti i video riguardano temi molto sentiti dall'artista come l'identità e il tema gender (che esista o meno).
A mesi di distanza dalla traccia, eccolo rispuntare accompagnato da due donzelle d'eccezione in un pezzo a mio avviso tra i più promettenti di questo 2015, il quale si è meritato la quinta posizione della mia classifica personale: il brano "Boys Like You".
"Boys Like You" si presenta come una traccia doo-wop, come si può notare specialmente nell'intro, la quale ricorda a tratti alcuni pezzi alla "Trainor", ma con un ritmo e una tematica tutta sua. Il testo vede i tre artisti cantare riguardo l'uomo dei loro sogni e degli sforzi che loro sarebbero disposti a compiere per ottenerlo. Il video, nel quale ogni cantante viene rappresentato sotto forma di personaggio dei fumetti/caricatura, chiarisce sicuramente la trama della canzone, risultando al contempo molto solare e ironico.
Non riesco ancora a spiegarmi l'insuccesso di "Boys Like You": pensate che pur essendo stato promosso live a Dancing With The Stars (Ballando Con Le Stelle), non è riuscito ad entrare nella Billboard Hot 100. L'unico successo ottenuto è in Nuova Zelanda, dove il brano è riuscito a raggiungere la prima posizione della classifica musicale nazionale, segno che forse non sono stato l'unico ad apprezzare questo trio…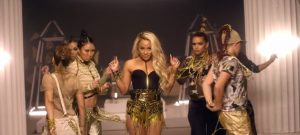 4 – Chingalinga (Non-Album Song) – Alyxx Dione ft. Jason Derulo
Continuiamo con i newbie della classe e con i brani in attesa di successo mai arrivato, ed ecco quindi spuntare al quarto posto di questa top 10 una ragazza sconosciuta ai più, tale Alyxx Dione.
Alyxx è un'artista a 360 gradi: oltre avere doti vocali incredibili, la ragazza dirige i suoi stessi video musicali ed ha anche cominciato una carriera come fotografa.
Durante questo 2015 le venne concessa l'invidiabile opportunità di collaborare con uno degli artisti più amati dal grande pubblico negli ultimi anni, Jason Derulo, in un singolo atto a lanciare la carriera musicale dell'artista in tutto il mondo, la splendida "Chingalinga".
"Chingalinga" è un pezzo hip-hop/rnb che riprende le sonorità che sono state molto apprezzate negli ultimi anni (parlo suoni ipnotici e accattivanti come quelli di Talk Dirty) riuscendo ad avere un'appeal incredibile.  Nonostante ciò, il testo è abbastanza banale: esso spiega che raggiungere il mondo di Alyxx non è certo facile, poiché lei è l'unica a detenere le chiavi delle porte dorate del suo regno; soldi e regali non la impressionano, il "lui" della situazione dovrà solamente lavorare sodo per raggiungere il cuore della cantante.
Il video è una vera e propria perla e si abbina perfettamente al pezzo, soprattutto per le coreografie proposte da Alyxx e dalle sue ballerine, le quali mi hanno lasciato letteralmente a bocca aperta.
Il successo purtroppo e inaspettatamente è mancato ad arrivare, e Alyxx s'è dovuta accontentare di poco più di un milione di visualizzazioni su Youtube.
Spero vivamente che quest'artista possa affermarsi nel duro e confuso mondo della musica, dove perle come queste vengono oscurate da pezzi molto più banali e scontati.
3 – All Hands On Deck (Aquarius) – Tinashe
Tinashe? Una bomba. Come si può rimanere seduti sentendo una "2 On" o ancor meglio "All Hands On Deck"? Dalla prima volta che l'ho sentita non ho fatto altro che ascoltarla in loop per settimane, improvvisando balletti e rimanendo impalato davanti alle sue esibizioni live nei vari show televisivi statunitensi, come Conan e Good Morning America, nelle quali Tinashe si è dimostrata una vera e propria dea del canto e del ballo, riuscendo ad armonizzare le due attività senza grossi problemi.
"All Hands On Deck" ha reso ufficialmente Tinashe una delle mie artiste preferite e sia il videoclip, sia il remix con Iggy Azalea hanno a mio avviso migliorato e completato un brano già si buona fattura. Il testo del pezzo tratta di una ragazza che è appena stata mollata dal compagno ed è pronta a lasciarsi alle spalle la vecchia sé ricominciando a flirtare e rifacendosi una vita, spiegando al contempo perché il suo ex rimpiangerà di averla persa. L'artista ce l'ha messa tutta per tenere uniti i pezzi del puzzle che univano lei al suo fiancé, ma nonostante tutto, lui ci ha messo un attimo a mettere fine a tutto quello che c'era tra loro e, ora che lei è single in mezzo ad altri amanti, lui la rivorrebbe indietro ma, citando il pezzo, la cosa divertente è che lei se n'è già andata da un pezzo. Nel ritornello inoltre la ragazza si sofferma a parlare delle sue fantasie sessuali con i ragazzi che ha conosciuto una volta allontanatasi dalla relazione tossica che aveva col suo ex.
"All Hands On Deck" è stata prodotta da una collaborazione tra gli Stargate e Cashmere Cat e composta dalla stessa Tinashe, da Bebe Rexha,cantante Albanese famosa per aver figurato in "Hey Mama" (David Guetta), dal duo Stargate e da Magnus August Hoiberg. Il pezzo non è riuscito nell'intento di conquistare il grande pubblico, rimanendo sconosciuta ai più, ma nonostante ciò rimane una delle tracce migliori di questo 2015, meritandosi la medaglia di bronzo della mia top 10.
2 – Here (Know-It-All) – Alessia Cara
L'anno delle newbie? Forse. Quest'anno sono stati moltissimi i nuovi artisti che hanno ben pensato di lanciare la propria carriera, spesso riuscendo ad ottenere il successo meritato, altre volte no. Prendiamo come esempio Halsey, Tori Kelly, The Weeknd, Hailee Seinfeld e l'artista autrice del secondo brano sul podio: Alessia Cara.
La ragazza sebbene solo diciannovenne è riuscita a piazzare una top 10 hit negli Stati Uniti e a pubblicare il suo primo LP, Know-It-All a pochi mesi di distanza dalla pubblicazione del suo primo singolo, "Here".
Il brano è tutt'altro che banale, con un sound che ricorda la neozelandese Lorde con influenze hip-hop/rnb, quel che colpisce è senza ombra di dubbio il testo: "Here" vede Alessia ad un party, in mezzo a persone che non conosce e con le quali non si sente per nulla a proprio agio, perché differenti da lei in quanto a gusti musicali, a hobby e a carattere. La cantante è contornata da ragazze frivole, che parlano di haters inesistenti, che vomitano dopo aver bevuto troppo e che urlano; a queste lei chiederà di dire ai suoi amici che lei rimarrà in una precisa parte della casa ad aspettarli, confessando di essere venuta solo perché loro l'hanno trasportata e che avrebbe preferito rimanere a casa da sola, piuttosto che essere ad una festa in cui a nessuno interessa di lei.
Le tematiche per nulla convenzionali e il ritmo penetrante di questo brano hanno fatto sì che nel giro di pochissimo tempo (purtroppo l'ho scoperta a mesi di distanza dalla sua pubblicazione) sia riuscita a diventare una delle canzone da me più ascoltate e apprezzate di questo 2015. Non posso che idolatrare giovani artisti come lei, che sono evidentemente nati per cantare e creare pezzi incisivi come quello in questione e spero vivamente che le case discografiche facciano maggiore affidamento sui newbie come Alessia Cara, incentivandoli a lavorare e a produrre per farsi conoscere e lanciare la propria carriera a livello internazionale.
1 – Cool For The Summer (Confident) – Demi Lovato
Ed eccoci giunti alla prima posizione della mia classifica personale riguardo l'anno da poco trascorso. Al primo posto ecco rinsavire una traccia risalente alla scorsa estate: "Cool For The Summer".
Estratto come primo singolo, il pezzo è riuscito nell'intento di trasformare Demi da una cantante teen-pop a un'artista sotto ogni prospettiva, sia per il suo appeal, sia per il video che accompagnò la traccia, molto criticato da molti, letteralmente adotato da me.
"Cool For The Summer" è stata composta dal binomio vincente Kotecha-Payami, già produttori di diverse hit come "Problem" di Ariana Grande e "Bang Bang" di Jessie J, dal celebre Max Martin e dalla stessa Demi Lovato e si presenta come un pezzo electropop con influenze edm/pop-rock penetrante ed energico, in cui la voce della cantante viene messa in risalto. Il pezzo comincia con un ticchettio di pianoforte, il quale poco a poco si rafforza, unendosi in seguito al suono di una batteria e alla voce della cantante, la quale, con un tono inizialmente dolce ma intrigante, successivamente consapevole di tutta la sua grinta e forza, ci accompagna per tutta la canzone. Ho apprezzato molto il contrasto tra il ritmo estremamente dance/edm del ritornello, con le parti molto più pop e leggere delle strofe, il tutto per un brano completo e accattivante come non mai.
Il pezzo tratta temi saffici, degli esperimenti di Demi con una persona del suo stesso sesso durante il periodo estivo, diventando una delle tracce più esplicite della cantante. L'artista chiede cosa piaccia alla sua partner in amore e confessa di essere molto curiosa, suggerendole al contempo di fregarsene dei pregiudizi ma di mantenere il segreto (con la madre, ironizzando).
Demi promosse molto il singolo, esibendosi in diverse circostanze come ad esempio agli MTV VMA 2015, accompagnata dalla rapper e sua grande amica Iggy Azalea, allo show dello stimatissimo Jimmy Kimmel e al Saturday Night Live, riuscendo quasi sempre a distinguersi per le sue incredibili doti canore.
Il brano avrebbe meritato molto di più: il successo è arrivato ma senza riuscire ad imporsi nelle classifiche musicali. Successo o meno, sarà una delle tracce che più mi rimarranno impresse di questo 2015, un pezzo che è riuscito a darmi energia e forza nei momenti più bui.
Spero che questa classifica rispecchi in parte anche quello che ognuno di voi ricorderà dell'anno trascorso, o di avervi fatto conoscere qualche perla mancata. Qual'è la vostra top 10 personale?