Little Mix – Get Weird | Recensione CD
Le Little Mix sono senza dubbio il gruppo femminile più conosciuto della nostra generazione, almeno in Europa, dalla loro vittoria a X Factor UK nel 2011. Malgrado la difficoltà nel gestire un mercato lunatico come quello degli UK e quelle legate alle divergenze di pensiero in un gruppo, la girlband è riuscita a restare sulla cresta dell'onda per ben due ere discografiche e anche questa terza era sembra promettere bene. Ma quale sarà il loro segreto?
Partiamo col dire che le Little Mix sono un prodotto creato appositamente, non sono (o meglio non erano) legate da alcun tipo di rapporto quando l' entourage di X Factor decide di metterle insieme. I risultati però saranno ottimi fin da subito tant'è che saranno le vincitrici indiscusse di quella edizione del talent show. Forti di un contratto con la Syco, le belle e talentuose ragazze rilasciano subito un singolo, una cover di Damien Rice intitolata "Cannonball" che tocca la vetta della UK Singles Chart.
Da qui in poi la parabola ascendente del gruppo non vedrà mai un declino. Il loro primo singolo "Wings" sarà un successone in madrepatria e debutterà anche in Billboard hot100. I quattro singoli dell'album di debutto, DNA, entreranno tutti in top20 in UK, anche l'album avrà buoni risultati in gran parte delle classifiche europee.
L'interesse mediatico per il gruppo è molto forte anche in USA, ciò comporta una svolta nel sound della band che decide di puntare su un genere più urban ed r&b per il secondo album "Salute". Il primo singolo "Move" risente molto del successo di "Blurred Lines" di quel periodo e vi si ispira in modo abbastanza forte, il pezzo avrà buoni risultati ma inferiori ad alcuni singoli precedenti. "Salute" in compenso si presenta come un progetto di altissima qualità e anche i singoli successivi si comporteranno decisamente bene in classifica.
Il talento del gruppo e la coesione dei membri non passano di certo inosservate, verranno infatti anche assunte nel processo di songwriting del nuovo album di Britney Spears: da questa collaborazione nascerà "Pretty Girls" che fallisce però il suo approdo ai piani alti delle classifiche.
Finalmente a Maggio di questo anno le ragazze hanno pubblicato il lead single del loro nuovo progetto discografico, appunto "Get Weird". Il singolo, intitolato "Black Magic" riprende il genere proposto col primo album ed ha fatto faville in UK ed è riuscito ad entrare nella hot100 americana. Risultati decisamente più magri quelli del secondo singolo "Love Me Like You" ma comunque la forza del lead single basterà sicuramente ad assicurare un buon debutto all'labum.
Per questo nuovo album le recording session hanno visto la collaborazione di artisti di prim'ordine: da Jess Glynne a Marina And The Diamonds passando per Jessie J, in numerose interviste le ragazze avevano anche parlato di una svolta del sound per questo progetto e vedremo ben presto che hanno mantenuto la loro promessa, la loro ispirazione maggiore sarebbe "Prince" da loro definito una leggenda vivente (e come dare loro torto).
Che dire quindi, andiamo alla scoperta di questo terzo sforzo discografico della girlband.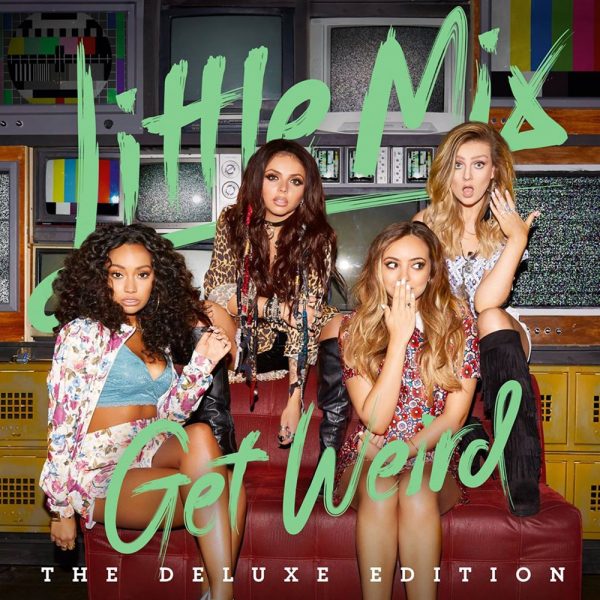 01. Black Magic: Primo singolo e prima traccia dell'album è "Black Magic". Le cantanti avevano già parlato del pezzo in un'intervista sul redcarpet dei Brit Awards del 2015 così: ''Le parole non possono descrivere quanto siamo eccitate per questo singolo perché è un po' rischioso, ma lo erano anche Wings e Move. Ci fa paura perché non abbiamo mai fatto questo stile prima ma siamo entusiaste perché è una nuova partenza, un nuovo anno e ci sentiamo molto positive." In effetti dobbiamo dire che questa band ha cambiato spesso stile (basta comparare Wings e Move) ma proprio in questo caso, malgrado la virata verso i generi pop/rock e teen/pop si sia sentita, non ci sembra di essere davanti ad un singolo particolarmente rischioso poichè ricorda molto il materiale proposto nel primo album "DNA".
Da notare la coproduzione di Matt Rad, già produttore dei One Direction, che ha dato una forte impronta teen e Maegan Cottone già produttore di pezzi come "Salute" e "Move". Ci troviamo davanti ad una hit bell'è fatta, una canzone potentissima e non scontata, edappare una scelta intelligente per cercare di proporre qualcosa di diverso e allo stesso tempo non snaturare il loro stile.
02. Love Me Like You: Seconda traccia e subito anche secondo singolo, ci ritroviamo davanti a qualcosa di molto diverso rispetto a quanto proposto con la prima traccia, il brano è perfettamente pop in pieno stile Steve Mac che ne è infatti il produttore e ha un non so che di natalizio, tant'è che è presente anche un Christmas Mix del singolo (forse è stata estratta un pò in anticipo?).
Le strofe hanno un vibe decisamente anni 80" la ripetizione di "shallallalla" è abbastanza catchy, il ritornello invece è creato da un coro probabilmente troppo confusionario, da notare è anche il nome del brano che può sembrare cosa futile ma vi sfidiamo a non pensare ad Ellie Goulding e alla sua "Love Me Like You Do". Probabilmente estratta in un periodo non adatto o comunque malgrado sia molto catchy decisamente inferiore a molto altro materiale presente nel progetto. Buona album track, avremmo estratto altro come secondo singolo.
03. Weird People: E non finiamo neanche di dirlo e il materiale da singolo ci si presenta già col terzo brano! Una base minimal con forti influenze dance anni 80" e funk che ricorda moltissimo lo stile di Prince! Le ragazze avevano infatti detto in un intervista con Gulf News a proposito dell'album: "È molto anni '80, ispirato in parte a quella leggenda vivente che è Prince. Quindi siamo andate alla ricerca di un suono completamente nuovo. Amiamo provare cose nuove e sperimentare e prendere rischi, questo è ciò di cui siamo fatte."
Pare quindi ovvio che la title track abbia tutte queste caratteristiche pur non rinunciando ad un sound decisamente attuale con un tocco urban, un vero gioiellino che a tratti ci ricorda il lead single "Move" della loro precedente era discografica pur non condividendo lo stesso genere.
Le strofe sono decise e marcate da un beat anche a tratti invasivo (ma che comunque si adatta benissimo al genere) e da un ritornello molto incisivo. Potrebbe fare faville in radio soprattutto perchè rappresenta a pieno ciò che piace al giorno d'oggi non solo in UK ma in tutto il mondo. Speriamo che come avvenne per "Salute" anche questa volta la title-track faccia magari da terzo singolo dell'album! Una delle migliori.
04. Secret Love Song (feat. Jason Derulo): Siamo arrivati alla prima slowjam dell'album nonchè primo ed unico featuring, con Jason Derulo. Il brano ha delle bellissime strofe molto delicate ma che allo stesso tempo non passano inosservate, il tutto esplode nel ritornello, forse meno forte delle strofe ma molto catchy per essere in ambito slowjam. Degni di nota sono i versi ''I wish that it could be like that, why can't it be like that?" che restano subito in testa e vengono ripetuti spesso durante tutta la durata del pezzo. Anche l'interpretazione è decisamente buona e il modo di cantare di tutte e quattro sembra voler imitare un po' l'impostazione vocale di Demi Lovato.
Non siamo grandi amanti dei duetti, soprattutto se sono canzoni d'amore così intime, tra un gruppo e un solista ma ciò ci dà l'opportunità di soffermarci su uno dei punti forti delle Little Mix: malgrado siano quattro voci ben distinte (e ben diverse!) nessuna prevale sull'altra e riescono ad omogeneizzarsi in un'unica voce di gruppo, qualità importantissime per una girlband che non vuole sciogliersi in poco tempo.
Per quanto riguarda il featured artist, il cantante di "Want You Want Me" propone una buona interpretazione ma non dona nulla in più alla traccia, inoltre Jason non è più nel suo momento d'oro quindi non dona neanche più appetibilità al futuro singolo. Buono prodotto, potrebbe essere singolo.
05. Hair: Traccia che abbiamo già conosciuto a fine Agosto è Hair. Prodotta da Electric, il pezzo ha fatto da singolo promozionale all'album ed è riuscita ad arrivare alla 35 in UK, il che dimostra quanto le cantanti siano amate in tale mercato. Il beat si è nuovamente molto minimale e ricorda quello del lead single della precedente era "Move". La frase "Gotta get him out my hair" viene ripetuta all'infinito e contribuisce a rendere il risultato finale molto catchy, si, ma anche abbastanza pesante, quindi difficilmente potrebbe essere un futuro singolo.
Anche il testo si fa più deciso quasi a volersi omologare al beat: "cause he was just a d*ck and i knew it got me going mad sitting in this chair like i don't care" dicono tutte in coro nel ritornello, con tanto di censura che a poco serve in questo caso. Possiamo notare quanta differenza ci sia tra questo pezzo e il lead single malgrado il main-producer sia lo stesso e soprattutto quanti generi diversi ci sono stati presentati in solo cinque tracce! Buon lavoro!
06. Grown:   Le ragazze ci avevano già fatto sapere del loro lavoro in studio con Jess Glynne ed ecco arrivare il risultato di questa collaborazione, Jess appare solo come songrwriter ma dobbiamo dire che influenza anche lo sviluppo dell'intera canzone. Solo 2 minuti e 36 secondi per un brano assolutamente confusionario ma che comunque non disturba, è come se la disorganicità che ci presenta sia una caratteristica che anzi distingue il pezzo dal resto.
Il genere non è molto diverso da quanto proposto nelle tracce precedenti, almeno fino al ritornello quando esplode in un beat dalle note trap molto american-friendly, evoluzione completamente inaspettata che ci rimanda ai lavori delle uniche rivali del gruppo, le "Fifth Harmony".
Di certo estrarre un pezzo così particolare e allo stesso tempo breve come singolo potrebbe essere molto rischioso, soprattutto se nell'album c'è molto di meglio, ma mai dire mai…
07. I Love You: Dobbiamo dire che titoli del genere dovrebbero davvero essere illegali, ma comunque ciò non pregiudica il risultato di questo settimo punto del progetto. Siamo di nuovo davanti ad una slowjam ma  questa volta alla produzione troviamo il team TMS, produttori decisamente famosi in UK che ultimamente hanno avuto molto credito grazie alle produzioni presenti nell'album della già citata Jess Glynne.
Un titolo banale si unisce ad una traccia dalla buona produzione ma dal testo un po' scontato e dall'interpretazione dopo un pò diventa decisamente lagnosa, tutto ciò crea un solito calderone da album-filler, non siamo davanti ad un brutto pezzo ma semplicemente davanti ad un brano che allunga senza nè dare nè togliere nella all'esperienza "Get Weird". Ma questa discesa iniziata con la traccia numero 6 non è destinata a continuare per molto…
08. OMG:  Lo sappiamo bene che di solito l'ottava traccia è il singolo bomba o il pezzo preferito dal cantante, e infatti già dall'inizio capiamo di trovarci davanti a dinamite pronta ad esplodere: concludere l'era senza estrarre questo singolo sarebbe un abominio! Si nota molto l'influenza che ha avuto sulle Little Mix il lavoro con Britney per "Pretty Girls" infatti il genere è molto simile, possiamo dire che entrambe le canzoni seguono il percorso tracciato da "Fancy", singolo celeberrimo di Iggy Azalea.
Alla produzione troviamo Nick Monson, collaboratore di prima linea nella produzione di ARTPOP di Lady Gaga, che ha visto ultimamente una sua traccia ottenere grandissimo successo in USA: parliamodi "Good For You", brano che è riuscito a fare sembrare interessante perfino una come Selena Gomez! La mano di Monson sul beat si sente molto e il ritornello molto catchy abbinato ad un'interpretazione buona fanno di questo pezzo un gioiellino in questo album. E lo ripetiamo: la vogliamo assolutamente come singolo e non è da escludere che possa essere accolta bene anche in USA, dove le Little Mix non sono ancora esplose del tutto pur godendo di un'ottima fama.
09. Lightning: Nona traccia dell'album e canzone che abbiamo già ascoltato come b-side del singolo "Love Me Like You". Dopo un inizio con suoni evocativi il pezzo si colloca a metà strada tra una midtempo e una uptempo dalle note trap, la traccia ricorda nelle atmosfere il loro estratto dal primo album omonimo "DNA" pur evolvendo in modo completamente diverso.
Alla produzione troviamo TroyBoi che ha fatto un ottimo lavoro creando un brano che unisce suoni già utilizzati e sentiti in passato ma abbinandoli in modo particolare fino ad avere un risultato completamente innovativo. Da notare l'effetto della musica trap abbinata a reminiscenze gospel, viene inoltre citata una parte dei Carmina Burana, il celebre "O Fortuna": ''O Fortuna Velut luna Statu variabilis Semper crescis Aut decrescis Vita detestabilis".
Siamo senza dubbio davanti ad una delle vette di questo disco, ci sembra anche poco azzeccata la sistemazione del pezzo come B-side visto che avrebbe tutte le qualità per essere singolo e spaccare sia in USA che in UK. Staremo a vedere.    
10. A.D.I.D.A.S.: Fin da subito ci allontaniamo tantissimo dalle atmosfere del pezzo precedente e ci troviamo catapultati in "Title", celeberrimo album di debutto di Meghan Trainor. Questa A.D.I.D.A.S. ha infatti molti tratti in comune con il genere proposto dalla nuova leva della musica internazionale pur non sembrando realmente un plagio di uno dei suoi pezzi.  La canzone è fresca e leggera e il beat senza molte pretese vi si accosta bene, la parte finale del pezzo inoltre vede una parte rappish molto particolare che ci rimanda nuovamente alla musica di Meghan.
Le influenze bubblegum-pop arricchiscono questa "A.D.I.D.A.S" e la rendono, pur nella sua semplicità, un bel momento nel progetto che tra i suoi lati positivi ha sicuramente la varietà e la capacità di non stancare. La scelta come singolo potrebbe essere un pò forzata, essendoci materiale migliore, ma non del tutto impossibile.
11. Love Me Or Leave Me: Insegnate alle Little Mix ad essere originali con i titoli delle canzoni d'amore! A parte gli scherzi siamo alla penultima traccia di questo disco e come succede spesso le atmosfere diventano decisamente più soft malgrado il ritornello resti comunque abbastanza incisivo. Ancora Matt Rad a produrre il pezzo ma in questo caso in una salsa completamente diversa, il piano è protagonista insieme agli acuti del ritornello di questa "Love Me Or Leave Me".
Malgrado non brilli per originalità e anzi, il risultato sia a tratti pesante, funziona come ballad e il risultato finale è assolutamente godibile. C'è di meglio ma non male.
12. The End: A fare da outro a questo progetto c'è un brano di 2 minuti e 12 secondi, sembra di essersi teletrasportati in "Pitch Perfect" o in un album dei "Pentatonix" e infatti questa conclusione fatti di molteplici variazioni e virtuosismi serve solo a lasciare l'ascoltatore col ricordo ben preciso di quello che sanno fare queste quattro bravissime ragazze.
Ma questo progetto è tutt'altro che concluso! Ecco infatti altre 4 canzoni nella Deluxe Edition. La prima è "I Won't" prodotta da TMS, malgrado sia semplice e piacevole probabilmente è stata scartata perchè nell'album sono presenti altre tracce dello stesso genere ma migliori. "Secret Love Song, Pt. 2" è invece una nuova versione di quella presente nell'album che vede la traccia passare da una slowjam ad una ballad che forse funziona anche di più rispetto all'originale. ''Clued Up'' è il risultato della collaborazione delle Little Mix in studio con Jessie J che ha scritto il pezzo, in tipico stile Jessie J, il brano è di buona fattura ma poco originale e con un ritornello che passa decisamente inosservato. E anche la Deluxe Edition finisce con la stessa formula della Standard, ciò che un brevissimo Outro acustico, ''The Beginning".
Ancora una volta le Little Mix ci propongono un album di buona qualità, assolutamente ben fatto e con momenti davvero di alto livello. Sinceramente il primo singolo ci aveva dato qualche perplessità per questo nuovo genere che forse si adatta di meno alla loro interpretazione rispetto ad altro materiale presente e in questo progetto e nei precedenti. 
Molti sono i pezzi che potrebbero essere estratti come singolo, da una parte il duetto con Jason Derulo che, malgrado non sia uno dei momenti migliori, potrebbe rappresentare una buona scelta invernale, dall'altra uptempo come "OMG" o "Lightning" potrebbero fare faville anche nel mercato internazionale, staremo a vedere quali saranno le mosse della Syco e delle Little Mix.
All'inizio della recensione ci siamo questi quale potrebbe essere il motivo del successo e allo stesso tempo della coesione dei membri di questa girlband e la risposta, dopo ben tre album-conferma è che ogni cantante del gruppo ha la propria voce e non prevale sull'altro creando un'organicità d'insieme molto rara nelle band.
E' difficile paragonare i tre album delle cantanti viste le differenze di genere ma possiamo dire che, lasciato da parte il primo progetto, forse leggermente meno forte degli ultimi due, "Salute" e questo "Get Weird" bene o male sono sullo stesso livello pur facendosi esponenti di due sound diversi.
Sicuri quindi che questa girlband potrà fare sempre meglio e che, chi lo sa, magari prima o poi approderà anche in USA, promuoviamo l'album a pieni voti.