Nuova musica: M.I.A, JoJo, Mohombi, Kyla La Grange, Alexandra Stan, Inna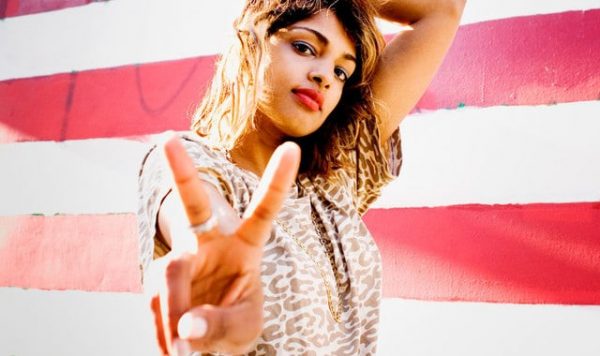 La rapper britannica MIA continua a rilasciare musica inedita. Dopo l'aver evidenziato i problemi con il visto che le impediscono di fare musica in USA ed averne approfittato per lanciare un po' di frecciatine, l'artista non ha comunque smesso di lavorare a musica inedita, e siamo sicuri che il suo prossimo album sarà di altissima qualità, sperimentale come tutti quelli a cui la rapper ci ha abituato nella sua carriera. Proprio in queste ore è stata pubblicata una nuova traccia di MIA, la quale può contare ancora una volta su un beat etnico, dalle caratteristiche fortemente arabeggianti che ci ricordano molto da vicino molte altre tracce della stessa interprete. La traccia si intitola "Poc That Still A Ryda", e ve la proponiamo di seguito:
Nuova musica anche da JoJo! Quest'oggi trapela una nuova traccia intitolata "Relax", una up tempo spiccatamente EDM dalla produzione tenebrosa e pesante, costituita da bassi spingono a ballare e di un ritmo cupo che sovrasta il resto. Il brano contiene anche un sample della storica hit di Frankie Goes to Hollywood "Relax Don't Do It", scelta che la rende ancora più appetibile. Noi tuttavia preferiremmo ascoltare la voce di Joanna alle prese con ben altro, e la troviamo abbastanza sprecata in canzoni così. In realtà, la canzone era stata già pubblicata in una versione incompleta, mentre adesso possiamo ascoltarla intera.

Anche Mohombi pubblica musica inedita! Il brano si intitola "Infinity" e si tratta di una mid tempo pop che alterna suoni mainstream/dance a sonorità prettamente jamaicane, il tutto per un risultato veramente notevole. Un ritmo coinvolgente quello di questa traccia, che dopo un inizio lento esplode letteralmente nel ritornello in un tripudio di suoni ballabili e grintosi. Ottima anche l'interpretazione vocale, la quale mette in scena una buona timbrica, assolutamente perfetta per queste sonorità. Speriamo a questo punto che la traccia riesca ad attirare l'attenzione: non merita assolutamente di passare inosservata!

Nuovo brano da parte di Kyla La Grange. La talentuosa ed anticonformista cantautrice rilascia"Hummingbird", una deliziosa up tempo dal sound abbastanza scanzonato e frizzante per i suoi standard. Si tratta di un brano forte, dinamico, in cui la voce seriosa di Kyla si contrappone ad un ritmo incalzante per un risultato davvero sorprendente, un contrasto di suoni diversi che ci colpisce molto. Kyla imprime la sua personalità in una traccia che in mani altrui sarebbe potuta risultare scialba e anonima, ed il risultato è un brano piacevole e che si imprime nella memoria dell'ascoltatore facilmente. Notevoli gli acuti dell'artista nella parte finale della canzone. Rilasciato inoltre un video:
Alexandra Stan e Inna, oltre a portare avanti con discreti risultati le loro carriere, da quest'oggi formano un quartetto musicale insieme alle colleghe Antonia e Lori. Il nuovo gruppo si chiama G-Girlz e debutta quest'oggi con "Call The Police", una club banger perfetta per le discoteche che ci lascia già immaginare quale sarà il filone seguito dal gruppo. Francamente, a noi questa traccia sembra abbastanza becera, proprio il peggio che Inna e Alex possono partorire, e dunque speriamo che continuino sui loro passi sprecando quante meno energie è possibile in questo progetto.