Rihanna, Coldplay e tanti altri artisti nella line-up di un importante evento…
Uno dei tanti eventi musicali estivi che infiammano i palchi degli Stati Uniti nei mesi più caldi dell'anno è il Made In America Festival. Ogni anno, questa serie di concerti unisce nomi importantissimi, attirando così un pubblico davvero molto vasto e godendo così di incassi ottimi che permettono sempre di rinnovare il progetto con nomi di un certo valore commerciale.
In queste ore, gli organizzatori ci hanno finalmente comunicato l'intera line up del 2016: i nomi confermati sono quelli di Rihanna, Coldplay, 2 Chainz, Lil Wayne, Jamie xx, Chance The Rapper, Martin Garrix, Desiinger, Edward Sharpe and The Magnetic Zeros, Grimes, DJ Khaled, Adventure Club, Madeon, Bryson Tiller, Gary Clark Jr, Travi$ Scott, DJ Mustard, SZA, A$AP Ferg. Oltre a loro saranno presenti anche molti nomi meno noti, dunque potete dare un'occhiata all'intero elenco grazie a questa immagine.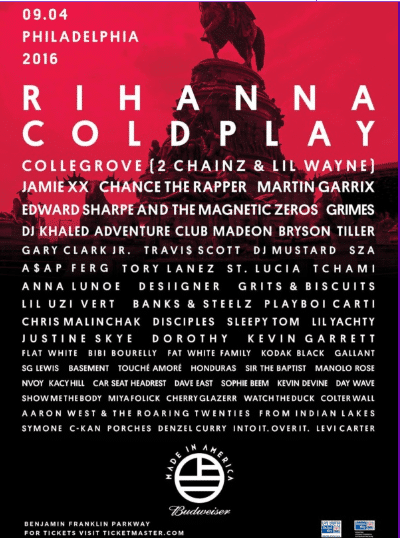 Pur chiamandosi "Made in America", il festival sceglie dunque come artisti di punta due non statunitensi, ossia la cantante barbadiana Rihanna e la band britannica Coldplay. In ogni caso, la line up è davvero vastissima e promette un intrattenimento vario e valido per chi deciderà di acquistare il biglietto, e chissà che magari chi decida di farlo spinto dai grandi nomi coinvolti non scopra fra gli artisti minori qualcuno in grado di piacergli ancora di più, qualcuno da seguire nonostante non sia alla no.1 in tutte le classifiche.
Vedremo se Coldplay e Rihanna approfitteranno dell'occasione per proporre ancora una volta live il loro bellissimo duetto "Princess of China", hit lanciata qualche anno fa. Che ne pensate di questa notizia?