Madonna: il nuovo album entro la fine del 2018, dice l'intervistatore
Madonna é stata protagonista di Vogue Italia, secondo l'intervistatore il nuovo album uscirà prima della fine del 2018.
Nuove indiscrezioni riguardo l'atteso comeback di Madonna.
Secondo l'intervistatore di Vogue Italia, del quale Madonna é protagonista questo mese, il nuovo disco sarebbe dietro l'angolo.
"Ho preso un giorno per passarlo fuori dalla vita normale, parlando con la unica Madonna, della sua vita a Lisbona, come "mamma del calcio", e come la città abbia ispirato il suo nuovo album, che uscirà entro la fine dell'anno."
L'ultimo album di Madonna "Rebel Heart" é stato il lavoro che ha ottenuto il minor consenso commerciale, per Madonna sarà importantissimo questo nuovo capitolo di una lunghissima carriera.
Il prossimo 16 agosto la cantante spengerà 60 candeline. Chissà che proprio per quella data non esca a sorpresa un nuovo singolo?
---
Madonna, duetto con Drake all'orizzonte?
Si fanno sempre più insistenti le voci di una collaborazione tra la diva del pop e l'idolo musicale del momento negli States.
R'n'b Junk sta seguendo gli indizi lasciati sui social dalla popstar americana che già da un bel po' di tempo pare stia lavorando ad un nuovo album.
Il quattordicesimo album in studio potrebbe contenere la super collaborazione con il re delle classifiche?
Si tratta di un'indiscrezione non ancora ufficiale, da prendere quindi con le pinze.
Drake nei giorni scorsi si trovava a Londra per un'apparizione al Wireless Festival; Madonna a Londra per le registrazioni del suo album è stata avvistata ad assistere dal palco all'esibizione dei Migos.
Il Daily Star pare non avere dubbi
"Drake e la cantante di Rebel Heart faranno della musica insieme. Lei è qui a Londra a ultimare il suo nuovo disco e Drake le ha promesso di lavorare insieme, adesso che anche lui è in città la cosa sarà facile".
Drake ha con Madonna un rapporto travagliato che dura dal 2012, quando le dedicò un brano e  lei durante un'esibizione al Coachella Festival lo baciò in modo molto passionale e inaspettato.
Se il duetto dovesse concretizzarsi potremmo rivederli insieme sul palco. Secondo una fonte vicina a Live Nation, organizzatore del prossimo tour di Madonna, nel 2019, in concomitanza con la promozione del nuovo album, la popstar dovrebbe tornare in Europa toccando con il proprio tour le arene di Montpellier, Bordeaux e Parigi.
Intanto nei giorni scorsi Madonna ha rilasciato un breve video girato da Steven Klein in cui declama i versi di una poesia di Rupi Kaur pro femminismo, sotto  l'hashtag #thefutureisequal.
Il girl power e l'uguaglianza di genere saranno uno dei temi del nuovo lavoro?
Voi come lo vedreste un featuring tra Madonna e Drake?
---
Madonna anche questo week end ha fatto sognare i suoi fans!
La Regina del Pop ha comunicato su Instagram di essere pronta per un nuovo capitolo della sua lunghissima carriera
Siamo pronti per un nuovo singolo ed album di Madonna? La cantante direttamente dalla sua casa di Lisbona sembra essere pronta a partire per una nuova avventura discografica.
Dopo i rumors che la vedrebbero nel 2019 al festival di Glastonbury, e dopo aver chiamato nella capitale lusitana tutti i produttori, questo week end la cantante su instagram ha rilasciato questo video.
La clip sembra anticipare uno stile sofisticato e retrò per il nuovo album. La didascalia del post é chiarissima "cambiare pagina, cambiamento…. pronta per un nuovo capitolo…"
Siamo davvero, davvero curiosi a questo punto.
---
Madonna: in arrivo un servizio fotografico per Vogue Italia.
L'instancabile Material girl, è al lavoro con il suo entourage su un photoshoot, probabilmente per un'intervista relativa alla sua linea di cosmetici Mdna Skin.
È la stessa popstar a rivelare di essere al lavoro attraverso un video pubblicato sui social. Curioso vedere come, da quando si è trasferita in Portogallo, per seguire da vicino il figlio che gioca a calcio nel Benfica junior, ha trasformato la sua casa nella plancia di comando di tutte le sue attività.
Tutti i suoi più stretti collaboratori hanno visitato Lisbona in questi giorni: Andy Lecompte, Steven Klein e Mirwais con cui sta lavorando al nuovo album.
Scopriremo presto cosa sta preparando per i suoi fan?
« Beyond The P A L E! 💕💕💕 #italianvogue » -Madonna

Pubblicato da Madonna su Mercoledì 20 giugno 2018
---
Ancora una volta Madonna ha condiviso una foto dallo studio di registrazione!
La cantante sembra essere molto orientata a riportare dei sound dance di classe. Infatti il suo lavoro al disco continua con il produttore che ha creato per lei alcune perle in Music e Confessions On A Dancefloor.
Tale Mirwais é una vera garanzia, specialmente quando lavora insieme a Madge!
La sfida é ardua, con le radio quasi tutte molto discriminanti nei confronti delle artiste di una certa età!
Riuscirà Madonna con Mirwais a ricreare le magie di COAD?
---
Madonna inarrestabile, la leggenda é già pronta per massacrarsi con un nuovo World Tour!
Oramai integrata perfettamente nel mondo dei social, anche Madonna annuncia oggi una notizia bomba. Sta infatti per tornare in TOUR mondiale, per promuovere un nuovo disco che sembra essere dietro l'angolo.
Su instagram la leggendaria Queen Of Pop ha rilasciato un'immagine che la raffigura come un'icona religiosa, una santa arrivata in terra.
« Anything is possible »
Madonna World Tour pic.twitter.com/BXKfnB4Ig8

— News-of-Madonna (@newsofM) May 24, 2018
La cantante ha preparato già un singolo intitolato Beautiful Game, che ha già cantato in anteprima al MET Gala, e che potrebbe essere rilasciato a giorni.
Ovviamente non abbiamo ancora alcun dettaglio sul tour di Madonna, se sarà ancora negli Stadi oppure nei Palazzetti, che track seguirà, e soprattutto che album promuoverà.
Tutto rimane segreto questa volta, visto il pasticcio fatto con l'album "Rebel Heart" che venne piratato mesi prima del suo rilascio.
Il toto nome sull'album: potrebbe essere "Anything Is Possible"?
Sarà ancora in grado di colpire duro in classifica, soprattutto quella americana?
---
Dopo aver sorpreso tutti con un'esibizione al MET Gala di una canzone inedita, Madonna continua a stuzzicare i suoi fans riguardo al suo ritorno imminente.
La cantante sta lavorando al suo nuovo album, per il momento ancora senza titolo, e pubblicando un video su instagram ha dichiarato
"mentre sto finendo il mio nuovo album"
Pensando alle tempistiche, ed all'accuratezza di Madonna quando si tratta di un nuovo disco, siamo propensi a pensare che il disco possa vedere la luce il prossimo autunno 2018.
Al lavoro con Madonna é anche tornato Mirwais, un produttore di Losanna che ha forgiato per la Regina del Pop grandi successi durante la Music Era e la Confessions On A Dancefloor Era.
Un ritorno a ritmi forti ma raffinati é più che auspicabile, dopo due lavori come "MDNA" e "Rebel Heart", che in alcuni passaggi risultavano dischi piuttosto stucchevoli e poco eleganti.
Un ulteriore conferma sui social arriva da  Lauren D'Elia, un vocal producer che sta lavorando con Madge, ed ha fatto una foto negli studi della Interscope.
---
Madonna ha sorpreso tutti ieri notte ai MET gala, presentando un brano inedito.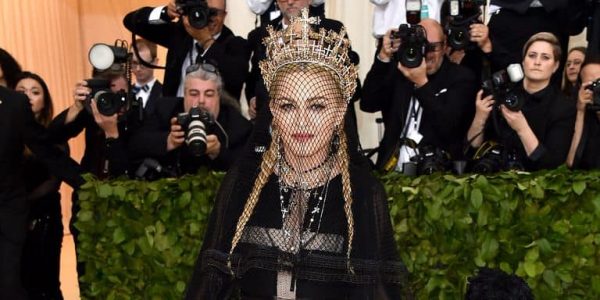 Non potevano essere più interessanti i MET Gala di quest'anno, infatti ad esibirsi a sorpresa c'è stata Madonna, che ha cantato un suo classico come "Like A Prayer" e si é cimentata in una sua versione di "Hallelujah".
Non solo, la queen of pop, a sorpresa, ha presentato anche un brano inedito, del quale ancora non sappiamo il titolo, ma che é stato catturato sui video nei social networks.
Una canzone che a questo punto potrebbe venir rilasciata questo venerdì? La speranza é quella di un ritorno imminente di Madonna, che ha pubblicato il suo ultimo disco "Rebel Heart" nel 2015.
Ecco qua alcuni estratti delle sue esibizioni di ieri sera
Madonna's new song lyrics:

It's a beautiful plan,
but I'm not concerned
it's a beautiful game,
that I never learned
…
Keep your beautiful lies,
cause I'm not concerned #May8th come sooner!

— 𝖃 𝖆 𝖛 𝖎 𝖊 𝖗 (@DeusXavier) May 8, 2018
new song ? #MetGala #madonna pic.twitter.com/QMvLGZ1sdG

— Lais Roca (@LaisRoca) May 8, 2018
Una canzone lenta, con produzione al Piano, un ritorno alla sobrietà dopo alcuni momenti davvero troppo eccessivi alla "Bitch I'm Madonna". 
Beautiful plan, but I'm not concerned, It's a beautiful game that I never learn / People tell me to shut my mouth… that I might get burned
Staremo a vedere, certamente ora ci si chiede quando il pezzo verrà rilasciato nella sua totalità, e che tipo di stile avrà scelto Madonna per il suo ritorno in scena, tra i più attesi del 2018.