Madonna – Rebel Heart Tour | Recensione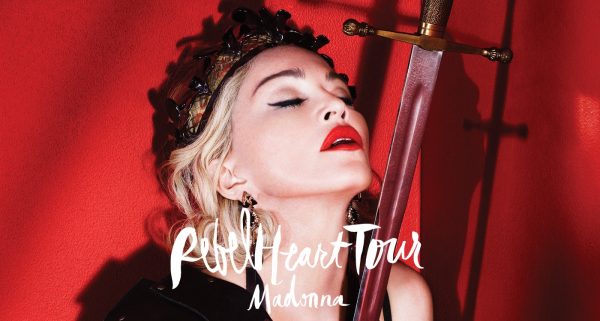 È con il grandissimo "Blond Ambition Tour" del 1990 che Madonna ha rivoluzionato il modo di tenere un concerto, proponendo veri e propri spettacoli in cui musica, arte e teatro, vengono combinati in modo tale da proporre uno show a cui assistere rimanendo a bocca aperta dall'inizio alla fine. Ma tutti gli elementi che compongono un suo show, ovvero scenografie, coreografie, ballerini e così via, fungono solo da contorno alla vera star, ovvero Madonna. Il suo carisma e la sua presenza scenica sono unici e inimitabili, ecco perché i suoi tour, partendo dal semplicissimo "Virgin Tour" fino ad arrivare al mastodontico "MDNA Tour", hanno segnato la storia della musica e continuano a farlo tutt'ora. E la sua ultima tournèe, ovvero il "Rebel Heart Tour", dimostra quanto ancora questa donna abbia da offrire al mondo della musica e allo stesso tempo quanto grande sia stato il suo contributo, quanto le sue canzoni siano diventate vere e proprie pietre miliari e soprattutto quanta voglia e quanta energia ci sia ancora nel suo cuore ribelle.
Il "Rebel Heart Tour" ha fatto tappa in Italia a Torino lo scorso novembre ed io ho avuto la fortuna di essere lì in una delle tre date. Questa recensione arriva in concomitanza con la fine del tour e non con l'arrivo di Madonna in Italia solo perché allora ancora non facevo parte della redazione del blog e nessun altro ci era andato, quindi era impossibile recensire il concerto. Ma meglio tardi che mai!
Il tour si compone di quattro diversi atti più l'encore, formato solo da "Holiday", e il palco è formato principalmente da una grandissima passerella a forma di croce che termina con un grande cuore sulla punta. Il solo guardare questo palco che occupa mezzo palazzetto riesce a farti immaginare cosa, di lì a poco, sarebbe successo lì sopra: uno dei più bei spettacoli che siano mai stati portati in tour sarebbe presto iniziato. Ed ecco che ad un certo si sente "Wanna Be Startin' Something" del grande Michael Jackson, e lì per lì non ci fai nemmeno tanto caso, ma quella canzone non è assolutamente una scelta casuale. Qualcosa stava davvero per iniziare, e migliaia di persone non vedevano l'ora. Ed eccoci qui: giù il sipario, le luci si spengono, urla di emozioni, tensione a mille. L'attesa era finita, la stanchezza era dimenticata e il gelo accumulato nelle 3 ore di fila sarebbe presto andato via: il "Rebel Heart Tour" sta iniziando.
ATTO 1 : Guerriera/Giovanna D'Arco
1. Iconic (feat. Mike Tyson & Chance The Rapper)
I maxi schermi si accendono, parte la musica: il video "Revolution" fa da intro alla prima canzone della serata, "Iconic". La clip dura intorno ai 3 minuti, e mostra una Madonna che vuole smettere di essere ritenuta solo uno strumento commerciale, che corre via dalle ingiustizie del mondo e che alla fine riesce a radunare il suo esercito. "Io voglio iniziare una rivoluzione. E voi, siete con me?". L'ultima frase del video, seguita da un grande boato, fa da strada all'arrivo di Madonna, che arriva sul palco calandosi dall'alto all'interno di una gabbia: una gabbia che rappresenta il mondo che rinchiude e intrappola gli artisti e le persone, rendendoli gli uni una copia degli altri. Ma Madonna riesce a rompere questo ciclo, e nel ritornello, appena la gabbia si posa sul palco, questa si apre e finalmente tutto ha veramente inizio. Durante il bridge, Madonna raggiunge il centro della passerella e combatte contro i ballerini, vestiti da guerrieri e muniti di lance a forma di croce e, una volta sconfitti, ritorna sul palco principale. In men che non si dica, la prima canzone è già finita, ma "Iconic" non è che la prima di tante sorprese della serata.
2. Bitch I'm Madonna (feat. Nicki Minaj)
"Ciao Torino! Siete pronti? Siete caldi?" Queste parole, pronunciate subito dopo la fine della prima esibizione, hanno riportato gran parte degli spettatori a quel concerto di 28 anni fa, quando Madonna si esibì con il suo "Who's That Girl Tour" proprio a Torino, conquistando così il cuore di tutti gli italiani, che erano ancora lì a sostenerla. Ma se mentalmente il 90% del pubblico per un momento ha pensato a quel fatidico "Ciao Torino", fisicamente Madonna ci portava in Giappone, con una rivisitazione della scenografia di "Bitch I'm Madonna", terzo singolo dell'album "Rebel Heart". Tra l'energia della canzone, la bellissima coreografia e la scenografia a tema Japan, rimanere fermi sulle note di questa canzone è impossibile. Le ballerine aiutano Madonna a togliere il mantello e subito si parte con il potente drop della canzone, mentre sul palco i ballerini sono di nuovo presenti con nuovi costumi. Durante il bridge, sugli schermi è presente Nicki Minaj, mentre sul palco la coreografia richiama un po' il video di "Sorry", dove incombe una lotta tra donne e uomini, con una conseguente vittoria del genere femminile.
3. Burning Up
Un veloce ringraziamento ai suoi ballerini e Madonna parte verso il centro della passerella, mentre la band inizia a suonare le prime note di "Burning Up". Il palco s'infiamma, Madonna raggiunge il centro della croce e inizia a suonare la chitarra, dando alla canzone una veste totalmente rock. Basta la solita grinta di Madonna e qualche luce per trasformare una semplice canzone alla chitarra in uno dei più bei momenti dello show, che raggiunge l'apice durante l'assolo di chitarra nel bridge.
4. Holy Water/Vogue
Le luci si spengono per un momento e tutti sanno quello che li aspetta dopo la prima hit anni '80 della serata: il momento più spettacolare dello show è già arrivato. Madonna, accompagnata dalle ballerine vestite da suore mezze nude, percorre la passerella mentre canta una delle canzoni più blasfeme della sua carriera, "Holy Water". Sui bracci della croce intanto ci sono già dei pali da pole dance a forma di crocifisso, i quali vengono utilizzati sia da Madonna, ma soprattutto dalle ballerine, proprio per una pole dance altamente trasgressiva. Il meglio arriva durante la parte strumentale del bridge: Madonna si arrampica su uno dei pali, attende l'arrivo di una sua ballerina che si posiziona perpendicolarmente sul palo, mentre la cantante, appoggiandosi sulla suora, gira intorno al palo, usando praticamente la ballerina come una tavola da surf. Nel frattempo parte l'iconica "Vogue", inserita come piccolo sample all'interno della canzone. Ma non è ancora finita: sul palco principale è in corso una rivisitazione della famosa ultima cena, nella quale promiscuità e alcool fanno da padroni. Mentre, durante il bridge di "Vogue", sui maxi schermi appaiono immagini di santi, la performer raggiunge il palco principale percorrendo la passerella in ginocchio. La performance si conclude mentre l'ultima cena viene consumata e nel frattempo a Madonna vengono legate le mani. Ma non c'è descrizione che tenga alla visione dello spettacolo.
5. Devil Pray
Suoni di campane rimbombano per tutto il palazzetto e subito dopo partono le chitarre di "Devil Pray", una delle più belle canzoni di "Rebel Heart" e, purtroppo, un momento debole dello spettacolo, principalmente perché la performance è troppo piatta per una traccia potente come questa. Dopo la promiscuità di "Holy Water", Madonna è pentita dei suoi peccati e vuole trovare la via della salvezza, cercando perdono e aiuto nella religione. Come detto prima, nonostante la scenografia sia comunque buona, sono troppi i momenti di staticità nella performance, soprattutto durante la prima strofa e il primo drop, tutto dovuto prevalentemente alla stanchezza di Madonna dopo "Holy Water". Durante l'ultimo ritornello e l'ultimo drop vi è più energia sul palco, e mentre i ballerini intrattengono il pubblico Madonna scompare per il primo cambio abito della serata
6. Messiah (Intermezzo)
Primo intermezzo della serata, "Messiah", come anche le altre due canzoni che sono state usate come interlude, è proposta in album version. Mentre sui maxi schermi vediamo scene provenienti dal video di "Ghosttown", al centro della passerella c'è un ballerino che danza insieme ad un velo durante la prima parte della canzone. Successivamente ci si sposta sul palco, dove la parte centrale si alza. Un altro ballerino danza su questo maxi schermo, sul quale le immagini si muovono in base ai suoi passi. Nonostante l'assenza di un video inedito e di un remix, quello di "Messiah" si propone come uno degli interludi migliori proposti da Madonna e con questa magnifica ballata si pone fine al primo atto del concerto.
ATTO 2 : Rockabilly – Anni 50
7. Body Shop
I maxi schermi propongono parti di macchine e motori, mentre i ballerini iniziano a preparare la scenografia del secondo atto. Nel primo frangente della seconda sezione, il tutto si sviluppa in una carrozzeria, come ricorda appunto il titolo della canzone che apre la seconda sezione, ovvero "Body Shop". Madonna spunta sulla destra del palco sul cofano anteriore di una macchina, con acconciatura e abiti tipici degli anni '50, per poi spostarsi verso il centro, dove ancora una volta il centro del palco si alza e diventa un grande maxi schermo. Il resto della coreografia si sviluppa sempre in questo ambiente, dove i ballerini sono vestiti da meccanici sexy e Madonna si atteggia in una specie di rimorchio un po' duro e a tratti anche rozzo. Verso la fine, mentre Madonna e una parte dei ballerini completano la coreografia, un'altra parte inizia a spostare pneumatici e attrezzi di scena vari verso il centro, preparando il tutto per la canzone successiva.
8. True Blue
Terminata "Body Shop", Madonna si siede su di un sedile, circondata dai suoi ballerini e inizia a parlare un po' con il pubblico, e lo fa in italiano! Maxi schermi fissi sullo studio in blu che ricorda il video della canzone, un ukulele e Madonna è pronta a regalare una delle più semplici e allo stesso tempo emozionanti esibizioni. Una canzone che non veniva proposta dalla sua pubblicazione, a cui finalmente è stata data un po' di giustizia grazie a questa riproposta e ad un bellissimo live, a dimostrazione ancora che Madonna non ha sempre bisogno di ballerini e coreografie per intrattenere migliaia di persone. La nuova versione in chiave semi acustica è semplicemente superba, sicuramente uno dei momenti più emozionanti dell'intero spettacolo.
9. Deeper And Deeper
Dopo la dolcezza della nuova versione di "True Blue", il palco si infiamma di nuovo al partire dei violini di "Deeper And Deeper". Gli schermi propongono immagini di jukebox, dischi e scritte che rimandando al testo della canzone, il tutto rimanendo in tema rockabilly. Madonna inizia con un "bitches are you in my gang!?" (Stro**etti, siete nella mia banda?) per incitare i fan, e subito parte la canzone. La coreografia è, anche questa volta, molto semplice, ma la canzone da sé basta e avanza per trasformare tutto in uno dei momenti più belli dello show. Una carica e un'energia assurda caratterizzano la performance, con il culmine durante il bridge: dopo ben 23 anni dalla pubblicazione del singolo, finalmente la "schitarrata di flamenco" viene inserita nella versione live. Madonna e i ballerini raggiungono il centro del cuore e la performance finisce con uno sparo, la cui vittima è Madonna. Il buio e il silenzio calano di nuovo nel palazzetto ma non tarderanno ad essere spezzati.
10. HeartBreakCity/Love Don't Live Here Anymore
L'unica ballata fissa nella scaletta del concerto è "HeartBreakCity", una delle migliori canzoni di "Rebel Heart". La performance della canzone, di per sé già meravigliosa, la rende ancora più magnifica. Una scala a chiocciola viene calata dall'alto sul cuore, e viene utilizzata da Madonna e un altro ballerino. Un uomo che l'ha usata e che l'ha abbandonata, ma la cantante riesce a reagire, e alla fine lo spinge dalla scala. Distrutta, Madonna intona "Love Don't Live Here Anymore" nella versione remixata per il suo Greatest Hits "Something To Remember": un medley di tutto rispetto e un'esecuzione vocale impeccabile in entrambe le canzoni per il momento più teatrale dello show.
11. Like A Virgin
"Nobody fucks with the queen": Madonna con queste parole finge di sollevare la scala a chiocciola, che viene tolta dal palco. L'atmosfera si riscalda e il palco viene illuminato di viola per una nuova versione di una delle più iconiche canzoni della musica pop, ovvero "Like A Virgin". Nessun backdrop, nessuna coreografia, solo Madonna che salta da una parte all'altra del palco. Nel bridge, in cui intervengono sample di "Justify My Love" e "Heartbeat", la cantante improvvisa un semi spogliarello, togliendosi il giacchino davanti ad un ventilatore. La pedana al centro della passerella si alza per l'ultimo ritornello, finché suoni di tuoni e lampi non fanno calare il buio nel palazzetto. Madonna si copra la faccia e scompare di nuovo, lasciandoci ad un altro interludio. Quest'esibizione è l'emblema della potenza di Madonna, che riesce a intrattenere un pubblico formato da circa venti mila persone saltando qua e là e improvvisando qualche passo. Un livello di iconicità difficilmente raggiungibile da altre pop star.
12. S.E.X. (Intermezzo)
La parte centrale del palco si alza di nuovo e su di essa ci sono quattro letti con una coppia di ballerini (due etero, una gay e una lesbo) su ciascuno di essi. Dopo il breve inizio con alcune frasi di "Justify My Love", l'intermezzo ha inizio. I ballerini simulano posizioni sessuali per tutta la durata di "S.E.X.", mentre sullo schermo ci sono immagini ripresi dal video di "Erotica". Nonostante forse sia un po' troppo lungo per ciò che propone, anche questo intermezzo rimane abbastanza piacevole, anche se non ai livelli di "Messiah" ma soprattutto di "Illuminati", che vedremo tra poco.
ATTO 3 : Cuore Gypsy
13. Living For Love
Dopo i macabri ritmi di "S.E.X.", il palazzetto si riempie di gioia. Gli schermi sono pieni di petali di rosa che cadono, al centro del palco si erge una grande pedana circolare, mentre Madonna fa il suo ingresso dal cuore sulle note dei violini dell' "Offer Nissim Living For Drama" Mix di "Living For Love". Avvolta in un grande mantello viola, con una gigantesca M sulla parte posteriore, Madonna percorre tutta la passerella fino a raggiungere la pedana. Questa entrata, con questa scenografia e il bellissimo suono degli archi, è forse la parte più spettacolare dello show. E, appena raggiunto il palco princiaple, ecco che i violini si fermano e prende via la parte dance della canzone: Madonna lancia via il mantello e rimane vestita da matador, mentre gli altri costumi e i backdrop ricordano sia il video che le performance dei Grammy e dei Brit Awards. Qui però troviamo una Madonna più energica, forse anche per la versione remixata della canzone che è stata usata. I ballerini indossano le maschere di tori, che rappresentano il male, e Madonna lotta contro di loro, regalando al pubblico un grandissimo spettacolo. Alla fine della canzone Madonna porta in aria trionfante una di quelle maschere: Madonna vive per l'amore e l'amore la fa trionfare.
14. La Isla Bonita
Dopo il segmento dance di "Living For Love", arriva la vera e propria parte Gypsy, ovvero quella latin, e quale canzone migliore se non con la grandissima "La Isla Bonita"? Anche per questa hit, Madonna non usa nessun remix ma rende l'arrangiamento il più vicino possibile all'album version. E come per "Like A Virgin", l'immortalità raggiunta da "La Isla Bonita" non necessita di scenografie spettacolari per intrattenere i migliaia di spettatori. La coreografia invece richiama un po' quella dello "Sticky & Sweet Tour", anche se qui viene resa in modo più semplice. Madonna canta seguita dal gruppo di musicisti e ballerini, che percorrono tutta la passerella, accennando qua e là qualche passo. Alla fine, rimangono solo i ballerini maschi e i musicisti, che intrattengono il pubblico con un piccolo segmento ballato in attesa dell'ennesimo cambio d'abito.
15. Medley: Dress You Up/Into The Groove/Lucky Star
Madonna ritorna in pista con un abito coloratissimo, che rispecchia i nuovi backdrop, i quali fanno passare immagini un po' psichedeliche alternate a piante e fiori. In questo frangente, tre hit del passato sono state rivisitate in chiave latin. Uno stile un po' carnevalesco caratterizza tutta la performance, in cui Madonna e i ballerini camminano tranquillamente lungo tutto la passerella, accennando qui e lì qualche passo, tralasciando la precisione millimetrica che caratterizza tutte le sue altre performance. Molti fans hanno trovato quest'idea del Medley il momento più basso dello show. Al contrario, devo dire che a me l'idea è piaciuta, e sul palco ha avuto anche un suo effetto. Rendere in chiave latin canzoni come "Dress You Up", "Into The Groove" e "Lucky Star" (all'inizio era anche inclusa "Everybody", ma è stata tagliata dopo appena un paio di tappe) ha tolto sì tutta l'energia che caratterizza le versioni originali, ma ha contribuito a dare un momento a mio parere godibilissimo e divertente. Il Medley però è stato più volte tagliato durante il corso del tour, probabilmente perché alla fine non ha convinto neanche la stessa Madonna.
16. Canzoni a sorpresa: Secret, Ghosttown
Uno dei momenti più attesi dello show. Madonna ricomincia a parlare con il pubblico di quanto si stia divertendo, di quanto abbia caldo, dice il suo ormai iconico "mamma mia che caz*o!" come se fosse le uniche parole italiane che sappia! I momenti in cui le star rompono la finzione scenica sono tra i momenti più belli di uno spettacolo, ti rendi conto che anche loro sono davvero lì, stanno parlando con te, anche se indirettamente. E Madonna parla, e tanto, e capisci che ad averla resa grande ha contribuito la sua personalità, il suo carisma, la sua spontaneità. È la classica persona che appena entra in una sala ha gli occhi puntati su di lei. Un personaggio fantastico, umile e allo stesso tempo sbruffone quando serve. Durante questa parte dello show, Madonna sceglie in modalità random una o due canzoni dal suo immenso repertorio musicale e, con l'aiuto del chitarrista Monte Pittman, le intona in modalità acustica. Il 21 novembre ha cantato divinamente la bellissima "Secret" e poi "Ghosttown" (quest'ultima in versione album e non acustica). C'erano solo Madonna, la sua chitarra, un microfono, una luce puntata su di lei e tredici mila persone che cantavano a squarciagola. E solo questo è bastato per emozionare tutto il Pala alpi tour.
17. Rebel Heart
Solo un cambio di chitarra questa volta per concludere il terzo atto. "Rebel Heart", la canzone che dà il titolo al suo ultimo disco, rappresenta un po' tutte le persone che abbiano lottato per qualcosa nella vita, ed è la canzone più autobiografica di Madonna dai tempi del singolo "Ray of Light". Mentre la cantante intona la canzone, sui maxi schermi ci sono disegni, creati dai suoi fan e opportunamente scelti tramite un contest, che ripercorrono tutta la sua carriera, da quell'ormai lontano 6 ottobre 1982, quando "Everybody", il suo primo singolo, fu rilasciato, fino al 21 novembre 2015, quando Madonna era ancora lì, sul palco, a segnare la storia della musica… di nuovo.
18. Illuminati (Intermezzo)
Madonna scompare, il palazzetto si illumina di rosso e un grande occhio compare sui maxi schermi. Mentre vengono recitate alcune frasi tratte dal "Secret Project", sul palco vengono innalzati dei pali, 3 sul cuore e 2 per ogni braccio della croce. Appena ha inizio la canzone, i ballerini salgono su questi pali, mentre altri ballano le loro coreografie sul palco. È difficile descrivere cosa accade durante "Illuminati": i ballerini iniziano a dondolarsi in aria, andando prima verso il pubblico e poi verso il parterre, e ad un certo punto prendono un ballerino, lo sollevano in aria e lo fanno atterrare sul palco. Questo "dondolarsi" ovviamente non è fatto a caso, ma anche qui c'è la precisione millimetrica di cui si parlava prima. Lì, in aria, i ballerini hanno anche determinate mosse da eseguire e una coreografia da rispettare. Ma, anche qui, le parole non riusciranno mai a descrivere cosa diviene in questo momento il "Rebel Heart Tour". Un intermezzo fantastico, che solo una mente geniale come quella di Madonna avrebbe mai potuto partorire.
ATTO 4 : Party
19. Music
Dopo l'emozionante interludio, il concerto si avvia verso la fine. Una musica da lounge bar accompagna l'arrivo di Madonna sul palco, questa volta vestita con un giacchino nero sotto il quale si intravede un corpetto nero rivestito di swaroski e un cilindro in testa. Sulle note di questa musica jazz, Madonna inizia a intonare "Music", uno dei suoi più grandi successi, che, dopo questa intro, diventa la canzone che tutti conosciamo. Dopo 16 anni dalla sua pubblicazione, "Music" sembra essere uscita ieri e finalmente viene proposta in tour in versione album. A circa metà canzone la coreografia si interrompe e Madonna fa uno stacchetto divertentissimo, durante il quale ad ogni suo passo e ad ogni sua azione corrispondeva un suono diverso, un po' come in un circo. Un piccolo siparietto divertentissimo dopo il quale riparte la canzone e, durante il medley con il bridge di "Give It 2 Me",  Madonna lancia via il giacchino, mostrando l'abito di swaroski in tutta la sua lucentezza e lascia spazio ad un'altra canzone.
20. Candy Shop
L'unica certezza di un fan di Madonna è che "Candy Shop" sarà sempre presente nella scaletta di un suo tour. La canzone non è mai stata rilasciata come singolo, nemmeno promozionale, eppure è dal 2008 che Madonna la canta. E dal 2008 riesce a renderla sul palco in maniera meravigliosa. La versione proposta nel "Rebel heart Tour" è una versione più pop, ma il concept riprende un po' quello del "MDNA Tour": un "negozio di caramelle" un po' promiscuo, frequentato da persone altrettanto strane, vestite per metà da uomini e per metà da donne. Coreografie incredibili che giustificano l'uso del playback su questo segmento del concerto, rendono ancora una volta "Candy Shop" una delle migliori esibizioni di un suo concerto.
21. Material Girl
Neanche un momento per pensare allo spettacolo appena proposto in "Candy Shop" che subito parte la base di "Material Girl". Madonna sia avvia al centro del palco, sul quale sono rimasti solo i ballerini maschi, vestiti con uno smoking nero. Il palco si alza e Madonna e i ballerini rimangono lì sopra a ballare. I ragazzi fanno la corte a Madonna che, da brava Material Girl, li spinge via e li fa scivolare sul palco, perché vuole sempre di più. Durante una piccola parte strumentale, anche lei si spinge e scivola via sul palco, e sulla passerella due ballerini l'aspettano per metterle addosso un velo da sposa e un bouquet di fiori, con i quali percorre la passerella. Alla fine della canzone, Madonna getta il bouquet e chiunque lo prenda sarà il suo nuovo marito (o moglie). Un'altra scenetta divertentissima, in cui Madonna si mette a tu per tu col fortunato fan, dimostrando per l'ennesima volta la sua simpatia e la sua ironia.
22. La Vie En Rose
La pedana al centro della passerella si alza, i maxi schermi rappresentano un sipario rosso abbassato. Madonna è pronta, con la sua chitarra, a dare prova (ancora!) della sua bravura in quanto vocalist. Dopo aver continuato ancora per un po' a intrattenere i fan con qualche altra battuta di spirito, Madonna si cimenta in una cover in versione acustica de "La Vie En Rose" di Edith Piaf, la quale ne sarebbe stata sicuramente fiera, data la perfezione con cui viene eseguita.
23. Unapologetic Bitch
Ultima (almeno apparentemente) performance della serata è "Unapologetic Bitch", il brano dalle influenze dance/reggae di "Rebel Heart".  La performance si sviluppa su una coreografia un po' azzardata e poco precisa, in cui Madonna fa qualche passo di quando in quando, soprattutto durante i drop. Durante il bridge viene invitato un fan sul palco, che diventa la "unapologetic bitch" della serata. Il fan (a volte rimpiazzato invece da un personaggio famoso, come Katy Perry o Nelly Furtado) viene sculacciato e preso in giro dalla cantante, e gli viene regalata una banana. Madonna lascia il palco promettendo al fan che più tardi, nel backstage, gli avrebbe insegnato tutti i modi in cui si possa usare una banana, e subito dopo, mentre sui maxi schermi appaiono le scritte "Bye Bye Bitches", Madonna saluta tutti e lascia il palco, illudendo tutti che il concerto sia finito. Ma i veri fan sanno che non è così.
ENCORE
24. Holiday
Un paio di minuti ed ecco che parte la base di "Holiday": Madonna fa il suo ingresso avvolta in una bandiera dell'Italia, balla e canta come non mai, impegnandosi per lasciare ancora una volta tutti a bocca aperta. I backdrop mostrano tutte le bandiere del mondo, un modo nuovo per cercare di lanciare un messaggio di solidarietà e di rompere le barriere del razzismo. E alla fine, i maxi schermi si aprono, e Madonna vola letteralmente via, e scompare dietro i grandi schermi, salutando e ringraziando affettuosamente il suo pubblico. E questa volta, il "Rebel Heart Tour" è finito per davvero.
Una Madonna nuova, che abbandona finalmente la precisione maniacale del "Confessions Tour"  e del "MDNA Tour" per dare spazio ad una Madonna più umile, che interagisce con i suoi fan, che ci scherza insieme. Il "Rebel heart Tour" è il tour della rivincita: della rivincita di alcune canzoni, a cui finalmente viene dato spazio e che vengono eseguite in modo splendido; di "Rebel Heart", che dimostra quanto immeritato sia stato il suo flop date le meravigliose canzoni eseguite in tour; ma soprattutto di Madonna, che si riconferma la più grande performer di tutti i tempi anche a 57 anni. È grazie a lei che tutte hanno iniziato ad usare luci e maxi schermi, coreografie, divisione della scaletta in atti e tutto il resto. Ma c'è una sola differenza: Madonna lo fa meglio. E si, forse Madonna non sarà più sulla cresta dell'onda, ma su quell'onda, dopo ben 33 anni c'è ancora, e nessun altro può vantarsi di un risultato del genere: e in sole due ore e mezza Madonna ci fa ripercorrere ogni singolo momento di quei suoi anni.