Madonna regala uno spettacolo acustico inedito ai fan australiani
Sono passati ben 23 anni da quando Madonna portò uno dei suoi fantastici tour in Australia. L'ultima volta fu infatti nel 1993, con il suo maestoso "Girlie Show", che registrò sold out in tutte le date australiane in meno di un'ora. Dopo tanto tempo, finalmente le preghiere dei fan australiani sono state esaudite: è qui infatti che il "Rebel Heart Tour", la decima tournèe della cantante di "Music", terminerà. Ma Madonna ha deciso di sorprendere tutti e di regalare qualcosa di esclusivo ai suoi fan che hanno pazientato così tanto per rivederla.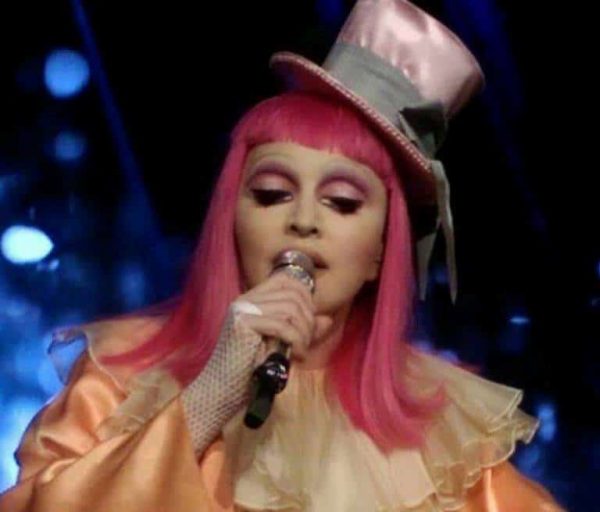 Madonna ha infatti preparato uno spettacolo inedito più intimo, nel vero senso della parola. A Melburne, 1500 fortunati fan sono stati scelti, tramite un concorso, affinché assistessero gratuitamente allo show, denominato "Tears Of A Clown". Nessuna scenografia, nessuna coreografia, solo Madonna vestita da pagliaccio che canta alcune delle sue più belle canzoni, scelte tra singoli e non singoli, prevalentemente dai dischi "Ray of Light", "Music" e "American Life".
Il titolo dello show è emblematico: in un momento cruciale della sua vita, segnato soprattutto dalla crisi adolescenziale del secondogenito Rocco, che ha deciso di staccarsi dalla madre per rimanere più tempo con il papà Guy Ritchie, Madonna ha deciso di mollare per un po' la sua parte esuberante e i comportamenti da diva per lasciar spazio alla sua parte più umana, e lo ha fatto cantando canzoni come "Intervention", dedicata proprio ai suoi figli, "Mer Girl", "Nobody's Perfect", ovvero canzoni profonde, che si addicono al suo stato d'animo di adesso, che, come quando furono scritte, rispecchiano perfettamente il suo cuore e i suoi sentimenti. Ecco la setlist completa dello show:
Send In The Clowns
Drowned World/Subsitute For Love
X-Static Process
Behind The Bars
Nobody's Perfect
Easy Ride
Intervention
I'm So Stupid
Paradise (Not For Me)
Joan Of Arc
Don't Tell Me
Mer Girl
Borderline
Take a Bow
Holiday
Tutte le canzoni sono state eseguite in chiave acustica e Madonna ha, ancora una volta, dimostrato quanto i suoi spettacoli siano ottimi anche senza ballerini e maxi schermi, e soprattutto che sappia ancora cantare. Nonostante qualche attacco sbagliato, dovuto soprattutto al fatto che, a parte "Joan of Arc", le canzoni risalgano minimo al 2003, la cantante è riuscita ad incantare il pubblico solo con la sua voce. È facile capire quindi che il tanto criticato uso di playback nei suoi tour non sia dovuto al non saper cantare, quanto alla complessità di cantare e ballare coreografie di un certo livello, soprattutto alla sua età.
Sicuramente questo piccolo show non era destinato al grande pubblico ma soprattutto ai fan, soprattutto perché è difficile capire quanto un live di una "Easy Ride" possa significare se non si segue Madonna. Dopo ben 33 anni di carriera, Madonna riesce ancora a sorprendere i fan, regalando dei live perfetti di canzoni altrettanto fantastiche, che sono state eseguite dal vivo pochissime volte, o addirittura mai. Un regalo che ha compiaciuto non solo i pochi fortunati presenti, ma anche un fan base che continua a sostenerla da oltre trent'anni.