Mariah Carey dà il via al The Sweet Sweet Fantasy Tour! Ecco i video…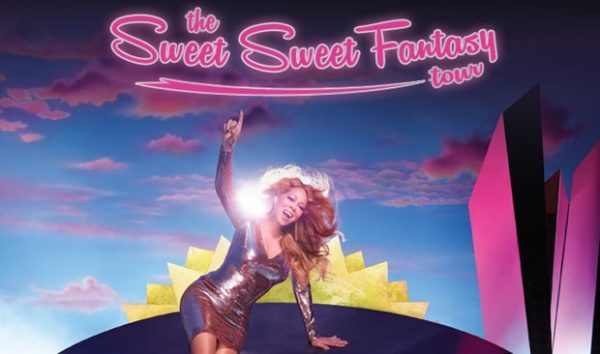 Dopo innumerevoli ed estenuanti anni d'attesa, la grande Mariah Carey è finalmente tornata a viaggiare per le città europee per un tour dedicato prettamente a noi europei. Il progetto, denominato "The Sweet Sweet Fantasy Tour" è partito nella giornata di ieri da Glasgow, e terrà impegnata la grande diva per alcuni mesi, portandola perfino qui in Italia per un concerto che si svolgerà esattamente fra un mese (16 aprile) al Forum Assago di Milano.
A noi Mimi aveva promesso una setlit speciale, diversa da quella proposta durante gli spettacoli della sua ultima Residency di Las Vegas e che le permettesse di mettere in scena brani che magari non avevano avuto un buon successo in USA ma che comunque erano stati grandi qui da noi. Ebbene, la promessa è stata mantenuta: eccovi di seguito la setlist completa di ieri sera.
1. Fantasy (Def Club Mix)
2. Emotions
3. My All
4. Always Be My Baby
5. I'll Be There
6. Touch My Body
7. Heartbreaker
8. I Know What You Want
9. Obsessed
10. It's Like That /Shake It Off
11. Loverboy
12. Against All Odds (Take a Look at me Now)
13. One Sweet Day
14. When You Believe
15. Hero
16. We Belong Together
Encore:
17. Without You
18. Butterfly (Outro)
Titoli davvero interessanti, brani che noi tutti abbiamo amato nel corso degli anni, ma non cullatevi sugli allori aspettandovi esattamente questa setlist per il concerto milanese: Mimi ha chiaramente affermato che a questa setlist di base saranno aggiunte piccole modifiche di volta in volta, così da rendere ogni spettacolo del The Sweet Sweet Fantasy Tour davvero unico.
Per quanto riguarda le performance vocali, come prevedibile sul palco di Glasgow è salita una Mariah raggiante e preparata, una donna che ormai sembra aver dimenticato i problemi di qualche anno fa e quasi ritorna a proporre esecuzioni degne delle migliori lodi.
Le interpretazioni sono state emotive e decise, la parte tecnica delle esecuzioni è stata curata alla perfezione, e quello che ne è venuto fuori è stato uno show impeccabile, roba che darà sicuramente agli incerti un motivo per acquistare un biglietto per la tappa di Milano. Vi lasciamo con alcuni video che provano la veridicità delle nostre affermazioni. Che ne pensate dello show della signora Carey?
Per trovare altro materiale potete accedere al portale Mariah Carey Italia. Che ne pensate di questo primo spettacolo del The Sweet Sweet Fantasy Tour?