Mary J. Blige – Strenght of A Woman | ASCOLTA IL NUOVO ALBUM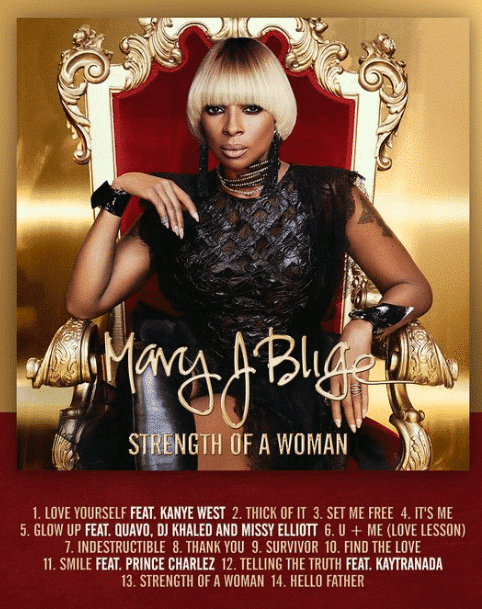 AGGIORNAMENTO:
È finalmente arrivato il tredicesimo album in studio di Mary J. Blige intitolato "Strenght Of A Woman".
Ascoltatelo qui:

---
Mary J. Blige pubblicherà il prossimo 28 di Aprile il suo nuovo album "Strenght Of a Woman"
Il tredicesimo album in studio di Mary J. Blige sta per arrivare, una carriera lunghissima, che l'ha portata ad essere oggi, l'unica grande Regina della musica HipHop Soul.
La Blige, come altri artisti di grande esperienza, specialmente nel genere Urban R&B, sta vivendo un momento di "crisi". Infatti i singoli lanciati fino ad ora dal nuovo album "Thick Of It" e "U + Me (Love Lesson)", non sembrano aver colpito abbastanza nelle chart.
Ma come sappiamo bene, quello che conta oggi come oggi, é portare alla luce dei progetti validi, e Mary, sotto questo aspetto, non ha mai deluso, anzi. Nel nuovo disco, del quale sono state rivelate le tracce proprio oggi, troveremo anche alcune collabo di prestigio, come Kayne West e Missy Elliott con Dj Khaled.
1. "Love Yourself" feat. Kanye West
2. "Thick of It"
3. "Set Me Free"
4. "It's Me"
5. "Glow Up" feat. Quavo, DJ Khaled, & Missy Elliott
6. "U + Me (Love Lesson)"
7. "Indestructible"
8. "Thank You"
9. "Survivor"
10. "Find the Love"
11. "Smile" feat. Prince Charlez
12. "Telling the Truth" feat. Kaytranada
13. "Strength of a Woman"
14. "Hello Father"
Un disco che difficilmente saprà vendere come i precedenti lavori, ma la speranza é l'ultima a morire. Noi siamo davvero felici che Mary ci stia ancora onorando con grandissima musica di qualità, lo dimostra tanto il secondo raffinato singolo "U + Me", che vi proponiamo qua sotto
Sicuramente in ambito R&B si tratta di una delle release più importanti dell'anno, con la speranza di vedere nel 2017 anche i nuovi progetti di altre belle voci, come Keyshia Cole, Kelly Rowland, e Brandy, tutte al lavoro sui loro nuovi progetti.
Cosa ne pensate? Riuscirà Mary a trovare una hit con questo nuovo progetto?