Mary J. Blige – Stronger With Each Tear (Recensione CD)
CD della settimana, il nuovo album di Miss Mary J. Blige: Stronger With Each Tear.
A due anni di distanza dalla release di "Growing Pains" torna la regina e signora della musica HipHop Soul, Mary J. Blige. Un nono album intitolato "Stronger With Each Tear", dove ritroviamo tutto il potere musicale e trascinante di questa music Icon unica.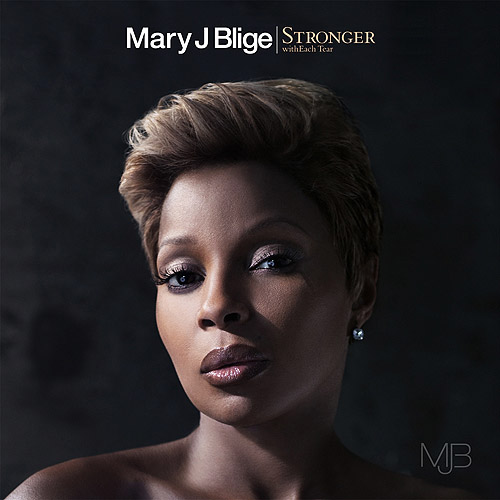 Il primo singolo, una uptempo aggressiva prodotta da Darkchild "The One", ha fallito la scalata nelle classifiche, e come secondo singolo MJB ha deciso di fare uscire la radio friendly "I Am" prodotta dagli Stargate. Dapprima molto scettico su questo nuovo progetto, ora con diversi ascolti mi ritrovo ad amarlo come ho amato qualsiasi disco di questo mostro (di bravura) di donna!
Ma ecco la recensione del 9 album di Mary:

"Tonight" è una canzone che mescola le sonorità delle produzioni di Akon con il beat stupendo dei Runners. Si tratta di una canzone malinconica, cupa a tratti! Senza dubbio uno dei pezzi migliori del disco. La voce di Mary è semplicemente fantastisca, e trasmette inquietudine ed una sorta di malinconia. I'impronta di Akon si sente in quegli "Oh Oh" ripetuti da Mary, che ci stanno perfettamente. Una vera artista come lei riesce a dare del suo e dello spessore anche con dei producer che onestamente sono un po' comuni. Il pezzo parla di una Mary che sta soffrendo in amore, racconta di un'amore piuttosto tormentato, e di un ritorno a casa la sera stessa, del suo amore, per poter riuscire a superare gli ostacoli d'amore.
"The One" insieme al talentuosissimo rapper Drake! Il pezzo è la "Uptempo" del disco! Non è possibile resistere al beat aggressivo ed innovativo, purtroppo scelta come primo singolo, la canzone ha mancato gli obbiettivi in classifica, ma per me rimane una delle migliori club-banger realizzate in questo 2009, assolutamente classe, ed assolutamente innovativa! La Mary parla della sua unicità, è lei la vera "numero 1" e lo rivendica in un pezzo potente e graffiante. Darkchild ha riservato veramente un beat stupendo, veramente un gran peccato che il pezzo sia stato sfumato così, forse le tempistiche son state sbagliate, sarebbe stato molto buono come terzo singolo a parer mio! Come al solito anche qua la grinta della HipHop Soul Queen vien fuori tutta!
"Said And Done"! A bocca aperta, sentendo la versione definitiva di questo pezzo! Questa uptempo è certamente meno clubby della precedente traccia, ma è fenomenale la chimica e la riuscita di Mary con Ryan Leslie! Il pezzo, non vorrei sbilanciarmi, per ora è secondo me la perla del disco…
Le sonorità prodotte da Leslie ricordano molto quelle primizie utilizzate per la non-talented Cassie nel suo album di debutto del 2006; spalmando questi sound su Mary ne esce un vero e proprio capolavoro di canzone. Il ritornello prende tantissimo, la voce di Mary è a dir poco eccezionale, tocca, ti pugnala, ti devasta, ascoltarla a volume alto in auto è un piacere assoluto! Spero assolutamente che venga realizzata come singolo!
"Good Love" unisce il King Of South TI e la Queen of HipHop Soul da anni, Ms.MJB! Il pezzo è di quelli senza pensieri, molto positivo ed allegro. Scritta da Ne-Yo e prodotta dagli StereoTypes la canzone scivola bene via. Anche qua un buon pezzo, di quelli spensierati, ma secondo me come duetto tra due pezzi così grandi della musica Black, lascia un po' indifferenti, avrei voluto qualcosa di più incisivo. Buona midtempo, ma nel disco c'è di meglio.
"I Feel Good" è prodotta dai famigerati Stargate, che molti amanti della musica black pura, ascoltano oramai con aria nauseata. Si tratta anche qua di una midtempo, positiva, ma anche qua, un matrimonio riuscito solo parzialmente, non posso immaginarla come singolo, discereta album track.
"I Am" è il secondo estratto del disco, ed il pezzo chiamato a sostenere le vendite del disco! Miss Blige ha scelto certamente di andare sul sicuro con questo pezzo. Un pezzo all'apparenza banalotto e che richiama ai tempi del 2005-6, ma che poi con gli ascolti e con le magiche performance che ci ha reglato, ha assolutamente acquistato valore, per non parlare del video di gran classe. Mary qua fa centro insieme agli Stargate, che onestamente hanno dato un buon beat, ma tanto di cappello va al grande Johnta Austin, amico di Mary, che ha scritto parole molto belle. Un pezzo ne quale qualsiasi donna e uomo ci si può rispecchiare, un pezzo adatto per le radio Urban, dove Mary ha veramente pochi problemi a fiorire, ma anche, speriamo, adatto a fare crossover e salire in Top100.
"Each Tear", altro bel pezzo, mi colpisce per il messaggio, assolutamente fantastico. "Ogni lacrima, serve per farci andare avanti, per farci crescere, per renderci più forti", è questo il messaggio della canzone, che non brilla forse per il beat, e magari non ha nemmeno un ritornello catchy, ma che significa molto. Mary è la raffigurazione perfetta della donna adatta a "trasmettere" forza, ogni suo disco è come un'amico che ci stringe forte e ci fa coraggio. Questo pezzo midtempo esplode sul fianle con una Mary gigantesca. Ottima track, non adatta come singolo, ma album track eccellente! Così ci piaci MJB!
"I Love U (Yes I Du)", mh, forse il pezzo che mi piace di meno del progetto. La produzione è di Polow Da Don, che secondo me fa affogare un po' Mary, un pezzo caotico e poco concreto. Bocciata, poteva essere un bel left over.
"Hood Love" è magia pura! Il pezzo nella versione solitaria, cantata da Mary, e anche da Johnta Austin, è uscita da veramente molto tempo, ma poi è stata rielaborata per l'album con un duetto con Trey Songz, un bel vocione maschile che si sta facendo strada nel musicbiz a passi veloci! È la romantica, classica, ballata, un duetto riuscitissimo, MJB e Trey fanno sposare le loro voce in maniera eccelente, ma il pezzo onestamente poteva anche non essere arricchito, visto che si tratta di una perla fantastica. Un vero all'amore, ha tutte le potenzialità e facoltà per diventare una buona hit da Urban. Anche qua Johnta non ha sbagliato, il testo è fantastico. Trey con il calore della sua voce riesce solo parzialmente a stare dietro alla vecchia volpe.. ma tanto di cappello a questo ragazzo per i featuring che è riuscito ad ottenere quest'anno (Braxton, Blige, Amerie, Drake, Wayne). Evidentemente il musicbiz crede molto in questo ragazzo, e vocalmente ha veramente tutte le carte!
"Kitchen", altra perla, così maledettamente soulful, così maledettamente nera, orgogliosa, femminista! Potrei collegare questa canzone per lo stile a "Feel Like A Woman" dell'ultimo disco "Growing Pains". "Kitchen" è una midtempo, richiama tutto al passato il beat, il tema è la cucina, in un senso metaforico si gioca sul tema della gelosia, e possesso del proprio uomo, un pezzo giocato benissimo, il secondo mio favorito del disco che oramai avete capito è un disco eccellente. Mi piace assolutamente tutto di questa canzone, sono rimasto sorpreso che Tricky e Dream abbiano lavorato ad un pezzo del genere. Si son mescolati perfettamente con l'attitudine di MJB! Lei, risplende, questo suo essere donna genuina al 100%, essere diva, ma una diva che lavora sempre con i suoi pezzi per la dignità, i diritti, e l'orgolgio delle donne afro americane! Stupenda… go Mary!
"In The Morning" è una produzione di D.Emile, e Ron Fair. Anche qua la parte più soulful di Mary vien fuori, un pezzo R&B bellissimo, il beat è slow e rilassato, un ritornello assolutamente contagioso, e una Mary che gioca al massimo la sua voce. Anche qua si parla d'amore, di come superare gli ostacoli in amore… "mi amerai nella mattina, e poi alla sera mi lascerai?". Altro pezzo tra i miei preferiti. Impossibile rimanere impassibili alla performance vocale.
"I Can See In Color" è la canzone ufficiale del film "Precious". È una canzone dalla melodia tristissima, è di un classico e di una bellezza disarmante, "Posso vedere a colori". Non ho ancora avuto il modo di vedere il film "Precious" che parla di un sacco di problematiche di una ragazza obesa afro americana. Il pezzo tocca nel profondo, la difficile vita della protagonista si sente nelle orecchie. Mary ha fatto un'altro grande lavoro. Spessore e qualità di questa Regina si senton di brutto nel pezzo!
Ora, sono assolutamente partito prevenuto nei confronti di questo album, avrei pensato da ciò che ci ha proposto come singoli di trovare qualcosa di meno concreto ed incisivo rispetto ai due capolavori precedenti "The Breakthrough" e "Growing Pains", ma con un po' di ascolti del disco completo mi sono assolutamente ricreduto.
"Stronger With Each Tear" è l'ennesima comferma che Mary è oramai una leggenda musicale di questi ultimi 20 anni, si perchè nel 2012 la Regina farà 20 anni di carriera, 20 anni contraddistinti dal alti e bassi, contraddistinti da problemi personali, dalla droga ad amori sbagliati, 20 anni di ossa, che ora sono diventate d'acciaio! Mary è indistruttibile, ha segnato la musica, e con questo album la segna ulteriormente. Ogni singolo pezzo è come minimo buono, ed è un disco da comprare se amate la musica R&B, Soul o HipHop!
In questo disco troviamo anche collaborazioni con producer "nuovi" per Mary, ma lei riesce come già detto a dare la sua impronta, ed anche su un beat magari banale o riciclato riesce ad illuminare il pezzo. Non mancano le classiche tematiche sui problemi del vivere e dell'essere donna ancora oggi, non mancano nemmeno pezzi spensierati e piacevoli. Ha innovato, ma non si è diemnticata il suo fanbase, e la sua fama di "artista di qualità". Per me più forte di Alicia con questo disco, Alicia che vi presenterò con la prossima recensione.
Ottime, anzi eccezionali: "Said and Done", "Kitchen" e "Tonight". Buone: tutte le altre. Bocciate: "I Love U (Yes I Du)" no more Polow/Mary please!
Collegatevi Sul FORUM se siete fan della buona musica, e fan di Mary J Blige!
Proprio dal forum abbiamo l'ultimo Gossip, pare che Mary abbia schiaffeggiato il suo uomo Kendu perchè ci provava con la cameriera…, dunque state sintonizzati per avere sempre le ultime sul nostro RNBJUNK forum! Noi prima… gli altri dopo! ;)
R&B Junk rating: 4/5
"Tonight" – (produced by: The Runners and Konvict Music) – 4:00
"The One" (featuring Drake) – (writers: Mary J. Blige, Aubrey Graham) (producer: Darkchild) – 3:14
"Said and Done" – (writer: Ryan Leslie) (producer: Ryan Leslie) – 3:23
"Good Love" (featuring T.I.) – (writer: Ne-Yo) (produced by: Stereotypes, co-producer: Ne-Yo) – 4:01
"I Feel Good" – (writer: Blige, Ne-Yo, Tor Erik Hermansen and Mikkel Eriksen) (producer: Stargate, co-producer: Ne-Yo) – 3:47
"I Am" – (writer: Blige, Johntá Austin, Tor Erik Hermansen and Mikkel Eriksen) (producer: Stargate) – 3:23
"Each Tear" – (writer: Blige, Johntá Austin, Mitchum Chin, Dwayne Chin-Quee) (producer: Supa Dups) – 4:15
"I Love U (Yes I Du)" – (producer: Polow Da Don) – 3:23
"Hood Love" (featuring Trey Songz) – (writer: Blige, Johntá Austin) (producer: Bryan Michael Cox & Kendrick Dean) – 4:15
"Kitchen" – (writer: Blige, T. Nash) (producer: Tricky Stewart & The-Dream) – 4:31
"In the Morning" – (writer: Blige, Anesha Birchett, Antea Birchett) (producer: D. Emile, co-producer: Ron Fair) – 4:36
"I Can See In Color – (writer: Blige, Raphael Saadiq, LaNeah Menzies) (producer: Raphael Saadiq) – 5:31