Iggy Azalea cornuta e mazziata, Nick Young risponde al suo sfogo in modo insensibile
La vita privata di Iggy Azalea sta attraversando un periodo che descrivere come sfortunato sarebbe un eufemismo.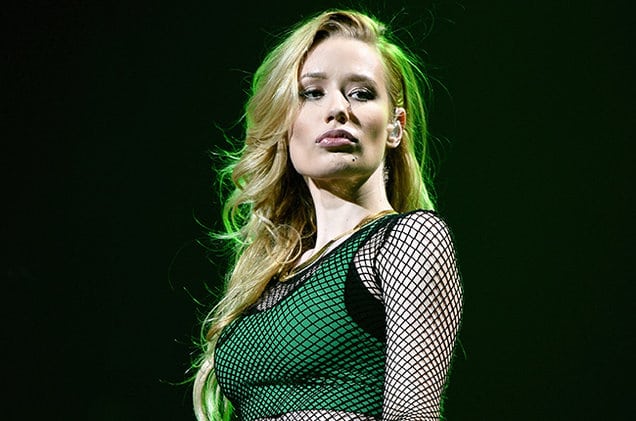 Vi abbiamo già riportato il recente sfogo social della rapper a seguito della rottura con l'ex fidanzato, il famoso giocatore di basket Nick Young, per via delle numerose scappatelle di lui scoperte da lei grazie ai video delle telecamere della villa dove abitavano.
La star di Fancy, sentitasi presa in causa dai tabloid che a suo dire riportavano notizie non vere sulla loro relazione finita in malo modo, ha preferito chiarire la sua versione tramite twitter, sperando forse di chiudere una volta per tutte il discorso.
Purtroppo però, l'ultimo che avrebbe dovuto parlare vista la figura becera con il quale se ne esce da tutto ciò, è proprio colui che invece non ha perso occasione per dimostrare che la sua reputazione è poco lusinghiera non per caso.
Mi riferisco ovviamente a Nick Young che, invece di rispettare la rabbia di Iggy, ha risposto su twitter con due messaggi ed un video che portano all'insulto facile:
If you perfect then be perfect I live in a world where ppl fuck up learn from it and move on …

— Nick Young (@NickSwagyPYoung) July 2, 2016
"Se tu sei perfetta allora sii perfetta, io vivo in un mondo dove le persone fanno cazzate, imparano da queste e vanno avanti".
That's life … hate me or love me I'm still going to love life man

— Nick Young (@NickSwagyPYoung) July 2, 2016
"Così è la vita. Amami o odiami io continuo ad amare la vita"
Feel No Way https://t.co/UnzJXqucQN

— Nick Young (@NickSwagyPYoung) July 2, 2016
Questo infine il video nel quale balla e intona un brano di Drake, Feel No Way, che in un verso dice
"Ho dovuto lasciar andare noi per dimostrare a me stesso che cosa potevo fare e questo proprio non ti andava bene. Ora stai cercando di farmi sentire in un certo senso, di proposito, ora me lo stai rigettando in faccia, di proposito, ora stai sparlando sul mio nome, di proposito, e non ti senti in alcun modo, pensi che me lo merito". 
Nonostante sia chiaro a tutti che il cestista occupi la parte del torto, lui, invece di capire l'umiliazione della Azalea e rispettarla almeno in questo frangente, ha perso la millesima occasione per starsene zitto.
A 31 anni Nick Young dimostra di avere una visione davvero triste della vita; ci spiace per il tempo perso da Iggy Azalea dietro a questo "uomo" ma lasciandolo si è davvero liberata di una zavorra bella pesante. Tutto ciò lo conferma.
La femcee comunque ha ricevuto tantissima solidarietà da questa situazione, sia da parte dei fans che, in particolare, da parte delle donne, le quali mettendosi nei suoi panni non hanno potuto far altro che schierarsi al 100% dalla sua parte.
Un messaggio su tutti ha attirato l'attenzione dei giornali, quello della modella Amber Rose, ex di Kanye West e Wiz Khalifa, che ha voluto farle arrivare queste parole su instagram:
 "Ho avuto anche io il cuore spezzato quindi capisco cosa stai passando. Sii forte e tieni alta la testa mio bocciolo di rosa, io ti supporto e noi crediamo che tu sia magnifica! Non solo bellissima ma estremamente talentuosa! Mi ricordo quando guardavo i tuoi video su youtube qualche anno fa e pensavo – wow questa ragazza diventerà una star – e tu lo sei! Lascia tutto l'odio entrare in un'orecchia ed uscire dall'altra…Fidati ho avuto a che fare con tanto odio, se non di più. La cosa migliore è che è l'inizio dell'estate e ora puoi fare la pu***na! LOL Esci con un mucchio di ragazzi hot e dai a te stessa alcune nuove belle opzioni . #Nonèlastagionedellemanette ma seriamente se vuoi riprenderti Nick perché ancora lo ami…c**zo fallo! E f*****o quello che il mondo dirà! Mamma è qui per te in ogni caso tesoro e così tante altre persone che ti amano".
Consigli alquanto particolari e discutibili che sono sfociati in una marea di insulti indirizzati alla Rose, come prevedibile.
Come reagirà Iggy Azalea alle frecciatine dell'ex? Riuscirà finalmente a lasciarsi questa brutta storia alle spalle e concentrarsi al massimo per far ripartire la sua carriera?