Nicki Minaj come Cleopatra! Ecco l'eccentrica copertina del nuovo album Queen
Nicki Minaj rilascia una delle copertine album più controverse di quest'anno. Quasi nuda sulla cover del nuovo album Queen, che promette battaglia alla nuova arrivata Cardi B.
Nicki Minaj ha deciso di fare le cose in grande, almeno per la cover del nuovo album Queen!
krogerfeedback.com to win free fuel points
La rapper infatti viene ritratta come fosse Cleopatra nella copertina del disco. Il suo corpo viene nascosto solo da un abito gioiello, ed il seno in bella vista, coperto solo da copri capezzoli.
Sicuramente una di quelle cover che non lasciano indifferenti! Il contenuto del disco? Per ora i singoli, benché fatti da rime taglienti e sound accattivanti, non sono riusciti a spiccare il volo nelle classifiche, e per la Minaj diventerà cruciale la prossima scelta!
Si, perché l'album, previsto al 15 giugno, già qualche settimana fa é stato posticipato ad Agosto.
Si vocifera anche qua una collabo con l'amica Ariana Grande, anche per il disco della rapper… diverso da "The Light Is Coming" che apparirà su "Sweetener" della Grande.
Staremo a vedere se il tanto atteso singolo hit ci sarà questa volta.
---
Quando un artista decide di posticipare il proprio disco, la maggior parte delle volte é un brutto segno.
Questa volta é capitato a Nicki Minaj, che doveva rilasciare il suo nuovo album Queen il prossimo 15 giugno.
8|10|18 #Queen

— Chun-Li (@NICKIMINAJ) May 24, 2018
La cantante ha deciso di posticipare la release del nuovo album di due mesi, più precisamente il 10 agosto. 
Il 15 giugno é anche la data di rilascio del nuovo disco di Christina Aguilera, che gioco forza ora potrebbe correre alla numero 1 senza troppi ostacoli.
Ma questo posticipo secondo noi é dovuto all'andamento non soddisfacente dei singoli di Nicki lanciati fino ad ora.
Il nome di Cardi B é in piena espansione, e potrebbe anche essere che Nicki sia un po' impaurita dal confronto.
Ovviamente ci saranno anche dietro delle scelte della Label, forse poco propensa a rischiare il primo album con partenza "sbagliata" della Femcee.
---
Nicki Minaj é pronta a rilasciare il suo quarto album!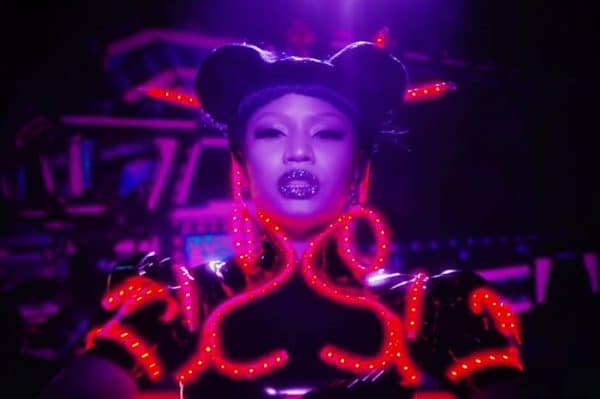 Nicki Minaj durante il MET Gala che si é tenuto questa notte ha rivelato il titolo del suo nuovo disco, il quarto della sua carriera, e da lei stessa definito il suo migliore.
"Queen" il titolo del disco,
che uscirà tra poco più di un mese. La data scelta dalla rapper americana é il 15 Giugno prossimo.
Ecco la dichiarazione di Nicki, a questi MET Gala 2018.
New Nicki Minaj album titled #Queen drops June 15th! She announced at #MetGala Get your coins ready! pic.twitter.com/FEK0Jmaei5

— Matt Maraj (@MattTingz) May 8, 2018
La data vi dice qualcosa? A noi si! Sarà una sfida tra "grandi", infatti anche Christina Aguilera qualche giorno fa ha confermato il rilascio del suo nuovo album "Liberation" proprio per il 15 giugno.
Ci sarà una sfida dunque, tra due artiste che hanno già collaborato tra di loro, Nicki infatti aveva registrato la track "Woohoo" con l'Aguilera, una uptempo provocante tratta dal disco "Bionic", per la quale purtroppo però non venne mai registrato un video.
Staremo a vedere chi riuscirà a debuttare alla numero 1 quella settimana.
---
Nicki Minaj avrebbe terminato il suo nuovo album, ma rimane totale mistero sulla release
Una release che potrebbe anche avvenire a sorpresa. Fatto sta che in una recente intervista, presso il the breakfast club, il vero salotto della musica Black in radio, si é detto che Nicki ha consegnato il disco alla sua casa discografica!
.@ElliottWilson & @bdotTM talk about @NICKIMINAJ's silence and her upcoming album on The Breakfast Club. pic.twitter.com/IJUBiFp1gW

— Nicki Minaj Lite (@NMLite) March 1, 2018
Insomma pare che ogni momento sia buono, ma forse la rapper aspetterà che Cadi B rilasci il suo debutto prima di rilasciare il sequel del premiato "The Pinkprint" datato oramai al 2014.
---
Nicki Minaj é sparita, ma c'è un buon motivo!
La rapper da diversi mesi sta preparando il suo nuovo album in studio. Fonti attendibili vicino alla femcee hanno spiegato la sua assenza dai social da diverse settimane.
Alcune persone vicino a Nicki ci hanno confermato il fatto che abbia deciso di togliersi dai social media alla fine del 2017, questo per concentrarsi meglio sul suo nuovo progetto musicale. Ecco per quale motivo non pubblica più nulla dallo scorso 30 dicembre.

Si trova in uno stato creativo migliore senza le distrazioni dovute ad instagram o twitter.

Nicki starebbe lavorando giorno e notte con i migliori produttori, e con altri rapper come Lil Wayne e Mack Maine, e non tornerà sui social fino a quando il disco non sarà terminato.
Una decisione davvero saggia secondo noi. Le aspettative per il nuovo disco sono altissime, ed i singoli lanciati di recente non avevano colpito per originalità.
In più oggi la rapper deve anche fronteggiare l'ascesa di Cardi B, la rapper donna più chiacchierata degli ultimi mesi.
In diverse occasioni Nicki ha definito il prossimo album come il più importante della sua carriera.
---
Le voci si fanno di ora in ora sempre più insistenti. E' davvero possibile che Nicki Minaj rilasci a sorpresa (ormai non troppo) il suo nuovo album?
Notizia BOMBA se confermata: Nicki Minaj è pronta ad dare ai fans la nuova musica, e lo potrebbe fare già questa notte!
A lanciare lo scoop è Dominique Young Unique, rapper e modella buona amica della Minaj, che poche ore fa su twitter ha svelato di aver parlato con la più celebre collega, la quale al telefono le avrebbe anticipato il lancio del seguito di The Prinkprint, che si fa attendere dal 2014. Il tweet ha fatto ormai il giro di tutte le testate musicali:
I just got off the phone with @NICKIMINAJ she told me she dropping the Album today 😍 damn sis I need that 2018 Nicki in my life 😩 #Whatsgood

— DominiqueYoungUnique (@missyoungunique) 4 gennaio 2018
Prendiamo ovviamente con le pinze la soffiata della Unique (che se la cosa dovesse avverarsi la giovane femcee avrebbe innanzitutto rovinato l'effetto sorpresa al comeback dell'amica), ma ovviamente saremmo felici di poter finalmente ascoltare il nuovo progetto di Nicki.
Che voglia tornare e riprendersi la corona dell'hip-hop femminile ora che il suo regno è "assediato" dalla collega/rivale mangia-record Cardi B?
Tra questa notte e domani scopriremo se si tratta di una bufala o meno. Stay Tuned!