Nicki Minaj feat. Drake, Lil Wayne – No Frauds | Video Premiere

ULTIMO AGGIORNAMENTO:
Nicki pubblica il video di "No Frauds", riuscirà a sollevare le sorti del singolo, che non ha brillato?
In precedenza su RNBJUNK.com…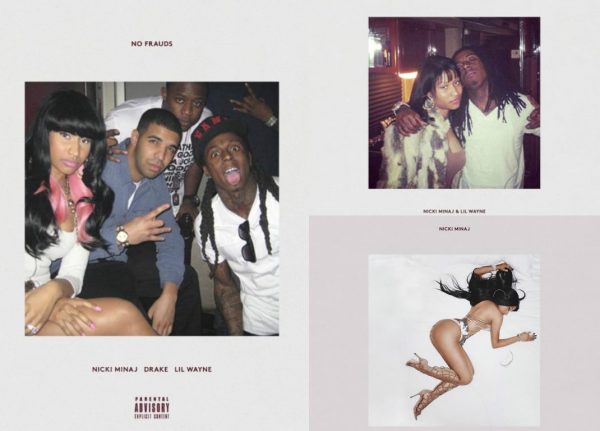 Come preannunciato, Nicki Minaj oggi in contemporanea ben 3 nuovi singoli, già disponibili in tutti gli store! Si intitolano Changed It, dove duetta con Lil' Wayne, No Frauds, nella quale è invece accompagnata da Drake & ancora Lil' Wayne, e Regret In Your Tears. 
Intanto vi lasciamo di seguito le tracce audio dei singoli, a breve il commento:
---
Aggiornamento:
A quanto pare Nicki rilascerà ben tre singoli oggi:
3 new Nicki tracks with Wayne and Drake tonight

— Justin Davis (@OGJOHNNY5) 9 marzo 2017
#3PackFromPARIS with ♥️ 🇫🇷🇫🇷🇫🇷 pic.twitter.com/OUHOK0Jw6p

— NICKI MINAJ (@NICKIMINAJ) 9 marzo 2017
---
Altro grande comeback si preannuncia per questo 2017, é quello di Nicki Minaj.
Arriva come un fulmine a ciel sereno la notizia che Nicki Minaj pubblicherà proprio domani il suo nuovo singolo, un singolo di comeback che anticiperà il suo quarto album!
.@Power106LA confirms that @NICKIMINAJ's new single will be released on Friday, March 10th.

— Nicki Minaj Lite (@NMLite) 9 marzo 2017
Il brano, del quale ancora non conosciamo il titolo, ma che si vocifera si possa chiamare Frauds, verrà premierato dalla radio Power 106, e sicuramente rilasciato domani stesso, il 10 marzo, sulle piattaforme di Streaming come Spotify.
Tutto questo avviene mentre Nicki é presente su ben 3 singoli in featuring, nella uptempo pop-n-b Swalla di Jason Derulo, che noi amiamo, ma anche nel singolo di Major Lazer Run Up, e di Gucci Mane Make Love.
A quanto pare questo pezzo sarà in collaborazione con i vecchi amici Lil'Wanye e Drake (con la quale Nicki avrebbe fatto pace da qualche mese).
Dal tipo di collaborazione non possiamo che aspettarci una traccia Urban al 100%, tuttavia non sappiamo ancora se il brano verrà rilasciato come "buzz" o come "primo singolo" vero e proprio.
La tensione aumenta…. sarà un nuovo epico successo per la Minaj?