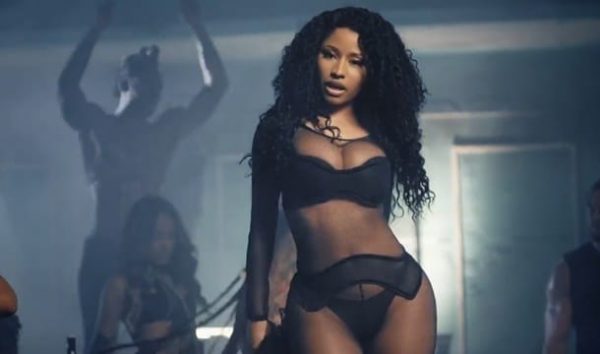 Come un fulmine a ciel sereno, in queste ore è arrivato online un nuovo brano targato Nicki Minaj sulla nota piattaforma audio Soundcloud. La rapper americana, che secondo indiscrezioni è intenzionata a pubblicare al più presto un album pop (QUI per approfondire), a quanto pare non vuole lasciare a bocca asciutta nemmeno coloro che la ascoltano soltanto per il suo lato urban, ed ha così pubblicato a sorpresa un brano intitolato "The Pinkprint Freestyle", pezzo che già dal titolo tradisce immediatamente la sua natura prettamente hip hop.
Ci troviamo davanti ad una mid tempo dal sound psichedelico ed ipnotico, che lascia spazio alla star per andare spedita con un flow energico ed incalzante, ricco di rime taglienti e caratterizzato da un impostazione vocale "cattiva", assolutamente efficace e travolgente. Il ritmo si rivoluziona completamente andando verso la fine della traccia, che a questo punto si trasforma praticamente in un'altra canzone, una up tempo dalle influenze fortemente dancehall piena zeppa di vocals maschili, un cambio di rotta repentino che sorprende alla grande l'ascoltatore.
A livello di argomenti, Nicki celebra sé e la sua carriera, cita colleghi come Lil Wayne, grande fonte di ispirazione per lei in questi anni, e parla inoltre di Dio e della sua famiglia. La rapper cita inoltre "Paper Planes" della collega M.I.A. nella seconda parte della traccia, quella in cui le ritmiche si fanno incalzanti e dancehall inspired.
Una canzone che sottolinea sicuramente il talento della Minaj, che per quanto nella sua carriera abbia puntato molto anche su un'immagine da popstar resta una rapper molto brava e versatile, capace di risultare adatta su tutti i tipi di produzione.
Che ne pensate di questa traccia?
[testo] [Intro] I'm talkin' 'bout my brand and you talkin' 'bout your brands
The difference is a lot of MMMMMMMMMMs to your couple hundred grand
Young Money!
Shout out to Lil Wayne for signing a lil chick from Queens
New York City [Verse 1] Young M.A., it's the female Jay
I'm a brand accordin' to what retail say
Yeah my tours be sellin' out on presale day
Plus I got the TIDAL queen stream, press replay
Testify for my nigga to the DA's face
One time for the super old PA case
I'm still schoolin' bitches like GA State
And I'ma still ball, call me T.D. Jakes
Bars for years, niggas thought I did a bid
I'm draggin' these hoes like Harambe did the kid
Shut the club down, it was poppin' and we slid
I call my pussy liquor, I ain't talkin' 'bout a swig
But if you thirsty, I own the sangria
Shout out to Fox Brown, I don't mean Pam Grier
I got a sign that say "Lames can't hang here"
Bats eyelashes, blank stare
He be like, "You came?," I be like, "You came?"
He say my ride game smoother than a Muslanne
Every time they count me out I be like, "You sane?"
Bitch I come back like Jordan in his flu game
Every time I shoot it, it be all net
I give him ostrich, that mean all neck
Anything he need, I got on deck
And go to sleep playin' with his ballsack [Verse 2] Hahahah… Aaaaah! Rrrrrr…
They wanna know my recipe
They know I ball like the niggas at the ES-PYs
Strung out on the pussy so I call her Crystal Methanine
Shorty tryna give me brain like telepathy
Ayo sister, ayy, get Chanel bags
Got a bitch lookin' like Chanel ads
Chillin' out in 'em Beverly Hill pads
I gave bitches time but they still mad
Si, está loco
If my bitch don't like you, yo tampoco
Me Dorothy and you Toto
Now put some marshmallows in my cocoa
*Sips* Mmm.. Tastes good… Hahah…
Yo, don't ever talk about Nicki in the past-tense
Unless I fly pass that ass in the fast Bent'
Fuck outta here you dumb bitch
You know I'm pretty, and I'm witty, and I'm dumb rich
You throw shade, but I sun bitch
And now you know what I'ma say, you my son, bitch [Outro] Yikes, yikes, yikes, yikes…
Keep me rollin', Juice..
Hold on, hold on, keep me rollin' Juiiiiice..
Like I ain't make all these bitches want a fat ass at some point
Hahahahahaaaaa
Like I ain't make these bitches rock pink hair at some point!
Hahahahah! Rrrrr! Oh my God!
Wait, God is good
Lemme, lemme testify, God is good
Shoutout to my fans, I love y'all so much too
I miss y'all so much too
Ooouuu! Hahaha
Ooouuu! Uh!
Like I ain't make a lot of bitches start spitting metaphors and all of that
Mm, queen back…
Pt. 2
[Intro] Uh, uh, uh, uh ,uh
Turn it up, turn it up in my ear, Juice
Mm, okay, uh, hahahaha, uh
This is only for my bad bitches, okay [Hook: Shabba Ranks] Ting-a-ling a ling, dancehall it swing
DJ head stuck up when dem hear boom riddim
Ting-a-ling a ling, schoolbell it ring
Knife and fork ah fight fi dumplin
Ting-a-ling a ling, dancehall it swing
DJ head stuck up when dem hear boom riddim
Ting-a-ling a ling, schoolbell it ring
Knife and fork ah fight fi dumplin [Verse] Uh, uh, uh
I fly like paper, get high like planes
If you catch me at the border I got visas in my name
I got visas in my name, I got visas in my name
If you catch me at the border I got visas in my name
Th-this is my reign, que-queen is my name
You, dutty gyal, nuh dare in my lane
Watch unu mouth, wa-watch what unu say
This is my game, so watch how unu play
M.I.A., M.I.A., I make bitches go M.I.A
M.I.A., M.I.A., I make bitches go M.I.A
M.I.A., M-M-M-M.I.A., I-I-I make bitches go M.I.A
M.I.A., M.I.A., I make bitches go M.I.A
Rrrr [Hook: Shabba Ranks] Ting-a-ling a ling, dancehall it swing
DJ head stuck up when dem hear boom riddim
Ting-a-ling a ling, schoolbell it ring
Knife and fork ah fight fi dumplin
Ting-a-ling a ling, dancehall it swing
DJ head stuck up when dem hear boom riddim
Ting-a-ling a ling, schoolbell it ring
Knife and fork ah fight fi dumplin [Outro] I'm talkin' 'bout my brand and you talkin' 'bout your brands
The difference is a lot of MMMMMMMMMMs to your couple hundred grand
Mm, c'mon! Kyuh [/testo]