Niente Duetto Tra Iggy Azalea e Azealia Banks: conflitti di etichette!
Aggiornamento:
Per molti poteva essere uno tra i duetti hiphop più interessanti del 2017, ma purtroppo non succederà!
Eterne rivali per diversi mesi, con tanto di insulti via social, Iggy Azalea e Azealia Banks, nonostante la volontà di riconcigliarsi con un duetto, non potranno pubblicarlo! L'annuncio arriva in queste ore, la spiegazione sarebbe un conflitto tra le due Etichette discografiche della HipHop Stars
---
La faida infinita tra Azealia Banks e Iggy Azalea si colora di un altro capitolo. La prima fa un passo avanti e propone addirittura una collaborazione..l'australiana risponde con un lungo messaggio che sa tanto di risposta. Positiva o negativa?
Siamo forse giunti al capitolo finale della pungente faida da anni in corso tra le femcee Azealia Banks e Iggy Azalea?
Come probabilmente saprete, tra le due non corre buon sangue e loro stesse non hanno mai provato a far intendere il contrario, anzi. Tra frecciatine più o meno velate, minacce, attacchi sul personale e campionamenti di canzoni per dimostrare la propria superiorità (QUI per sapere di cosa stiamo parlando), la loro è senza dubbio una delle faide che più ha animato il gossip.
Da qualche giorno a questa parte, però, Azealia sembra essere entrata in un periodo di redenzione (reale o fasullo che sia), a tal punto da indirizzare alla nemica un tweet nel quale propone pubblicamente una collaborazione "per spegnere l'intera scena".
Come on iggy. U kno a collab between you & I would shut the entire scene down. It would be quiet for the girls this summer lol. @IGGYAZALEA https://t.co/RusFFxpL2u

— 🦋CHEAPYXO🦋 (@XoCheapy) 19 giugno 2017
If I can manage to get signed by Jay-Z and release the iggy collab and fantasea two the second wave with him all my little rap bitch dreams

— 🦋CHEAPYXO🦋 (@XoCheapy) 22 giugno 2017
La risposta di Iggy non si è fatta attendere anche se, a differenza di quanto si potrebbe pensare, gli amanti del lieto fine potrebbero non essere poi così entusiasti: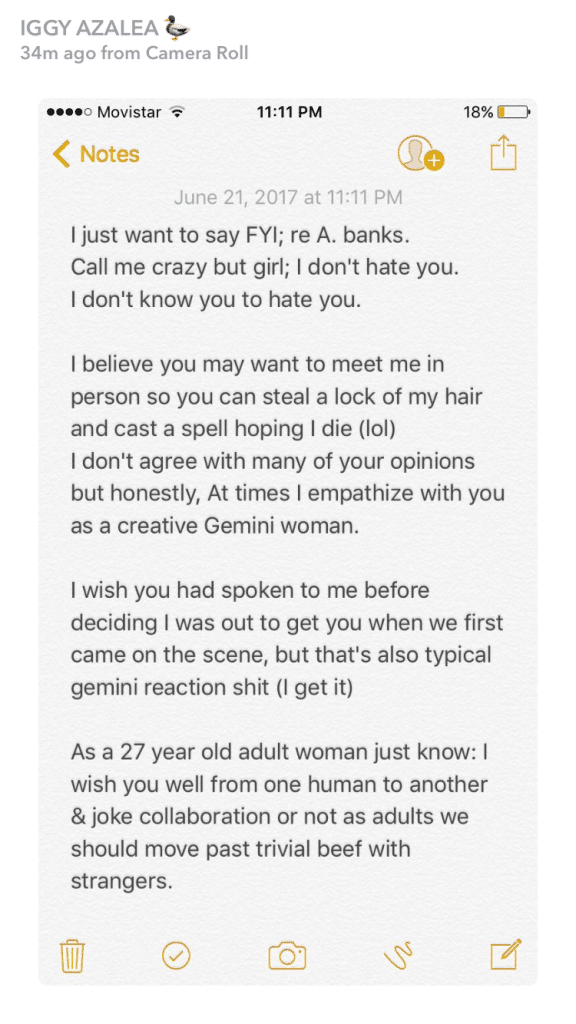 Per la cronaca vorrei solo dire ad Azealia Banks, chiamami pazza ma ragazza, io non ti odio.
Non ti conosco per poterti odiare.
Può darsi che tu voglia incontrarmi di persona così da potermi arricciare i capelli e lanciare un incantesimo sperando che io muoia lol (si riferisce alle passate minacce di Azealia ndr).
Non condivido molte delle tue opinioni ma onestamente a volte ti vedo come una donna creativa nata nel segno dei Gemelli.
Mi sarebbe piaciuto che tu avessi parlato con me prima di decidere di tenermi nel mirino dalla prima volta, ma anche questa è una tipica reazione di un Gemelli (lo capisco).
Da donna adulta 27enne che sono sappi che ti auguro il meglio da essere umano ad essere umano, e collaborazione fittizia o meno, da adulte dovremmo superare queste cose irrilevanti.
---
Non sembra anche a voi che Iggy Azalea abbia gentilmente declinato l'offerta mettendo però un punto alla faida? Come la prenderà la fumantina Azealia?