OMG! Adele riesce a battere perfino un record di Madonna!
Ormai sorprenderebbe di più sentire una notizia che dice "Adele non riesce a vincere…" piuttosto che uno con queste parole "Adele batte un'altro record!. L'ultimo in ordine cronologico non proviene da paesi stranieri per l'artista, come gli Stati Uniti o l'Australia (dove ha già infranto tutti i primati possibile ed immaginabili), ma dalla sua patria, il Regno Unito.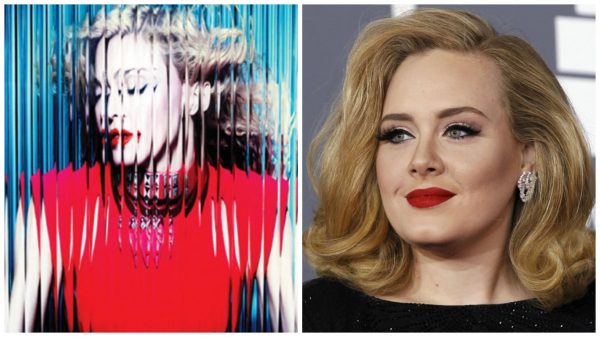 Questa volta la londinese Adele ha vinto contro l'icona americana Madonna diventando la donna con più settimane di permanenza alla numero 1 della Official Album Chart: con i risultati di questa settimana, la britannica raggiunge l'ambitissima cifra di 31 settimane passate al top, che supera dunque le 30 della regina del pop.
Grazie alla pubblicazione di tre album, ognuno dei quali ha peakkato alla posizione numero 1, Adele ha totalizzato 31 settimane complessive in vetta:
19 (2008): 1 Wk No. 1
21 (2011): 23 Wks No. 1
25 (2015): 7 Wks No.1
Madonna, con la pubblicazione di 25 dischi (tra album, colonne sonore, raccolte ed altro), i quali hanno tutti peakkato nella top 75 della classifica inglese, ha totalizzato "solamente" 30 settimane alla no.1.
Like A Virgin (1984): 2 Wks No. 1
True Blue (1986): 6 Wks No. 1
Like A Prayer (1989): 2 Wks No.1
The Immaculate Collection (1990): 9 Wks No. 1
Evita – Official Soundtrack (1996): 1 Wk No. 1
Ray Of Light (1998): 2 Wks No. 1
Music (2000): 2 Wks No. 1
American Life (2003): 1 Wk No. 1
Confessions On A Dance Floor (2005): 2 Wks No.1
Hard Candy (2008): 1 Wk No. 1
Celebration (2009): 1 Wk No. 1
MDNA (2012): 1 Wk No. 1
Queste sono cifre davvero incredibili, roba che davvero ci fa restare impietriti! Come si può raggiungere un simile primato con soli 3 dischi? Tutto ciò è davvero assurdo.
Che ne pensate? Meritava un'altro record oppure bisogna ringraziare solamente la Adele-mania?