Pentatonix – The First Noel | video premiere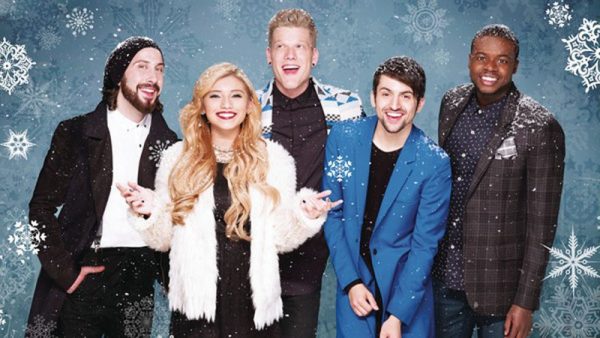 Scoperti grazie al talent americano The Sing-Off nel 2011 e vincitori di un Grammy per il miglior arrangiamento strumentale o a cappella con il fantastico medley delle canzoni più famose dei Daft Punk, i Pentatonix sono un quintetto formato dalle voci di quattro uomini e una sola donna.
Simboli di come la musica sia sinonimo di originalità e novità, il gruppo ha scalato le classifiche americane con il loro ultimo album omonimo che è riuscito a debuttare in vetta superando, anche se di poco, Demi Lovato e il suo quinto disco.
Una delle soddisfazioni principali per il quintetto americano sono le vacanze natalizie: l'avvento delle feste non porta solamente semplici regali o un'atmosfera familiare come in tutte le famiglie italiane e non ma anche vendite su vendite, in particolare dei loro album natalizi.
Il loro album natalio "That's Christmas to Me", uscito originariamente il 17 ottobre 2014, è stato nuovamente pubblicato nella versione deluxe con cinque nuove cover di brani natalizi a fine di ottobre di quest'anno, pochissime settimane dopo l'uscita del loro primo album costituito interamente da inediti.
Per la promozione della nuova edizione, i Pentatonix hanno ben pensato di proporre il classico canto inglese "The First Noel", rigorosamente con un nuovo arrangiamento adattato alle voci dei ragazzi che spaziano da un registro molto basso fino a note veramente alte. Ad acutizzare la scelta del singolo come promozionale del nuovo packaging è stata la realizzazione di un video musicale che lo accompagni.
La canzone non presenta un arrangiamento particolarmente e nemmeno le cinque voci sembrano dare il massimo risultando scialbe e prive di energia. Il video non è un capolavoro, anzi è molto semplice e low-budget, e, cosa ancor peggiore, non mostra in alcun modo la vera essenza del Natale: l'ambientazione scelta è un bosco nelle vicinanze di un lago ghiacciato nel periodo invernale ma non ricoperto di neve come ci si aspetta per un video natalizio.
Anche i cinque protagonisti, cioè i cinque cantanti, non sembrano perfettamente a loro agio in quelle circostanze, forse vicino a un caldo camino sarebbe stato meglio e avrebbe reso di più l'idea del Natale.
Voi che ne pensate? Siete d'accordo con le nostre osservazioni?