Pharrell Williams: concerto a Milano all'Assago – VIDEO e RECENSIONE show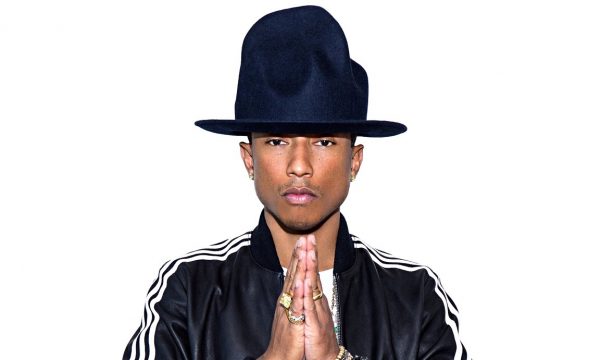 A ormai quasi due anni dalla fine del suo primo tour europeo Dear Girl Tour e dopo un anno passato dal rilascio del suo nuovo singolo Freedom (arrivata in top 20 nel nostro Paese e cantata anche agli MTV Europe Music Awards dello scorso ottobre), l'eclettico musicista e produttore Pharrell Williams è ritornato in scena in Italia con un nuovo live, che ha fatto parte della rassegna milanese Assago Summer Arena che accompagnerà il pubblico con nomi di spicco della musica italiana e internazionale fino al prossimo 30 luglio.
Dopo anni di onorata carriera come produttore (soprattutto assieme all'amico Chad Hugo, con cui ha creato il celebre duo dei Neptunes e ha realizzato celebri brani per popstar di fama mondiale, tra cui Britney Spears, Justin Timberlake, Kelis e Beyoncé) e featured artist (in capolavori dell'R&B come Frontin' o Beautiful), Pharrell è ritornato al massimo della sua popolarità grazie a singoli come Get Lucky e Blurred Lines, ma soprattutto con la sua smash hit planetaria Happy, tratta dalla colonna sonora di Cattivissimo Me 2 e successivamente inclusa nel suo secondo lavoro in studio G I R L.
Proprio come una celebrazione della sua pluriventennale carriera nell'industria discografica, lo scorso 12 luglio Pharrell si è esibito, cantando il suo vastissimo repertorio, che ha potuto vantare non soltanto di brani della sua personale discografia, ma anche sue produzioni e collaborazioni realizzate soprattutto all'inizio degli anni Duemila. Ecco qui la setlist della data milanese di martedì.
Lose Yourself to Dance
Frontin
Hunter
Marilyn Monroe
Come Get It Bae
Brand New
      MEDLEY 1: Can I Have It Like That / Grindin / Nothin / Move that Dope / Alright/ Hot In Here / Just Wanna                         Love You / Pass the Courvoisier
      MEDLEY 2 (N.E.R.D.): Anti Matter / Everyone Nose / Provider / Bobby James / Run to the Sun / Brain / Rockstar/                                       Lapdance / She Wants to Move
      MEDLEY 3: Spark the Fire / Milkshake / WTF / Hollaback Girl
It Girl
Gust of Wind
Beautiful
Drop it Like It's Hot
Blurred Lines
Get Lucky
Happy
Freedom (x3)
In un concerto estremamente colorato e psichedelico, vicino allo stile di Pharrell, il celebre musicista ha affrontato in quasi 2 ore delle performance dedicate al suo celebre passato da produttore (e ciò si è avvertito soprattutto nel medley dedicato ai N.E.R.D., con un pubblico scatenatissimo che ha ballato e battuto le mani al ritmo di brani storici come Lapdance e la grande hit She Wants to Move, ma anche nei momenti revival di Milkshake di Kelis e Hollaback Girl di Gwen Stefani).
Alternate a queste Pharrell ha cantato, con grandissima energia e tanta emozione, anche alcuni dei suoi successi più recenti, toccando senz'altro le sue vette nel finale. La performance colorata e sfavillante di Happy, accompagnata dai bambini, è diventata per il famoso producer un'occasione per parlare delle nuove speranze da riporre nelle nuove generazioni, mentre, grazie a Freedom (richiesta dal pubblico con ben 2 bis), Pharrell ha affrontato la tematica della discriminazione razziale, problema che affligge tutt'ora il mondo occidentale e per cui si sono susseguite negli scorsi giorni notizie infelici provenienti dagli Stati Uniti.
In un tripudio di luci ma con un'atmosfera tutto sommato molto intima e raccolta, Pharrell, con l'aiuto di coreografie di primo livello, ha incantato la platea milanese con il carisma di sempre, mescolando pezzi del passato (lasciati intatti nei loro stupendi arrangiamenti originali) con le hit attuali.
Insomma, il grande Pharrell non solo è riuscito nell'impresa di creare un concerto energico e pregno di significati, ma ha dato anche un'ottima prova della sua abilità di aver influenzato il mondo del Pop tra vocals originali e suoni che, a distanza di anni, rimangono sempre freschissimi e attuali. Vi lasciamo ora ad alcune delle performance più significative di questo live di Assago.
http://www.youtube.com/watch?v=-CR5L8hEZ3U
https://www.youtube.com/watch?v=8o6wawcEVIc
http://www.youtube.com/watch?v=dhJs1ymWt-c
Cosa ne pensate di Pharrell Williams?