Rihanna: "sono in studio", viene presa in giro per l'accento!
Rihanna al The Graham Norton Show, ha confermato di essere tornata in studio per il nuovo album, ma non svela altro.
Rihanna é stata intervistata al The Graham Norton Show per il film Ocean 8
La cantante barbadiana ha confermato il suo duro lavoro su del nuovo materiale, ma ha lasciato i fans in totale disperazione, quando non ha svelato alcun dettaglio sul rilascio di un nuovo singolo.
Come sappiamo Rihanna é in una posizione di grande favore nell'ambito Pop odierno, ed il suo comeback, vociferato in una double release, potrebbe già venire rilasciato entro al fine del 2018.
La cantante durante l'intervista viene presa in giro per il suo accento davvero forte, e per il suo "ella ella ella", riferito alla canzone tormentone Umbrella, che oramai ha fatto i suoi 11 anni…
Speriamo che torni presto in scena, il mondo del Pop non é lo stesso senza di lei, che per una serie di tempo pubblicava un disco all'anno.
C'è chi tifa per un "Anti" sequel, chi invece la vorrebbe di nuovo più caciarona e danzereccia alla "Loud".
Voi cosa vorreste?
---
Non è un'esercitazione! Ripetiamo, non è un'esercitazione! Rihanna annuncia l'imminente arrivo di nuova musica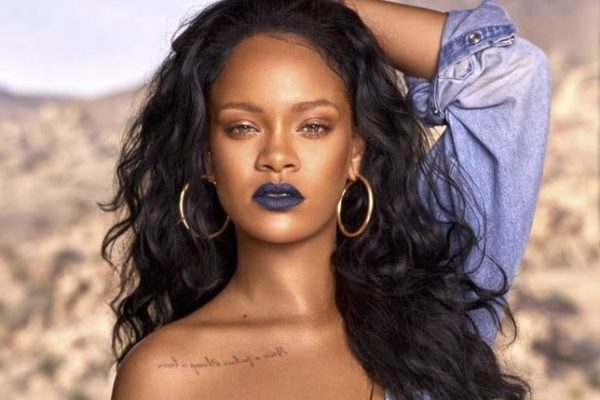 Con un doppio album ormai quasi confermato, mancava solo una parola della diretta interessata, arrivata poco fa a sorpresa su Instagram.
Rihanna, nonostante sia impegnata su vari fronti professionali, sta per tornare al suo primo amore: la musica! Proprio così, la superstar barbadiana ha risposto sul social ad una fan che chiedeva nuove canzoni piuttosto che la nuova linea di lingerie Savage X Fenty. Chiara la sua replica:
"Sta arrivando sorella"
RIHANNA IS COMING! pic.twitter.com/lPHX21u6wZ

— 🦋ريحانه (@lanafenxty) 26 aprile 2018
E' quindi ufficiale, Rihanna si sta preparando a tornare, a due anni e poco più di distanza dal fortunato disco ANTi, che tanto ha diviso pubblico e critica.
Una pausa comunque ricca di altri progetti imprenditoriali, traguardi personali e lavorativi e anche qualche apparizione musicale, come Wild Thoughts e Loyalty (di Kendrick Lamar), che tra le altre cose le è valso anche un Grammy.
Nonostante tutti gli "extra" di questo periodo le abbiano permesso di incrementare ancora di più la sua fama ed importanza, i suoi tanti fans non aspettavano altro che un indizio concreto del suo prossimo ritorno. Eccoli quindi accontentati.
Non dovremo attendere ancora molto per ascoltare nuova musica della star di Diamonds. Dando per scontato che i due progetti di cui vi abbiamo parlato prima siano effettivamente reali, che tipo di Rihanna vi piacerebbe più di tutto ritrovare? Quella sperimentale di ANTi, la stella R&B di Good Girl Gone Bad, l'introspettiva di Rated R o quella invece più dance e modaiola?