Intervista esclusiva Rnbjunk Musica all'ex t.A.T.u. Lena Katina
In questi giorni ho avuto il piacere e l'onore di scambiare quattro chiacchiere con Lena Katina, cantante russa nota principalmente per aver fatto parte delle t.A.T.u., duo musicale russo che è riuscito ad ottenere un successo formidabile in tutto il mondo grazie ad hit come "All the Things She Said", "All About Us" e "Not Gonna Get Us".
Ad oltre un decennio dal loro periodo di massimo successo, le t.A.T.u. non esistono più ma Lena è pronta a dare il via ad una nuova avventura con un disco in lingua spagnola, "Esta Soy Yo", in ucita proprio oggi! E' di questo disco e di molto altro che abbiamo avuto il piacere di parlare, ma non vi anticipo nulla… eccovi di seguito l'intervista!
Umberto: Ciao Lena, grazie per aver dato questa opportunità a noi di R&B Junk. Tu conosci molto bene il mondo della musica, lo vivi praticamente da quando sei bambina, e tuttora continui a starci dentro, come se non ti stancasse mai. Cos'è che determina questa grande passione per l'arte musicale che arde in te? Chi ti ha spinto a provare questa strada, a diventare una cantante?
Lena: Ciao a te! Il mio percorso è iniziato in un modo davvero interessante. Fin da quando sono nata ho sempre passato intere giornate a cantare. Quando avevo 7 o 8 anni per caso mi ritrovai a guardare il film "Dirty Dancing", e me ne innamorai immediatamente, tanto che è ancora uno dei miei film preferiti! Allora andai dalla mia mamma e le dissi che volevo ballare, così lei trovò una band di bambini che ballavano e cantavano e mi chiese se volevo unirmi a loro per provare se queste attività mi piacevano per davvero. Lo feci, ed ho trascorso qualche anno al suo interno.
Poi, mio padre mi chiese se volevo entrare a far parte di un gruppo di bambini più importante, all'epoca già famoso, che poteva già permettersi di cantare con vari artisti, di apparire in TV, e tutto il resto. Questo gruppo altri non era che Naposedi, band di ragazzini che ottiene successo ancora oggi. E' qui che conobbi Julia. Successivamente ho partecipato ad un altro casting, e sono stata invitata a prendere parte al progetto creato da Ivan Shapovalov. Questo progetto, successivamente, si è trasformato nelle t.A.T.u.
U: Le t.A.T.u, come ben sai, sono diventate gli artisti russi di maggior successo di sempre a livello mondiale. Tu e Julia avete passato anni al fianco l'una dell'altra, e siete riuscite letteralmente a dominare le classifiche internazionali, oltre che a far parlare moltissimo di voi. Che ricordi hai di quegli anni di grande successo? Come vivevi la fama enorme che ti travolse quando eri ancora una ragazzina?
L: Beh, tutto accadde molto in fretta. Furono anni meravigliosi e molto interessanti, pieni di bellissime esperienze anche… in questi casi si ci può stancare presto delle attenzioni che si ricevono, si ci sente assolutamente al centro dell'universo, ma poi all'improvviso quella situazione finisce, tutte quelle attenzioni svaniscono. Come hai detto tu, io e Julia eravamo soltanto ragazzine, e credo dunque di non aver compreso perfettamente tutto quello che ci accadde in quegli anni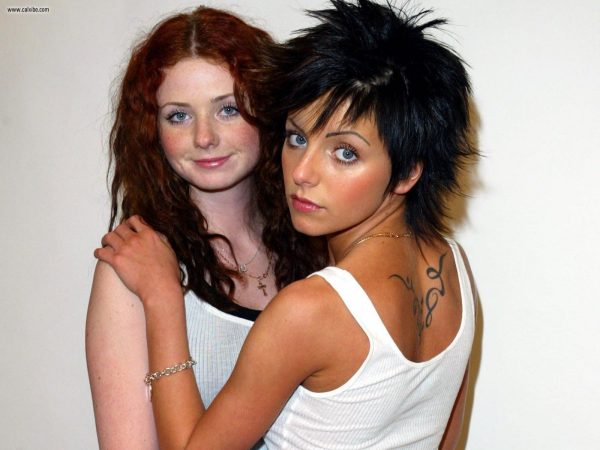 U: Ultimamente, si è parlato molto di una rottura fra te e Julia, di un cambio di vedute che ha impedito la nascita di nuovi progetti insieme. Pensi che un giorno potrebbe nascere una nuova collaborazione fra di voi, almeno per un altro singolo, oppure i  vostri fan devono mettersi l'anima in pace? Sei proprio sicura al 100% che quella al concerto celebrativo del Naposedi sia  l'ultima esibizione ufficiale delle t.A.T.u.?
L: Mi piacerebbe tanto poter dire "mai dire mai" ma dopo la nostra ultima lotta francamente non sento di poter avviare più alcun tipo di collaborazione con Julia, almeno per adesso. Ho accettato di partecipare alle celebrazioni per i 25 anni di Naposedi semplicemente perché mi sarei sentita troppo in colpa se avessi rifiutato, non sarebbe stato giusto.
U: Qualche anno fa sei riuscita finalmente a debuttare nella scena come solista con il tuo album "This Is Who I Am", un disco che ci è piaciuto moltissimo e che il tuo fanbase ha davvero adorato. Qual è la tua traccia preferita fra quelle incluse nel disco? C'è una canzone che davvero hai amato registrare e cantare live nelle performance?
L: Amo moltissimo tutte le mie canzoni, ma se proprio devo scegliere le mie preferite sono "An Invitation", "Lift Me Up", "All Around the World" e… beh, è meglio che non vada oltre altrimenti finirei per citare l'intero album! Inoltre ci sono delle canzoni che non sono state incluse nel progetto ma che io amo ugualmente e che starei pensando di inserire in una versione deluxe di "This Is Who I Am".
 U: In questo 2016 hai sorpreso tutti ritornando in scena con un album cantato interamente in lingua spagnola. Questa  è stata una sorpresa davvero notevole dato che non capita tutti i giorni che una cantante russa rilasci un progetto in una lingua così lontana da quelle che sono le sue origini. Cos'ha determinato in te questa scelta?
L: Ho un seguito abbastanza ampio da parte di persone di lingua spagnola, dunque ho deciso di tradurre alcuni brani in spagnolo e di registrare un intero album in questa lingua. E' stata dura perché non parlo lo spagnolo, ma è stato anche molto soddisfacente perché amo davvero profondamente la musicalità di questa lingua. Un ringraziamento speciale va a Karina Nuvo per aver tradotto le canzoni e per avermi dato una grossissima mano con l'accento. Spero che ne sia venuto fuori un buon lavoro, ma io non posso certo giudicarlo.
U: Arrivata a questo punto, nella tua carriera (compresi gli anni con le t.A.T.u) hai pubblicato album in ben 3 lingue: russo, inglese e spagnolo. In quale di queste ti trovi più a tuo agio nell'esprimere le tue sensazioni, le tue emozioni ed i tuoi stati d'animo mentre canti?
L: Potrei rispondere che cantare è bello in tutte le lingue, ma in fin dei conti l'inglese è la lingua con cui riesco ad esprimermi di più. Mi viene molto più facile esprimermi in inglese che in russo perché l'inglese è più emotivo. Lo spagnolo è bellissimo, anche.
U:  La promozione del disco inizierà oggi a Madrid con una performance ad un evento LGBT. La comunità LGBT, come ben sai, è stata determinante nel far fiorire il successo delle t.A.T.u., e dalla cantante di "All The Things She Said" si aspetta sicuramente un certo supporto in tema di diritti. Tu cosa pensi delle unioni fra persone dello stesso sesso? Come risponderesti a qualcuno che ha un pensiero diverso dal tuo?
L: Penso che le persone gay abbiano ASSOLUTAMENTE diritto a sposarsi! L'amore non ha regole, è semplicemente amore! Non avrei però molto da dire a chi la pensa diversamente, hanno il loro punto di vista, ma anche io ho il mio…
U: Negli ultimi anni, sono molte le cantanti est europee che hanno sperimentato almeno un minimo di successo, e quasi tutte per ottenerlo hanno proposto musica dance. Tu finora hai trattato dance davvero pochissimo, giusto in qualche remix ufficiale dei tuoi brani. Hai mai pensato di poter pubblicare un album interamente improntato su questo genere?
L: Non ho mai preso in considerazione l'idea di realizzare un album interamente dance, ma apprezzo questo genere musicale e sto programmando il rilascio di alcune canzoni dance-friendly in futuro.
U: Se dovessi fare il nome di un solo artista anglofono ed un solo artista latino che ti hanno ispirato nella realizzazione di questi tuoi progetti da solista, chi nomineresti?
L: Ok, è una domanda a cui è difficile rispondere. Per quanto riguarda la musica latina, amo moltissimo Shakira, mentre per quanto riguarda quella anglofona potrei citarti artisti come Katy Perry, Pink… ma se devo nominarne uno solo, la mia scelta ricade sicuramente sui Roxette, ma mentirei se dicessi che loro ispirano la mia musica. Sono le persone che stanno intorno a me mi ispirano più di ogni altra cosa.
U: Siamo arrivati alla fine di questa nostra chiacchierata. A questo punto, vorremmo concludere con una domanda quasi "di rito": come vedi te stessa fra una decina di anni? Quali risultati speri di riuscire ad ottenere nella tua carriera e nella tua vita privata?
L: (ride)     C'è un detto che dice: "Se vuoi far ridere Dio digli quali sono i tuoi piani". Praticamente non ho idea, onestamente, di cosa mi riservi il futuro, ma spero di continuare a cantare e rilasciare musica, e di aver un altro bambino (sorride). Grazie mille per le tue domande Umberto, ti auguro il meglio!
U: Grazie a te Lena per avermi dato questa possibilità! Non vedo l'ora di aggiungere "Esta soy yo" alla mia collezione di dischi!