Shawn Mendes – Illuminate | Recensione CD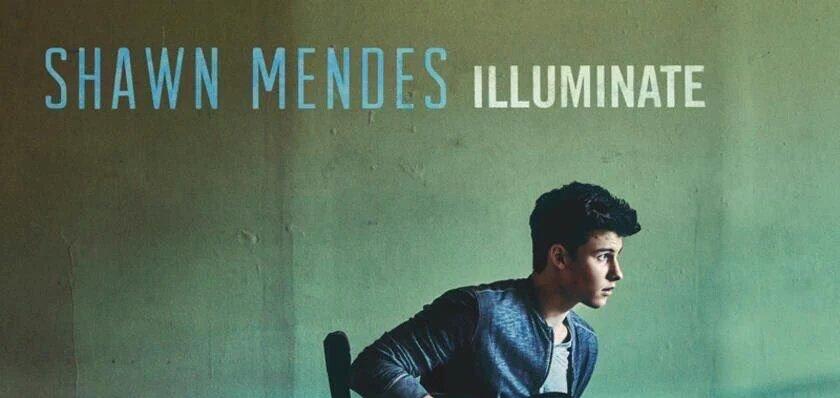 Shawn Mendes è stato sicuramente una delle scoperte musicali più belle degli ultimi anni. Attivo già un po' di tempo, il canadese si è fatto conoscere agli occhi del mondo intero grazie a "Stitches", vera smash hit mondiale che è riuscita ad ottenere numeri molto importanti in tutti i mercati, perfino qui in Italia, permettendo a questo ragazzino dal bel faccino e dalla voce impostata e potente di diventare una vera popstar. Il suo album di debutto, Handwritten, ha ottenuto vendite discrete tanto da portare anche ad una riedizione, da cui è stato estratto un unico singolo, "I Knew What You Did Last Summer", che qualitativamente ha deluso abbastanza il fanbase.
A questo punto della sua carriera, dopo un album molto apprezzato da pubblico e critica e dopo aver dimostrato comunque buone doti, Shawn ha deciso di mantenere vivo per poco il ricordo di un singolo qualitativamente inferiore ai suoi standard ed è subito partito con una nuova Era, inaugurata da un'altra hit di successo, "Treat You Better", un pezzo dotato di un ritmo più incalzante di "Stitches". Chi si aspettava però un album di sole up tempo è stato smentito dai buzz singles, tutti ballad e mid tempo molto soft, che hanno fatto riscoprire il lato introspettivo del cantante.
Nel frattempo, Shawn ha iniziato a puntare un po' di più anche su un'immagine sexy, su un fisico ben definito, e questo ha fatto sorgere dubbi: l'album "Illuminate" sarà introspettivo o commerciale? Punterà sul conservare il proprio fanbase o sull'allargarlo?
Queste sono le domande che ci siamo posti, ed a cui troveremo una risposta soltanto ascoltando il lavoro.

01. Ruin: si inizia in maniera molto soft con una downtempo dalle atmosfere decisamente intime. In Ruin, una batteria molto delicata ed una chitarra un po' più decisa creano un'atmosfera molto avvolgente ed introspettiva, firmata dal produttore Jake Golsing, vero esperto di questo tipo di produzioni. La base riesce ad esporre tutta l'interiorità del ragazzo grazie a suoni per nulla invasivi e capaci anzi di valorizzare il suo bel timbro, che utilizzato nel modo giusto riesce ad esprimere appieno ogni tipo di emozione. Iniziamo ad incontrare già quella che sarà una costante di questo album, ossia l'alternarsi della parte graffiata della sua voce con quella più limpida, per riuscire ad esprimere vari gradi di emozione.
Per quanto riguarda l'aspetto testuale, Shawn si rivolge ad un'interlocutrice con cui ha vissuto una storia d'amore molto intensa, e le chiede se pensa ancora a lui, se nella sua vita c'è ancora uno spazio per lui. Shawn è combattuto, non vorrebbe "rovinare la sua felicità", ma nel contempo non riesce ad accettare di averla persa, e questo struggimento d'animo è reso chiaramente percettibile proprio dall'interpretazione, davvero molto sentita.
continuiamo con una downtempo, ma incontriamo ritmiche ben più incalzanti ed appetibili. "Mercy", secondo singolo ufficiale estratto dal disco, parte col suono molto soft di un pianoforte, ma ci rendiamo subito conto di andare in contro ad un ritmo più forte per via dei virtuosismi del cantante, che ci preparano poi all'esplodere della base, evento che si verifica nel ritornello. Altri strumenti, come chitarre e batterie, intervengono già a partire dalla strofa, e si concentrano poi nel ritornello. Le linee guida iniziali non sono stravolte, semplicemente il ritmo si potenzia sempre di più, ma nessun cambiamento repentino che può infastidire. Alla produzione ancora Gosling, dunque questo lavoro non ci stupisce.
L'interpretazione di Shawn è ancora una volta introspettiva, l'utilizzo del suo timbro e simile a quello della canzone precedente ma più incalzante, e funge dunque da giusto ponte fra "Ruin" ed il lead single "Treat You Better", che troveremo come terza traccia. Anche il testo riprende molto la canzone precedente, Shawn si rivolge sempre ad una ragazza amata che non lo ricambia più, e le chiede di avere "pietà del suo cuore". Atmosfere simili in tutto e per tutto a quelle della traccia precedente, per quanto abbia una marcia in più dal punto di vista ritmico, ed una in meno su quello emotivo.
03. Treat You Better:
siamo di fronte al primo singolo dell'album, prodotto dal famoso Dan Romer, che ha prodotto e lavorato per la bellissima canzone Say Something di A Great Big World e Christina Aguilera. La canzone, scritta dallo stesso Mendes, è una potente ballad pop che racconta il combattimento per l'amore di una ragazza che è già impegnata con un altro, che però non la tratta sempre correttamente e senza le attenzioni che Shawn le darebbe. Il sound è tipico di una canzone pop perfetta per catturare l'attenzione del pubblico già dal primo ascolto. Chitarre e strumenti vari creano un'atmosfera sempre più incalzante grazie anche al ritmo ben spedito, da vera up tempo, caratteristica che lo rende un lead single perfetto.
Riuscito perfettamente è il ritornello che rimane subito in testa e ti invoglia ad ascoltare la canzone ancora un'altra volta. Sempre ottime le vocalità del cantante che dimostra le buoni doti nel canto grazie ad un'interpretazione vissuta e sentita, che cerca di trasmettere appieno il senso dei versi che canta, quasi come se si trovasse davvero davanti ad un interlocutore da convincere. Nel ritornello è forte il messaggio di amore per la ragazza che viene enfatizzato e reso ancora più forte dall'intensità vocale utilizzata:
I I know I can treat you better than he can And any girl like you deserves a gentleman
Molto significativo il testo, che invita tutti a trattare nel miglior modo possibile la propria ragazza. Momento azzeccato perfettamente per il rilascio della canzone dato il sempre crescente numero di violenze nei confronti delle donne.
04. Three Empty Words: il ritmo si fa leggermente scanzonato in questa canzone, in cui ancora una volta assistiamo al tripudio di chitarre, ma utilizzate in maniera diversa rispetto ai pezzi precedenti. La chitarra acustica fa linea guida assoluta al brano, in cui altri strumenti e seconde voci sono utilizzate essenzialmente per arricchire il ritmo. Presenti atmosfere che ricordano da vicino la musica country, per quanto il pezzo non sia inscrivibile prettamente entro i canoni di questo genere. La performance vocale, questa volta, sfrutta essenzialmente la parte limpida della voce di Shawn, facendo somigliare la traccia più che altro ad una narrazione. Ancora una volta la produzione è curata da Gosling.
Effettivamente, per forza di cose questo testo è meno sentito dei precedenti: si tratta semplicemente di una fantasia di Shawn in cui il cantante immagina di riuscire ad avere questo benedetto ultimo incontro con la sua ex come richiesto intensamente nelle prime due tracce del disco. A questo è dovuta la produzione più scanzonata, e l'interpretazione meno vissuta: Shawn sta immaginando, sognando, quindi prova solo sensazioni di pace e tranquillità. Ci stupisce molto questa traccia, perché parte dello stesso presupposto delle altre canzoni, eppure sa essere così diversa.
05. Don't Be a Fool: ritorniamo a sound più dimessi ed introspettivi con la quinta traccia del brano, forse una delle più intense dell'intero progetto, sicuramente una delle poche che riescono ad evocare un tipo di raffinatezza vintage. "Don't Be a Fool"  conta ancora su chitarra, piano e batteria, ma dà questa volta un'importanza maggiore agli stacchi di batteria, che scandiscono il ritmo. Seconde voci, strumenti vari, tutto è utilizzato per invocare sensazioni d'altri tempi, il che nel progetto di un diciottenne stupisce. Anche vocalmente avviene questo, con una performance vocale principalmente pulita, ma che comunque all'occasione giusta sfodera caratterizzazione e graffiato, rendendo questa traccia perfetta per il contesto.
In questa traccia, Shawn si autoaccusa, e si definisce la causa della fine della sua storia d'amore a causa di un tradimento di cui si è macchiato. L'aver passato "notti e giorni" con l'intima compagnia di un'altra ragazza è un fardello che ora pesa su di Shawn, ma il cantante lo esprime nel modo in cui è abituato a fare, non con un monologo ma sempre cercando di instaurare una sorta di dialogo con un interlocutore immaginario. Questo modo di fare dà all'ascoltatore la sensazione di rivolgersi in prima persona al cantante, una sensazione davvero piacevole.
06. Like This: si ritorna ad un sound attuale con la sesta traccia. "Like This" parte subito con un pianoforte dalle atmosfere introspettive, rese presto oniriche dall'arrivo di altri strumenti e di meravigliose seconde voci, un coro gospel soffice ma intenso che riesce davvero a manipolare le sensazioni che percepiamo. In questo la collaborazione con i lead vocals di Shawn è davvero molto intensa: il cantante mai come in questo caso riesce ad esprimere al meglio le sue emozioni e sensazioni, l'interpretazione è veramente magnifica, l'artista ha del vissuto che sa inserire al meglio nei suoi brani, molto più dei suoi coetanei.
In questa traccia, Shawn finalmente si arrende davanti all'evidenza, capisce che la sua storia d'amore non è recuperabile, e per quanto triste è pronto ad accettare l'andare avanti della sua vita, l'evolversi del suo destino. Da questo testo trasuda davvero tanta maturità, e l'interpretazione ce lo conferma: tristezza e speranza per il futuro si intrecciano in un tutt'uno, e viene fuori un velo di malinconia, sentimento che riesce sempre ad ispirare grandi canzoni. Una delle migliori tracce dell'album.
07. No promises: Canzone più breve dell'album ma che non per questo risulta la peggiore anzi è forse questo il suo punto di forza. Grazie all'alternarsi di una voce sussurrata e poi sempre più alta e con delle convincenti background vocals, anche femminili, otteniamo un ritornello estremamente accattivante e che difficilmente se ne andrà via dalla testa. Una buona canzone pop ma non troppo commerciale, che spicca grazie ad una base minimal (chitarra sempre e comunque al centro dell'attenzione) ma efficace che si fonde ad una voce ancora una volta molto convincente e ben utilizzata in tutte le sue sfumature. Sia la base che l'interpretazione trasudano una tranquillità assente in quasi tutte le altre tracce, come ad evidenziare un nuovo stato d'animo nella mente di Shawn.
In questa traccia, Shawn inizia finalmente ad avere un approccio con un'altra ragazza, alla quale chiede di non limitarsi a promesse e dalla quale pretende fatti, dato che dopo aver già sofferto tanto non vuole più stare male. Da qui capiamo il senso dell'interpretazione data: Shawn finge spensieratezza, ma in realtà è un diversivo per scacciare i suoi demoni, si finge tranquillo quando in realtà ha paura di quello che lo aspetta. Ancora una volta un'interpretazione magnifica, ed a nostro avviso questo brano può essere singolo, ed hit.
08. Lights On: un sound fortemente acustico in un primo momento e che si condisce di altri strumenti in un secondo è l'ottava, che si condisce finalmente di atmosfere allegre, felici, ma non per questo spensierate visto che il buon Shawn riesce sempre a mettere vissuto e sentimento nelle sue interpretazioni, anche quando le emozioni sono allegre. Pianoforte e chitarra sono invece gli ingredienti principali di questa produzione, che riflette perfettamente l'interpretazione, riuscendo a far sprizzare in noi allegria e positività. Un brano che si preannuncia come un vero game changer nel disco.
Nel testo troviamo uno Shawn ormai fidanzato con un'altra ragazza, che esprime una vera e propria ode amorosa alla sua nuova donzella, verso la quale si esprime con fare dolce e romantico, senza secondi fini. Un testo spontaneo, meraviglioso, che esprime il sentimento dell'amore con quella genuinità tipica di ogni ragazzo, una veste in cui ovviamente un diciottenne è più credibile di chiunque altro. Ci piace molto.
9. Honest: Una perfetta canzone d'amore che un ragazzo dedica alla sua amata offrendo tutto se stesso per renderla felice. Un inno all'amore e all'onestà che insieme danno vita al vero amore quello più puro e sincero. Dopo un inizio a base della sola chitarra e una performance vocale molto delicata,quasi sussurrata, si arriva ad un ritornello semplice con il suono di pochi strumenti unificati dalla ottima vocalità del cantante, che con degli ottimi falsetti si fa apprezzare per capacità diverse da quelle che abbiamo potuto apprezzare in altre tracce. Perfetta canzone soft pop con tratti che vanno dal genere tropical al chill-out che rendono la canzone molto gradevole da ascoltare. Molto gradevole la combinazione di vari strumenti che si ha dalla seconda strofa.
Per quanto riguarda il testo, si tratta di una chiacchierata abbastanza seria fra Shawn e la sua nuova ragazza, un frangente in cui l'artista mette dei paletti e comunica su quali principi deve basarsi la loro storia per poter funzionare. Il ritratto che ne viene fuori è quello di un ragazzo serio, che ha tratto beneficio dai propri errori passati e vuole fare in modo che tutto vada bene, ma che sa che affinché tutto vada per il meglio c'è bisogno di regole. Shawn si mostra come una persona responsabile, confermando la maturità e profondità d'animo che emerge anche in altri brani.
10. Patience: Un'atmosfera rilassante,quasi magica, arriva nell'album con questa traccia. Un inizio a base di chitarra, capace di infondere pace e serenità, inizia a creare un'atmosfera molto luminosa che conduce ad un ritornello molto catchy dove la voce di Shawn si armonizza perfettamente con la delicata produione. La voce del cantante convince sempre più, risulta leggera e appassionata nel contempo, ed il brano risulta uno dei più allegri e convincenti del disco. Una perfetta canzone soft pop che gode di una voce allo stesso tempo incisiva e delicata e che riesce a fare emozionare. Pace ed armonia: queste le sensazioni prodotte sia dalla base che dall'interpretazione, portando ad uno dei momenti più alti del disco.
A dispetto di tutto ciò, il testo parla di una relazione abbastanza complicata, fatta di tira e molla, una situazione che porta il cantante quasi al punto di "perdere tutta la sua pazienza". Alla luce di questi versi, la sensazione di tranquillità si trasforma in un modo scanzonato per sdrammatizzare su una situazione anche abbastanza stressante, forse scatenata proprio da un fare "pesante" di Shawn in questa relazione. La storia narrata continua dunque ad evolversi di testo in testo seguendo un filo logico, facendo apparire l'album come un prodotto ben concepito.
11. Bad Reputation: penultima traccia della standard edition, Bad Reputation è forse la traccia più intima dell'album. Shawn, forte di un'intensità emotiva strabiliante che trova il giusto sfogo grazie all'accompagnamento emotivo di un pianoforte, riesce a sfogare il dolore e la sofferenza derivanti dal cieco amore che Shawn ormai prova per la sua nuova lei. La voce del cantante ci trasporta in un mondo intimo, in cui due innamorati non riescono a fare altro che amarsi e supportarsi e difendersi a vicenda. Shawn passa da una tonalità alta ad un registro basso mostrando tutte le sfumature dell'amore. La produzione si evolve, violino e piano seguono passo passo tutte le sfumature d'emozione cantate da Shawn, che sa sempre come utilizzare il suo bel timbro per esprimere le emozioni che prova. L'uso delle seconde voci è anche qua magnifico.
Nel testo, Shawn parla di come la sua ragazza in passato si sia fatta una reputazione pessima a causa di un comportamento estremamente libertino, a causa di un atteggiamento che l'ha fatta apparire letteralmente come una ragazza di facili costumi. Shawn afferma che "tutti i suoi amici l'hanno vista nuda", ma ora sa che è cambiata, che non ripeterebbe più gesti del genere ora che è impegnata, e ribadisce così il suo amore per lei, che non può essere condizionato dalle opinioni degli altri. Shawn, dunque, sta male per il modo in cui la sua donna viene considerata, ma nel contempo questo sfogo è un modo per sputare fuori la negatività e liberarsi del suo peso. Un'altra traccia davvero magnifica sul piano testuale, e non solo.
12. Understand: Canzone che chiude in bellezza l'edizione standard dell'album e che dura ben 5 minuti. Ancora protagonista è il piano che accompagna la fantastica voce di Shawn tra note alte e basse della sua bella voce. Si ha l'impressione di ascoltare una canzone d'altri tempi, soprattutto per la presenza di un coro  gospel, ma anche per alcuni suoni e scelte stilistiche, che portano Mendes a rispolverare elementi e sonorità figlie di altre epoche. Nel brano, fra parti cantate ed altre parlate, instaura un rapporto diretto tra cantante e ascoltatore che diventa via via più trascendente, innalzandosi sempre più grazie al carattere gospel presente nel ritornello. L'interpretazione è come sempre variopinta, emotiva, ci fa percepire chiaramente vissuto e sentimento dietro la traccia.
A livello testuale, il brano si distacca un attimino dal contesto dell'album: si tratta infatti di una riflessione che va anche oltre il contesto amoroso, che abbraccia anche l'amicizia e tutti gli altri elementi che entrano a far parte, per forza di cose, nella vita di un diciottenne. Shawn fa il punto della sua vita in questa canzone, ed ancora una volta sottolinea fortemente la sua maturità e la profondità delle sue riflessioni. E' la giusta conclusione per la standard edition proprio perché con un piede resta nell'argomento dell'album, ma con un altro si prepara ad altri tipi di riflessioni.
DELUXE EDITION:
13. Hold On: la deluxe edition di Illuminate è battezzata da questa traccia, alla quale il giovane Mendes ha lavorato ancora una volta assieme al fidato Jake Gosling. Si tratta di un'intensa down tempo pop nella quale la notevole voce di Shawn va a sposarsi perfettamente con il delicato suono di una chitarra acustica, uno strumento a cui evidentemente l'artista non sa proprio rinunciare e, visti i risultati, non si può biasimare.
Senza ombra di dubbio questa è una delle più intime di tutto il progetto, una produzione estremamente minimal e soft che però nasconde un'interpretazione molto matura, ricca di emozioni e significato.
E' un pezzo perfetto per una deluxe edition, elegante e raffinato, forse non adatto da estrarre come singolo ma assolutamente meritevole di far parte di Illuminate. Anche il testo è estremamente toccante e profondo, evidentemente parla di un episodio duro della vita del ragazzo, che proprio per questo si sente di cantare al mondo che nella vita bisogna resistere, perché poi tutto andrà bene. Shawn in questo modo conferma l'andazzo intrapreso con "Understand", ed allarga le sue riflessioni anche ad ambiti estranei all'amore. L'impostazione testuale simile rende però questo cambiamento così naturale da essere quasi impercettibile all'orecchio dell'ascoltatore, altra caratteristica del progetto che apprezziamo.
13. Roses: squadra che vince non si cambia, torna per l'ennesima volta Jake Gosling ed il risultato è decisamente buono. Roses è una midtempo pop più potente e ritmata della traccia precedente, merito sia di una base che si colora di più strumenti (oltre alla chitarra sentiamo batteria e piano) sia di un'ottima esecuzione vocale di Shawn, che, in particolare a partire dal secondo ritornello, si lascia completamente trasportare dall'emozione e fa uscire al meglio il suo timbro e la sua notevole estensione. Un perfetto esempio di cosa significhi mettere i propri sentimenti in ciò che si canta e sentire il valore dei propri versi, parola per parola; la capacità interpretativa di Shawn vede proprio in questo dettaglio il suo punto di forza ed è un pregio raro per un cantautore così giovane.
La sofferenza che traspare dall'ascolto si ritrova perfettamente leggendo il testo, che non ha bisogno di troppe spiegazioni. Mendes fa la parte di un ragazzo innamorato che suo malgrado si rende conto che la ragazza che ama è più felice quando sta con un altro di quando è con lui, e ciò ovviamente lo fa star male, riflettere e porsi delle domande. Non sappiamo dunque come si concluderanno le cose, se questa storia avrà un lieto fine oppure no, ma sicuramente questo finale aperto risulta una vera e propria chicca in questo contesto.
Mercy (Acoustic): come la maggior parte delle deluxe edition anche Shawn ha deciso di chiudere con una versione acustica di un brano contenuto nella standard edition, la traccia n.2 nonché terzo singolo estratto da Illuminate, Mercy. Ovviamente essendo una versione acustica va da sé che ci si trova di fronte ad un'esibizione più intima e personale di quanto già non sia la versione studio. Ci dà modo di apprezzare ancora una volta la purezza dello strumento vocale dell'artista, che in questo suo nuovo album è messo più che mai in luce e ce lo ha fatto apprezzare non poco.
In definitiva, ci troviamo davanti ad un lavoro di ottima fattura, coeso dal punto di vista dei suoni ma che non annoia mai, che sa passare da ritmiche più incalzanti a sound dimessi e rilassati, esplorando nell'intimo l'emotività di quest'artista, che con il suo strumento vocale riesce a produrre emozioni forte ed intense nell'ascoltatore, lasciando percepire chiaramente la sua interiorità, lasciando percepire che lui non è qui tanto per cantare dei testi, che sente davvero le parole che interpreta.
I testi del disco ci accompagnano per mano in un viaggio all'insegna delle esperienze amorose di un ragazzo qualunque, che dopo una storia finita male ne inizia un'altra, e che capisce che per quanto ben disposto sia nella vita ci saranno sempre momenti alti e momenti bassi a livello emotivo. Una situazione che si evolve a poco a poco, un concept album coerente e coeso, e questo riesce a fare del lavoro un disco vero, non semplicemente un album-compilation come ce ne sono mille.
Le produzioni sono tutte di ottimo livello, i produttori hanno fatto un lavoro magnifico nel valorizzare i testi con basi ad hoc, capaci anch'esse di emozionarci molto. Shawn è sicuramente una delle più belle scommesse dell'universo musicale degli ultimi anni, un ragazzo nelle cui vene sembra scorrere musica pura, e che riesce a farci percepire questo sia con la sua voce che con la sua chitarra, strumenti sempre al servizio dei suoi sentimenti di adolescente apparentemente maturo. Lui è l'altra faccia delle teen star, rappresenta un punto di riferimento per chi non riesce a riflettersi nella leggerezza di alcuni suoi colleghi, ma preferisce riflessioni ed emozioni intense nella sua vita.
In definitiva, confermiamo quella che era stata la nostra opinione su di lui fin dall'inizio. Questo ragazzo merita, ha anima e talento, ed assolutamente dobbiamo tenercelo stretto. In un mondo pieno di cantanti incapaci che non sanno beccare 3 note live, e che ad uno strumento (e ad una penna) manco si ci avvicinano, Shawn Mendes rappresenta un'ancora di salvezza vera e propria, e questo disco non fa che avvalorare la nostra tesi. Ad majora, Shawn.
– Recensione a cura di Umberto Olivo, Silvia Mella, Giulio Anonimo