Sia: finite online 5 nuove canzoni!
La cantautrice australiana Sia pubblicherà tra poche settimane il suo nuovo album in studio, intitolato "This Is Acting", che sarà pubblicato il 29 gennaio (qui per maggiori dettagli sull'album).
Questo progetto, caratterizzato dall'essere composto esclusivamente da brani scritti per altri artisti, ma rifiutati da questi, è anticipato dal lead-single Alive (inizialmente scritto per Adele) che, però, ha avuto risultati commerciali molto deludenti, tanto da spingere la cantante a rilasciare vari singoli promozionali (Bird Sets Free, One Million Bullets e soprattutto la splendida Cheap Thrills).
Dopo i deludenti risultati di Alive, dunque, Sia è a serio rischio flop ed appare molto difficile ripetere con questo album il successo del precedente "1000 Forms Of Fear". Ad aggravare la situazione, è sempre in agguato il rischio leak: in queste ore sono finite online 5 nuove canzoni della songwriter australiana, che potrebbero essere incluse nella tracklist del nuovo progetto della cantante.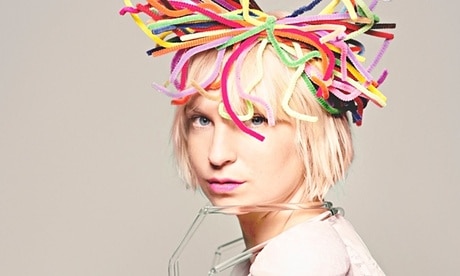 Si tratta di "Blinded by Love", "Joy I Call Life", "Red Handed", "Freeze You Out" e "Making The Most Of The Night" (quest'ultima, in realtà, è una demo dell'omonimo brano, poi finito in "Emotion" di Carly Rae Jepsen).
Si tratta in tutti e 5 i casi di brani con ottimo potenziale, ma che, allo stato attuale, sono chiaramente demo incomplete e ben lontane dalla versione definitiva. Spesso, infatti, come normale per una demo, la base risulta fastidiosa e assolutamente inadatta alla voce di Sia.
In particolare mi ha colpito "Blinded My Love", un pezzo dance-pop con enorme potenziale, seppur ricordi chiaramente alcune delle tracce di Sia in collaborazione con David Guetta (in particolare "She Wolf" e "Bang My Head"). Trovo che un brano del genere, una volta nella sua versione definitiva (visto che anche questo brano è chiaramente una demo e c'è ancora molto da migliorare) non avrebbe problemi a farsi notare nelle classifiche , soprattutto quelle europee (visto che oltreoceano è sempre più difficile avere successo con pezzi marcatamente dance-pop).
Gli altri brani sono molto diversi da questo (ma, a mio avviso, ancor più incompleti): "Red Handed" è una canzone molto particolare e sperimentale, capace di creare un'atmosfera ipnotica, ma alla lunga risulta estremamente ripetitiva e fastidiosa, "Joy I Call Life" è una toccante ballata ma con ancora molte imperfezioni. "Freeze You Out", invece, è una power ballad che in futuro potrebbe avere grande potenziale e che ricorda gli altri brani dell'album, ma che pecca di banalità.
Per quanto riguarda "Making The Most Of The Night", trovo che sia, delle 5 canzoni, quella più incompleta, visto che la base (molto diversa dalla versione definitiva cantata da Carly Rae Jepsen) è totalmente in disaccordo con la voce di Sia, risultando spesso fastidiosa e cacofonica. Nel ritornello, inoltre, la potente voce di Sia sembra incapace di seguire la canzone, a differenza della voce (indubbiamente meno potente ma più versatile) di Carly Rae Jepsen. Nelle strofe (e nel magnifico bridge) , invece, la splendida voce di Sia dà il meglio di sè, mostrandosi ben più adatta rispetto a quella dell'interprete di "Call Me Maybe".
Ecco l'audio delle 5 canzoni: