Singoli di maggior successo del 2013: stravince Blurred Lines
Oltre agli album, il sito Mediatraffic ha pubblicato anche la lista dei 40 singoli di maggior successo dell'anno. Il dato, in punti, è basato per il 75% sulle vendite, per il 25% sui passaggi radiofonici. Vengono utilizzati i dati provenienti dalla maggior parte dei mercati discografici del mondo. Ma adesso analizziamo la classifica.
La prima cosa che salta all'occhio è il grande numero di featuring, soprattutto nella top 10. La seconda sono i 3 cantanti con 3 singoli in top 40: Bruno Mars, Justin Timberlake e Rihanna.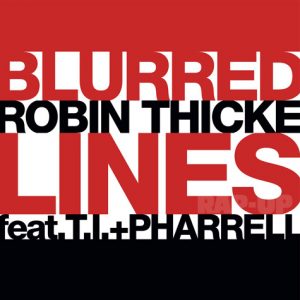 A vincere questa classifica è "Blurred lines", la collaborazione di Robin Thicke, T.I. e Pharrell Williams conquista 11.635.000 points, un risultato mostruoso, tanto che il secondo classificato "Get lucky" è distante oltre due milioni e mezzo di punti.  Chiude il podio, la hit d'inizio anno "Thrift Shop" di Macklemore & Ryan Lewis. Il duo lo ritroviamo anche alla 7 con l'altra loro grande hit: "Can't hold Us".  Al quarto posto troviamo l'intramontabile "Wake me up" di Avicii. L'unica donna nella top 5 è Pink con "Just give me a reason", la cantante era peraltro l'unica donna nella top 5 degli album più venduti. Pink piazza anche un'altra hit in classifica "Try" singolo pubblicato a settembre 2012.
A seguire troviamo una delle poche canzoni non in duetto della top ten: "Roar" di Katy Perry, a fare impressione in questo caso non è il punteggio altissimo in sè (7.5 mln di points), quanto la brevità con cui il singolo ha raggiunto questo punteggio. Ottimi successi anche per "Stay" di Rihanna & Mikky Ekko, "Radioactive" degli Imagine Dragons, unico gruppo rock ad aver avuto un considerevole successo nei singoli e negli album. Chiude la top ten a un passo dai 6 mln di points "Scream and shout" di Will-I-am & Britney Spears.
Alla 11 c'è "Mirrors" di Justin Timberlake, segue Bruno Mars alla 12 ed alla 14 con "When I was your man" e "Locked out of Heaven", quest'ultima ha raggiunto complessivamente 8.595.000 points. Bruno piazza anche un'altra hit in top 40: "Treasure" alla posizione 25. Tornando in classifica troviamo alla 13 la canzone più costante dell'anno "Let her go" di Passenger. Scendendo alla 15 c'è "Ho Hey" dei Lumineers e quindi "Royals" di Lorde. Posizione 17 per Taylor Swift con "I knew you were trouble" (punteggio complessivo oltre 6 mln di punti, maggior successo della carriera di Taylor). Dopo l'ottima "Counting Stars" a 4.4 mln di punti, troviamo alla 19 Miley Cyrus con "Wrecking Ball", segue poco distante alla 22 "We can't stop". In mezzo ci sono altri due featuring "ILove it" delle IconaPop ft Charli XCX e "Feel this moment" di Pitbull e Christina Aguilera.
Alla 23 c'è "Applause" di Lady Gaga a cui segue "Diamonds" di Rihanna che complessivamente è a quota 8.2 mln. Un'altra hit del 2012 è alla posizone 26 "Don't you worry child". Alla 27 ed alla 34 troviamo i due duetti tra J. Timberlake e Jay Z prima "Suit and Tie" e poi "Holy Grail". Alla 28 ci sono i Capital Cities con "Safe and sound". Drake e Majid Jordan sono alla 30 con "Hold on we're going home", segue una delle poche canzoni che ritroveremo sicuramente anche l'anno prossimo "The Monster" di Eminem e Rihanna.
Nelle retrovie troviamo soprattutto brani "made in Uk" tra cui "Lalala", "Burn", "I need your love", "Troublemaker" (del 2012) e "Love me again". Oltre a loro ci sono anche la hit country-hip hop "Cruise dei florida Georgia Line ft Nelly, "Summertime Sadness Remix " di lana del rey (sua maggiore hit) ed alla posizione 40 "Girl on fire" di Alicia Keys che, uscita nel settembre 2012, non era riuscita a entrare nella top 40 del 2012 (oltre 4 mln di punti complessivi).
1- Blurred Lines – Robin Thicke ft T.I. & P. Williams – 11.635.000
2– Get Lucky – Daft Punk feat. Pharrell Williams – 9.065.000 
3- Thrift Shop – Macklemore & Ryan Lewis feat. Wanz – 8.646.000 
4- Wake Me Up! – Avicii – 8.643.000 
5- Just Give Me A Reason – Pink feat. Nate Ruess – 7.958.000 
6- Roar – Katy Perry – 7.555.000 
7- Can't Hold Us – Macklemore & Ryan Lewis feat. Ray Dalton – 6.725.000 
8- Stay – Rihanna feat. Mikky Ekko- 6.140.000
9- Radioactive – Imagine Dragons – 6.069.000 
10- Scream And Shout – Will.I.Am feat. Britney Spears – 5.997.000
11- Mirrors – Justin Timberlake – 5.881.000 
12- When I Was Your Man – Bruno Mars  – 5.709.000 
13- Let Her Go – Passenger – 5.583.000
14- Locked Out Of Heaven – Bruno Mars – 5.388.000
15- Ho Hey – Lumineers – 5.313.000
16- Royals – Lorde – 5.178.000
17- I Knew You Were Trouble – Taylor Swift – 4.738.000
18- Counting Stars – OneRepublic – 4.404.000
19- Wrecking Ball – Miley Cyrus  – 4.239.000
20- I Love It – Icona Pop feat. Charli XCX – 4.158.000 
21- Feel This Moment – Pitbull feat. Christina Aguilera- 3.918.000
22- We Can't Stop – Miley Cyrus – 3.903.000 
23- Applause – Lady GaGa – 3.816.000
24- Diamonds – Rihanna – 3.740.000
25- Treasure – Bruno Mars – 3.642.000
26- Don't You Worry Child – Swedish House Mafia / John Martin- 3.607.000
27- Suit & Tie – Justin Timberlake feat. Jay-Z – 3.564.000
28- Safe And Sound – Capital Cities- 3.440.000
29- Try – Pink – 3.267.000
30- Hold On We're Going Home – Drake feat. Majid Jordan – 3.110.00
31-The Monster – Eminem feat. Rihanna – 3.096.000
32-La La La – Naughty Boy feat. Sam Smith – 3.056.000
33-Burn – Ellie Goulding – 3.019.000
34- Holy Grail – Jay-Z feat. Justin Timberlake – 2.979.000
35- Cruise – Florida Georgia Line – 2.934.000 points 
36-I Need Your Love – Calvin Harris feat. Ellie Goulding – 2.859.000
37- Summertime Sadness – Lana Del Rey vs. Cédric Gervais– 2.739.000
38- Troublemaker – Olly Murs feat. Flo Rida – 2.698.000
39- Love Me Again – John Newman – 2.665.000
40-Girl On Fire – Alicia Keys feat. Nicki Minaj – 2.515.000