Skylar Grey e Bebe Rexha: ecco le demo dei duetti Eminem/Rihanna
Già di per sé unire grandi nomi porta quasi sempre grandi numeri. Quando poi le collaborazioni in questione sono dei brani di ottima fattura, il successo non solo è scontato, ma spesso si rivela anche enorme. In questi casi è inevitabile dare vita a delle hit potentissime, a dei brani dal successo spropositato, soprattutto quando oltre a stupire pubblico e critica i due artisti hanno alle spalle dei fandom molto, molto ampi.
Ne sanno qualcosa Eminem e Rihanna. Il rapper bianco di maggior successo di sempre e la superstar caraibica hanno collaborato varie volte dando così vita a due grandissimi tormentoni, due brani dallo straordinario successo planetario: sto parlando di "Love the Way You Lie" e "The Monster".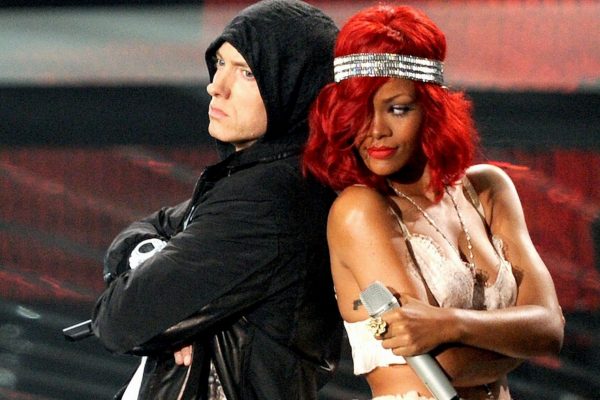 Tuttavia, questi due grandi nomi non sono gli unici artefici di questi tormentoni. Entrambe le canzoni derivano, infatti, da rielaborazioni di due demo create da cantautrici di grande talento, due ragazze che con questi pezzi sono riusciti a compiere un ingresso a dir poco trionfale nello showbiz: sto parlando di Skylar Grey (Love the Way You Lie) e Bebe Rexha (The Monster).
Queste due cantautrici hanno molto in comune tra di loro: hanno scritto queste hit di grande successo, hanno ottenuto a loro volta una hit con una collabo insieme ad altre due grandi popstar ("I Need a Doctor" di Eminem & Dr. Dre per la Grey, "Hey Mama" di David Guetta & Nicki Minaj per la Rexha) e, nonostante questo grande curriculum, finora non sono mai riuscite a lanciare davvero le loro carriere da soliste.
Le due ragazze, in realtà, non hanno creato pezzi esattamente identici alle due hit che sono venute fuori, ma è comunque sulle basi di tali brani che quei successi sono fioriti. Ascoltando le due demo originarie, in cui i ritornelli cantati sono praticamente identici a quelli che sono stati poi resi famosi dalla diva delle Barbados, ci rendiamo conto di trovarci davanti davanti a due grandi talenti, a due cantanti dalle sopraffine doti interpretative, a due persone che meriterebbero di sfondare nel musicbiz.
Con questo non vogliamo dare adito a nessuna polemica: non vogliamo paragonare queste ragazze a Rihanna o insinuare alcunché, semplicemente vorremmo fare notare a tutti voi il grandissimo talento che si cela dietro questi nomi così poco conosciuti. E' proprio vero che a volte dietro le nostre hit preferite si cela un lavoro ancora più meraviglioso…
Ecco a voi i due brani: