Madonna – Sticky & Sweet (Recensione Concerto – Nizza)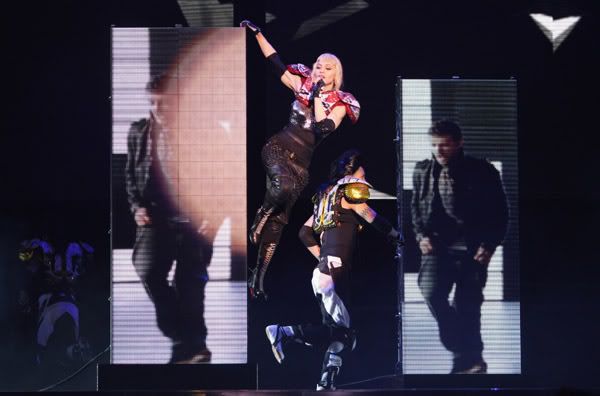 Recensire un concerto di Madonna è sempre molto difficile per me, sopratutto appena due giorni dopo aver vista la mia prima data (alla quale seguiranno le due parigine).
Madonna ha plasmate lo show pop con il Blond Ambition del 1990. Senza quello lo show il mondo live del pop al femminile non sarebbe stato lo stesso.
Questo nuovo show è sicuramente meno "importante" in termini di novità rispetto ai tour precedenti, ma non per questo è di qualità minore.Anzi.
Personalmente l'ho trovato migliore del tour precedente, sopre 10 spanne sopra tutti gli altri concerti pop, ma non mi era del tutto "arrivato".
Lo "Sticky & Sweet" tour è probabilmente lo show più gioioso di Madonna dagli anni 80.A parte il suo messaggio politico nel video interlude "Get Stupid" e la sua visione sui media nel video con Britney di "Human Nature", il resto dello show è pure divertimento, e rispecchia molto la vide di "Hard Candy".
Di seguito la descrizione canzone per canzone dello show che ho visto martedì 26 agosto allo Stade Charles Ehrmann di Nizza.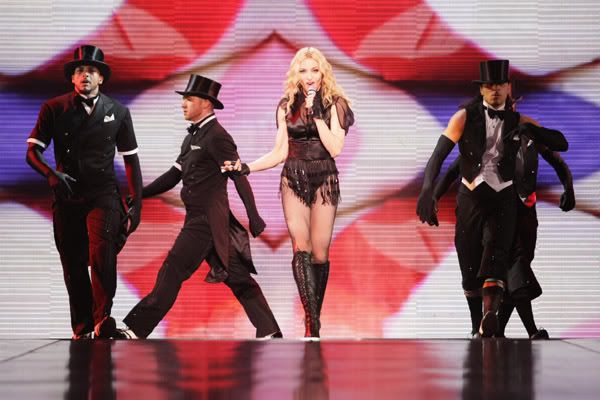 Lo show è diviso in quattro quadri:
PIMP SECTION
Candy Shop : Entrata in scena di Madonna con coreografie e arrangiamento identici all'"Hard Candy Promo Tour" dello scorso aprile/maggio.
Il video dell'intro è nuovo, ed è ispirato al film "Charlie e la fabbrica di cioccolato".Si possono sentire in questa intro svariati frammenti di canzoni dall'ultimo disco, che culminano nella scritta C-A-N-D-Y sullo schermo che a sua volta si apre e mostra Madonna sul trono.Veramente bello l'effetto del cubo che si apre, è difficile da spiegare cosa succede nel dettaglio ma l'effetto merita.
Beat Goes On: Appena finisce "Candy Shop" parte l'intro di "Beat Goes On", presentata nella versione dell'album. Questo è il primo pezzo che vede Madonna anche sulla passerella al centro del palco con i ballerini.Verso la fine della canzone compare una vecchia auto d'epoca bianca dove Madonna sale con i ballerini per percorrere nuovamente la passerella, mentre un nuovo video di Kanye West girato per il tour appare sugli schermi durante il rap.
Human Nature:Cilindro bianco in testa e chitarra elettrica, Madonna si presenta alla fine della passerella per il primo pezzo "classico" di questo show.Si tratta di "Human Nature" da "Bedtime Stories" (1994), non una hit ma tra i pezzi favoriti dai fans.Quesa nuova versione è più pompata rispetto alla versione dell'album, e presenta molte vocals distorte.Il video alle spalle di Madonna è quello con Britney Spears, che impazzisce in un ascensore chiuso, chiari riferimento alla situazione personae di Britney.
La canzone in originale era uno sfogo di Madonna verso i media, che l'avevano brutalmente attaccata per il suo libro "Sex" (1992).
Molto molto bello il video, al quale Madonna ha pensato dopo aver visto delle vere riprese di una donna rimasta chiusa per più di un giorno in un ascensore.Il video con Britney riprende quei fotogrammi, con Britney che sussurra svariati pezzi della canzone originale.La canzone e il video culminano con l'ascensore che si apre e Britney che dice la famosa frase "It's Britney, bitch".
Vogue:Secondo pezzo storico, "Vogue" viene eseguita in fondo alla passerella con i ballerini su una pedana mobile.Stupenda coreografia, ballatissima, che si rifà vagamente a quella originale del 1990.
L'intero pezzo è cantato sulla base di "4 Minutes", ed infatti l'intro è bastata sul famos "tick tock tick tock" del pezzo peodotto da Timbaland.
Alla fine del pezzo Madonna e i ballerini si dirigono verso il palco principale dove chiudono il numero.
Die Another Day:Chiude il primo quadro un nuovissimo video di "Die Another Day" (2002), che presenta Madonna vestita da boxer combattere e dimenarsi.Un video stupendo, le foto del tour book del nuovo show sono prese dal set di questo video, molto molto forte.
OLD SCHOOL SECTION
Into The Groove: Il classico del 1985 è un altro mashup, questa volta sulla base di "Toop Toop" di Cassius.Madonna entra in scena saltando la corda, un completo molto anni 80.L'intera sezione è ispirata ai graffiti dell'artista Keith Haring, grande amico di Madonna morto negli anni 80.
Versione molto energica della canzone, Madonna balla tantissimo e usa tra l'altro un un palo da lap dance.Agilissima, dimostra 25 anni per come si muove.
Heartbeat: Si ritorno ai pezzi nuovi, con uno dei favoriti dai fans.Coreografia molto simpatica, Madonna viene "animata" come se fosse una marionetta dai ballerini durante questa canzone.Si dimena alla fine della passerella nella durante la parte "See my booty get down".
Borderline: Il classico dal primo album viene cantato per la prima volta dal 1985 con un nuovo arrangiamento rock.Veramente stupendo, con Madonna che suona la sua chitarra elettrica rosa.
She's Not Me: Dedicata alle raggazze ma anche ai "ragazzie-ragazze" nel pubblico, questo pezzo è uno dei pezzi migliori di tutto lo show.Verso metà canzone sul secondo palco in fondo alla passerella, salgono quatro versioni iconiche di Madonna.Si tratta di quattro ballerine vestite con i suoi vecchi look.
Abbiamo la Madonna di "Like A Virgin" con l'abito da sposa, quella di "Materila Girl" con l'abito rosa di Marilyn; quella di "Open Your Heart" con il bustino nero ed infine quella di "Vogue" con il gessato e le famose "tette a punta".
Sullo schermo passano varie immagini dei video di Madonna e di sue foto mixati insieme.A Nizza gli schermi hanno avuto dei problemi in questa parte, e a volte si bloccavano.Qualche testa sarà vollata a fine concerto.
Madonna si diverta a "diruggere" queste sue vecchie versioni, strappando i vestiti e le parrucche e cercando di strozzare con la giacca la Madonna del 1990 dicendole "I can do it better, bitch!".Segue un pezzo che ri corda la performance di "Let It Will Be" nel Confessions Tour, una Madonna impazzita che si dimena come una tarantola.
Music:Madonna si mette alla fine del pezzo precedente la parrucca "1990" e a carpoin si dirige sulla passerella verso il palco principale sulle note di "Lat Night A Dj Saved My Life".Parte quindi "Music", stessa versione del promo tour di "Hard Candy".
Here Comes The Rain Again:Video interlude, veramente burtto ed inutile.Basato sulal canzone degli Eurythmics con quela pezzo di "Rain" della stessa Madonna, questo video presenta un alieono o qualcosa del genere, mentre i due ballerini giapponesi del video di "4 Minutes" fanno le loro mosse in kimono. Semplicemente brutto ed inutile.
GIPSY SECTION
Devil Wouldn't Recognize You: Alla fine della passerella entra in scena un piano con sopra Madonna vestita con il "mantello nero con cappuccio".Il pezzo è suonato al paino.Sia il piano, che quindi Madonna stessa, sono all'interno di un "tubo" semitrasparente che trasmette vari effetti (lo stesso tubo sospeso trasmetteva anche le immagini del video con Britney).
Madonna per quasi tutta l'esibizone è quasi nascosta, e solo alla fine esce per concludere la canzone sul palco principale.
Spanish Lesson: Molto divertente e semplice, questo pezzo tanto criticato suona bene in concerto.Bella la coreografia da demente nel pezzo" if you do your homework" che fa sulla passerella.
Miles Away: Molto semplice, suonata alla fine della passerella con la chitatta acustica, il pezzo ha un intro più lunga dell'album version ma è alquanto simile.
La Isla Bonita/Lela Pala Tute: Meravigliosa versione di "La Isla", che riprendere quella del "Live Earth" del 2007 ma con un arrangiamento diverso nel centro della canzone.Un gruppo di musicisti gitani e ballerini entra in scena con Madonna, che conclude il pezzo alla fine della passerella.
Uno dei momenti migliori dello spettacolo!
Doli Doli: Canzone gitana, non vede la partecipazione di Madonna che si limita a stare seduta e battere le mani.Molto coinvolgente e divertente nonostante sia un pezzo a se, il pubblico ha molto apprezzato.
You Must Love Me: Il momento più bello dello spettacolo, Madonna e la sua chitarra accompagnata dai violini gitani in questa nuove versione della canzone premio Oscar da Evita.
Sullo schermi appaiono dei momenti dal film, e l'atmosfera che si crea è veramente magica.Alla fine della performance, il cono circolare scene e nasconde Madonna.Le luci si spengono e anche la sezione gitana si è conclusa.
Get Stupid: Meraviglioso video a sfondo politico/sociale, è il momento più "serio" dello show.Ricorda molto il video di "Sorry Remix" nel Confessions, ma questo nuovo video presente dei nuovo fotograffi di Madonna.Non è altro che un remix di "Beat Goes On", rallentato e con nuove vocals di Madonna.
Il video di conclude con l'augurio di Obama come prossimo presidente.
RAVE SECTION
4 Minutes: Apre l'ultima sezione del tour il grande successo "4 Minutes".La versione è identica, sia come arrangiamento che come coreografia, a quella del promo tour.Justin appare negli schermi mobili.
Il tutto è alquanto noioso, e anche Madonna stessa sembrava anoiata in questa canzone (unico momento nell'intero show dove mi ha dato questa impressione).Senza Justin presente, la perfomance in se non funziona.
Like A Prayer: Dopo "la noia" ecco la bomba.Il classico del 1989 completamente trasformato in un pezzo dance da urlo.La sezione "rave" è sicuramente basta su questa potente performance.
Drammatica, divertente e immensa allo stesso tempo, si tratta dell'ennesimo mash up sulla hit dance del 1992 "Don't You Want Me" di Felix.
Grandissime coreografie di Madonna e dei ballerini, la terra ha veramente tremato per tutto il pezzo e tutti erano indemoniati.Ai purisit del pezzo originale non è piaciuto molto, io nonoste adori la prima versione, ho adorato anche questa coraggiosa versione.Alla fine del pezzo Madonna brucia tra le fiamme, inglobata dallo schermo conico che la circonda al fondo della passerella.
Ray Of Light : Uno dei pochi momenti che non ho amato, riprende (con gli stessi schermi, tra l'altro!) la versione del Confessions Tour.L'arrangiamento è più pompato, ma non salva una performance che a mio parere poteva evitare.
Hung Up: Versione rock come nel promo tour, prima di iniziarla Madonna ha intonato il ritornello di "Express Yourself" (1989).
Il finale è molto più lungo e molto hardcore, grande versione molto travolgente.
Give It 2 Me: Chiude lo show una versione remix di "Give It 2 Me", molto molto bella.Gli schermi proiettano i pezzi di Pharrell dal video originale, e la coreografia è simile alla versione del promo tour.Alla fine, Madonna chiede al pubblico di cantare con lei il ritornello più volte, un pò come accadeva con "Hung Up" durante il Confessions Tour.Ripetendeo per l'ultima volta "Give it 2 me" Madonna scompare dietro lo schermo sul palco principale, mentre la scritta GAME OVER appare.
Mentre il pubblico usciva, "Dance 2night" risuonava nello stadio.
In conclusione, ho amato il concerto a parte qualche cosa. Lei è veramente una ragazzina sul palco, e si può veramente permettere quel look. Ha cantato molto bene, ballato ancora di più e sorriso molto.
Sicuramente ho dimenticato molti particolari, non ho quasi visto video ma vado a memoria.E una sola volta è troppo poco per un concerto di Madonna, non si coglie tutto.Svariati problemi tecnici l'altra sera, dai video di "Candy Sho" e "She's Not Me" che si bloccavano, alla chitarra che non andava di "Hung Up" (sostituita durante il pezzo, con Madonna che a fine canzone ha detto "se osate darmi un altra chitarra rotta, dovrò punirvi".Ma erano appunto, problemi tecnici.
Madonna è la regina del POP, e lo ha confermato ancora una volta.Le altre, si devono solo inchinare.
Si replica a Parigi il 20 e il 21 settembre!
Pubblicato da M-Dolla (moderatore Forum Madonna su RNBJUNK.com)
Ringrazio M-Dolla per la sua recensione, veramente grazie di cuore, una finestra su Madonna aperta da un fans che trasuda passione, esattamente come quando io scrivo di qualche mia prediletta! Grazie di Cuore!