Tinashe rilascia a sorpresa sei nuove canzoni!
Per far pesare meno l'attesa per il suo nuovo album d'inediti, Joyride, Tinashe ha rilasciato a sorpresa, o meglio, sono state leakkate, non una, ma ben 6 nuove canzoni che forse saranno comprese nella versione definitiva del suo nuovo disco, che non ha ancora una data di rilascio.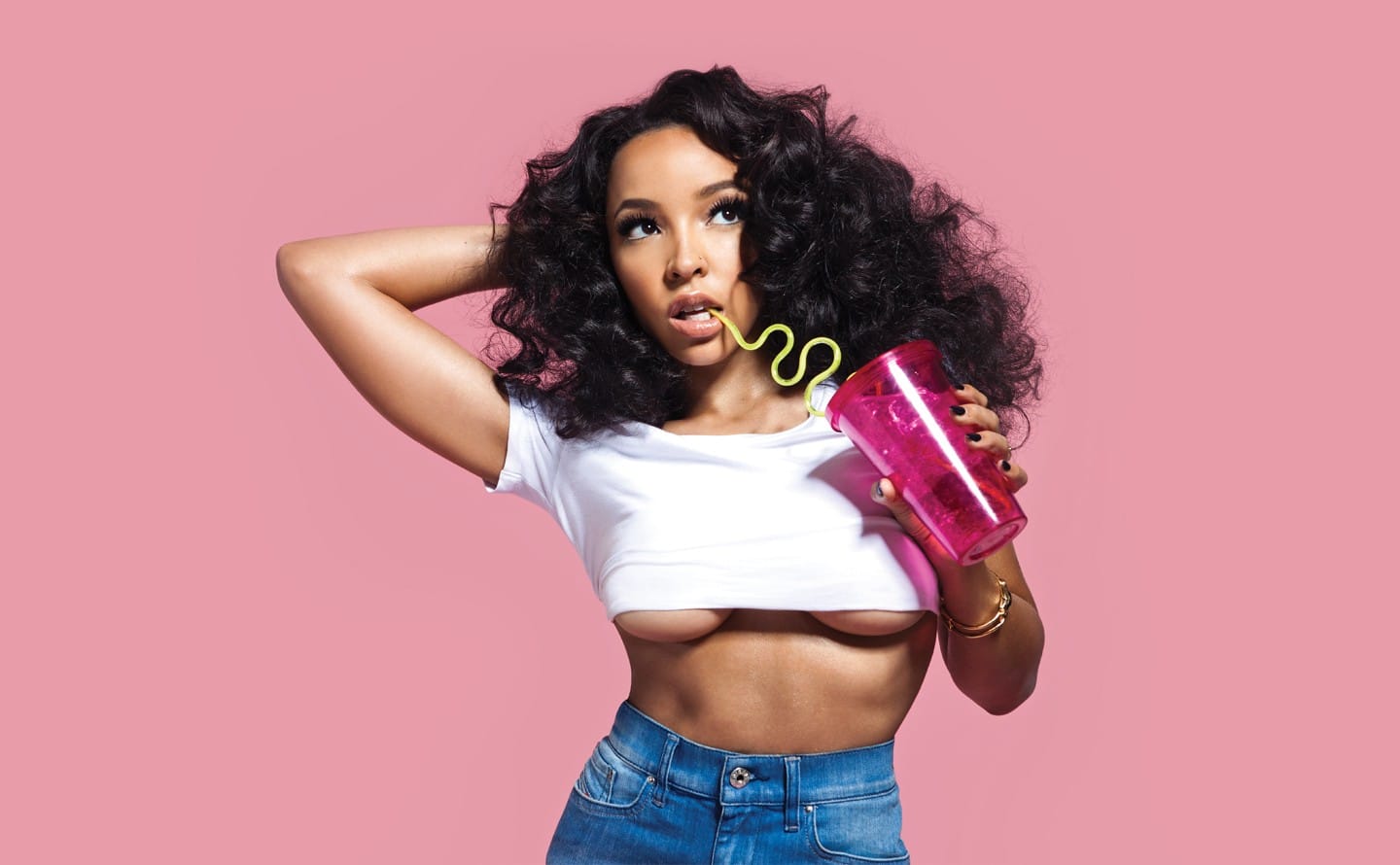 La prima traccia, "Unstoppable", è una classica downtempo/midtempo R&B con influenze urban che non brilla per originalità in quanto somiglia ad alcune tracce incluse nel precedente album. Il singolo punta su una base ben prodotta decisamente soft e perfetta per una voce che, in questa traccia, sembra molto rilassata e tranquilla, che non eccede in inutili virtuosismi che avrebbero fatto sembrare il pezzo pesante. Canzone davvero ottima!
La seconda traccia leakkata, "They're One", è caratterizzata da una potente ed invadente produzione di Mike Will Made It che oscura in gran parte della canzone la voce della cantante, il cui strumento vocale è utilizzato molto più prepotentemente rispetto al brano precedente.
Il sound principale è sempre l'R&B con l'aggiunta di moltissimi elementi urban, hip hop e, in alcuni punti, pop che ricorda a grandi linee lo stile prevalentemente utilizzato da Rihanna nel suo ultimo album ANTI e di Bangerz di Miley Cyrus. Il livello è sicuramente ben più alto però, e riesce a convincerti appieno.
La struttura tra le strofe e il ritornello è completamente diversa: nelle prime la voce è più acuta e rilassata mentre più ci si avvicina al ritornello, il tutto si fa più potente e carico, in particolare la base, che a quella precedentemente usata si sggiunge un beat ancora più potente rispetto a quello utilizzate nelle strofe ed elementi scoppiettanti.
La terza traccia rilasciata, "Run Run", punta su una produzione invadente ed una vocalitò potentemente modificata con un filtro maschile e un alto uso di autotune nei ritornelli mentre rimane al naturale nelle strofe, unici punti della canzone che non vengono modificati pesantemente al computer.
Il soundè R&B arricchito da elementi hip hop ed urban che risultano fin troppo coprenti e non fanno risaltare la voce di Tinashe e che producono l'esatto contrario dell'obiettivo prefissato, ossia oscurano quasi completamente la voce che, nei momenti "non modificati", risulta molto scialba e anonima. Sicuramente la peggiore fra le tracce rilasciate quest'oggi, anche se presenta comunque momenti buoni.
Con la quarta traccia, "My Territory", si ritorna ad una base ben equilibrata con la voce, nonostante sia lo stesso ricca di elementi urban che appesantiscono la produzione. Il cantato, più potente e pop, che a tratti ricorda alcuni brani delle Little Mix, si sviluppa tra le strofe e il ritornello, fino ad esplodere ed a mostrare il meglio delle doti vocali di Tinashe, che come poche riesce a cavalcare con fermezza una base che avrebbe potuto tranquillamente travolgerla.
Lo stile è una sorta di continua miscelanza fra urban, pop ed hip hip, il tutto per un risultato particolare e d'impatto che potrebbe facilmente fare faville nei club di tutto il mondo visto il potentissimo beat ed il ritmo ballabile.
La quinta traccia, "Down With Ur Love", punta prevalentemente sulla voce della cantante che esplode completamente nel ritornello, nel quale mostra la carica e la potenza nascosta nella maggior parte delle canzoni che abbiamo descritto qui sopra.
La base dal sound R&B arricchita da elementi presi in prestito dall'urban e da un potentissimo beat risulta molto meno invadente rispetto a quelle utilizzate nelle precedenti tracce. Il risultato è semplicemente splendido, meraviglioso e trascinante, e fra tutte le tracce questa è sicuramente quella che gradiremmo di più di poter trovare all'interno di un album ufficiale.
La sesta ed ultima traccia, "Bullet", ricorda le produzioni utilizzate da Rihanna in alcune tracce nei suoi due ultimi album, Unapologetic e ANTI. Nelle corde di Tinashe queste basi risultano però ben dosate e per nulla invasive. La voce è rilassata ma allo stesso tempo potente e riesce a mostrare tutta la sua estensione, dal registro basso e quasi parlato fino a quello più acuto.
Lo stile prevalentemente è l'R&B con elementi tratti dall'urban. Ne viene fuori potentissimo beat che, rimanendo lo stesso dall'inizio alla fine, detta il ritmo della canzone, che risulta ballabile ed adatta a qualsiasi club del mondo. Questa, come la precedente "Down With Ur Love", ha tutte le carte in regole per diventare delle mega hit negli States, visto il genere amatissimo oltreoceano, ma anche in Europa e in Australia, portando una ventata fresca di R&B/urban nel nostro continente.
Che ne pensate di queste sei nuove canzoni leakkate?