Toni Braxton – Pulse (recensione CD)
A cinque anni di distanza dal suo lavoro "Libra", torna una delle voci più suggestive e calde, Toni Braxton, con il suo sesto lavoro intitolato "Pulse", il primo pubblicato sotto etichetta Atlantic. Non è un mistero, l'interprete di "Un Break My Heart" si è ritrovata con una carriera che nel tempo è andata un po' a farsi benedire… pensiamo solo che il suo album Secrets rimane uno degli album R&B più venduti di tutti i tempi, con 8 milioni di copie e passa venduti solamente negli Stati Uniti… ma poi.. con The Heat, qualcosa è cambiato, e da allora, le cifre di Toni sono state bassine.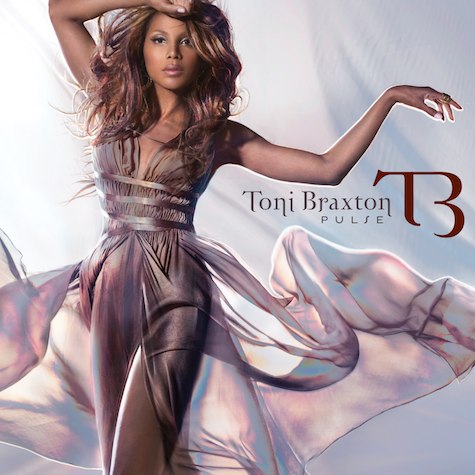 La sua ultima fatica "Libra" era un progetto totalmente libero ed indipendente, e forse per questo è arrivato solo a vendere mezzo milione di copie nel mondo… con "Pulse" il cammino è con una nuova etichetta, che per ora sembra aver fallito il colpo, visto che la diva è attestata ad una first week con meno di 100 mila copie… vedremo…
In "Pulse" ritroviamo però quella raffinatezza inegualiabile che la contraddistingue come voce e come personaggio, una voce perfetta per il Jazz, per l'R&B, per il Soul, una voce unica nel suo genere, tremendamente bassa e baritonale, un po' agli antipodi di Mariah Carey.
1) Yesterday: è la hit mancata del disco, questo pezzo prodotto da DJ Frank E è veramente una perla fantastica. Ancora adesso mi chiedo come non abbia potuto entrare in top100 americana! La voce è pulita, la ballata è veramente compatibile anche al pop, ed il testo è semplicemente meraviglioso e liberatorio!
2) Make My Heart: accompagnata da un video accattivante e gay-friendly, Make My Heart è la uptempo più incisiva del disco, ha un vibe un po' Jazzy, non è la canzone da bimbominkias, ma una uptempo adulta e donna! Il pezzo è stato scelto come secondo estratto insieme a "Hands Tied". Fantastica nelle performance proposte, la Toni ha decisamente aumentato i suoi dance-skills grazie alla partecipazione a dancing with the stars!
3) Hands Tied: la canzone sta salendo lentamente nelle chart Urban e Urban AC, come detto si tratta del secondo estratto con la traccia numero 2, una midtempo veramente bella e coinvolgente, anche qua esploriamo la vocalità labirintica ed ipnotica di Toni. Un pianoforte leggero accompagna tutto il pezzo, che secondo me potrà fare bene, solo per un certo tipo di "crowd" che possa capirla. Buon pezzo.
4) Woman: è un pezzo assolutamente dolcissimo e romantico, musicalità veramente d'altri tempi, ed un piccolo dono alle donne, una sorta di inno femminista, fatto di dolcezza e sofferenza. "Sono una donna, una donna con il cuore, ho bisogno d'essere amata", canta una coinvolta Toni. Una ballad di quelle stupende, quasi anni 90. Pezzo certamente che aumenta il valore del disco, ma forse poco adatta come singolo.
5) If I Have To Wait: mischia musica country ed R&B, le sonorità country si sentono e danno valore alla splendida voce di Toni. La canzone è stata leakkata come molte del disco, parecchio tempo fa. Uno dei pezzi che preferisco di "Pulse", anche qua abbiamo una ballata coinvolgente, con un testo interessante. Grintosa e potente sul finale, veramente da lasciare senza fiato!
6) Lookin At Me: prodotta da Darkchild è un'altra uptempo del disco. Forse un po' troppo "comune" ma certamente frizzante e divertente. Anche questo pezzo in formato demo era stato leakkato quasi 1 anno fa. Mi piace l'energia del pezzo, ma detesto il fatto che Darkchild si sia sprecato solo a metà per Toni, con una produzione un po' così… trita e ritrita.
7) Wardrobe: prodotta da D'Mile, ma profuma assolutamente di produzione Stargate. La midtempo mi lascia un po' indifferente, forse crescerà con degli ascolti. Il sound è molto comune.
8) Hero: qua abbiamo degli inserti elettronici che secondo me si abbinano poco con Toni. Il pezzo è una midtempo carina ma niente più, la produzione a cura di Steve Havery Manson Jr. Toni canta dell'assenza di un "eroe" nel suo cuore, e nella sua vita. Mh.. niente de che
9) No Way: abbiamo l'eleganza in questo pezzo! Questa è la Toni che ci piace, che torna ad utilizzare il suo strumento con delicatezza. "No Way" profuma di R&B oldschool, molto soulful e tranquilla. Quei pezzi bellissimi da domenica piovosa come oggi, per conteplare fuori, e chiarirsi le idee sulla propria vita. Ottimo pezzo.., molto Toni!
10) Pulse: la title track del disco è una vera bomba, la ballata più bella di questo disco insieme a "Yesterday". La produzione è di Chuck Harmony. Possono dire ciò che vogliono, ma io ascolterò il cuore, e vivo per un battito… questo il concetto della song. Stupenda, negli stop, nelle riprese, nell'utilizzo vocale. Ottimo pezzo
11) Why You Wont Love Me: anche qua altra ballatona, Ms. Toni è splendida, in questo album ci regala il meglio, di quello che lei sa fare, non va a "rompere" gli schemi. Altra ballata, altro pezzo mozzafiato.
12) Yesterday con Trey Songz: il remix di Yesterday insieme a Trey Songz arricchisce e non poco la canzone, i due hanno una vocalità molto simile, sono stupendi da sentire insieme!
Certo, Toni con questo album ha voluto tornare a quello che non è stata in "Libra"! Ha voluto riproporre le ballads, come le sa cantare lei, ha voluto mostrare con orgolgio che la sua voce non è cambiata di una virgola. Tuttavia questo "non rischiare" per ora si è rivelato controproducente, l'album non naviga nelle previsioni "rosa".
Certamente, da fan di questa artista, ho veramente pane per i miei denti, tutto il progetto è contraddistinto da una maturità ed una serietà musicale non indifferenti, si vede che in ogni pezzo c'è dentro il cuore e la voglia di regalare il meglio ai propri fan. Certo è, che a parte Yesterday, i pezzi progettati per diventare Hit, mancano…
La promuovo per il suo atteggiamento, quasi fuori dal tempo, boccio però l'etichetta per la promozione ed il leak aggressivo che si è lasciata fare, che in parte hanno certamente sputtanato il ritorno di questa grandissima interprete!
Settimana prossima potremo vedere i risultati ottenuti dal disco nella prima settimana di release, speriamo che possa trovare un singolo che assicuri longevità al progetto, penso per esempio a "Pulse", o "If I Have To Wait"….
R&B Junk rating: 3.5/5
1. Yesterday
2. Make My Heart
3. Hands Tied
4. Woman
5. If I Have to Wait
6. Lookin' At Me
7. Wardrobe
8. Hero
9. No Way
10. Pulse
11. Why Won't You Love Me
12. Yesterday (Feat. Trey Songz) (Bonus Track)