Top 10 delle migliori canzoni del 2015 (Daniele)
Se nel 2014 il panorama internazionale della musica era stato dominato quasi esclusivamente da newbie e debuttanti (molti dei quali si sono poi rivelati One Hit Wonder e meteore), fatta eccezione per qualche nome celebre (in primis Taylor Swift, dominatrice incontrastata delle chart della seconda metà del 2014 grazie al successo della sua 1989 era), in questo 2015 abbiamo assistito ad uno scenario musicale molto diverso (seppur anche quest'anno siano mancati veri e propri nomi forti, capaci di dominare le classifiche, se non Taylor Swift e Adele).
Se da un lato nel 2015 non sono mancate nuove leve (pensiamo a The Weeknd o Rachael Platten) nè teen-star, o ex-tali (come Demi Lovato, Selena Gomez, Justin Bieber, One Direction, 5 Seconds Of Summer, The Vamps…), quest'anno abbiamo assistito anche al ritorno di vere e proprie leggende della musica (in primis Madonna), alcune delle quali assenti dalle scene da molti anni e il cui comeback era attesissimo (pensiamo a Janet Jackson, Missy Elliot o Enya). A questi nomi si devono aggiungere grandi sorprese (come Carly Rae Jepsen, che ha stupito tutti, la critica in primis, mostrando al mondo come lei non fosse la one hit wonder di "Call Me Maybe") e nomi comunque di spicco (Chris Brown, Drake, Zedd…).
Lo scenario musicale proposto in questo 2015, dunque, è stato sicuramente variegato e capace di proporre svariati brani di qualità. Ecco una lista di 10 brani che, secondo me sono alcuni dei migliori pezzi proposti in questo 2015:
10) The Night Is Still Young – Nicki Minaj
Nel 2014 la cantante e rapper Nicki Minaj ha pubblicato un album, "The PinkPrint". L'album, pur essendo comunque molto commerciale, segna una maturazione della musica della femcee. Nel disco, infatti, non vi sono i pezzi dance-pop che avevano caratterizzato il precedente "Pink Friday: Roman Reloaded", mentre sono molto più presenti sonorità rap ed urban. Non mancano, però, anche pezzi più commerciali e pop-oriented, in primis "The Night Is Still Young", il sesto singolo estratto.
La canzone è la più pop dell'album (sebbene siano comunque presenti influssi rap), e ricorda molto alcuni dei precedenti singoli della Minaj, in primis "Super Bass". Nonostante questo, però, la canzone ha avuto risultati commerciali piuttosto deludenti, ed infinitamente inferiori a quelli ottenuti da brani analoghi della cantante. Si tratta comunque di un pezzo di ottima fattura e molto più raffinato dei precedenti singoli dance-pop della cantante, che mescola in modo egregio il suo essere un brano prettamente pop ed il fatto che sia un singolo di una femcee, il tutto per un risultato molto particolare e degno di nota.
9) Ghosttown – Adam Lambert
Dopo un tour con la storica rockband dei Queen, quest'anno il cantante Adam Lambert ha pubblicato il suo terzo album "The Original High". Ad anticiparlo il singolo "Ghost Town", singolo che mi ha colpito subito per la sua raffinatezza e per la sua particolarità: se all'inizio la canzone sembra essere una bellissima e commovente ballata, dopo appena 40 secondi l'ascoltatore viene spiazzato da un ritornello che trasforma il pezzo in una up-tempo synthpop con forti influssi dance e un marcato uso di sintetizzatori.
Seppur il brano abbia ricevuto elogi da buona parte della critica e del pubblico, il responso commerciale ha lasciato molto a desiderare (pur facendosi notare in qualche ambiente).
8) WTF (Where They From) – Missy Elliot
Se alla decima posizione di questa classifica ho proposto "The Night Is Still Young", stavolta vorrei proporre un brano che rappresenta l'esatto opposto della canzone proposta precedentemente: uno dei comeback più attesi di questo 2015 era sicuramente quello di Missy Elliot: la regina del rap, assente dalle scene musicali da oltre 10 anni (da quando, nel 2005, aveva pubblicato il suo album "The Cookbook").
La rapper, dopo aver partecipato all'halftime show della collega Katy Perry, ha rilasciato un nuovo singolo alla fine di quest'anno: si tratta di WTF (Where They From), pezzo prodotto dal famoso cantante Pharrell. In un mondo dove tutte le principali hit rap hanno un ritornello pop e dove sempre più spesso l'hip hop, per vendere, deve avvicinarsi al mondo della musica pop, è stata sicuramente una scelta coraggiosissima per Missy Elliot affidare il compito di lead single dopo una tale assenza a questo pezzo: una virale e coinvolgente hit HipHop, ricolma di energia, ma sicuramente anni luce distante dal pop-rap che negli ultimi anni ha dominato la scena rap femminile (basti pensare alle nuove femcee, come Nicki Minaj e Iggy Azalea).
Sebbene le radio non abbiano supportato veramente questo pezzo, il pubblico ha dimostrato  di non aver dimenticato Missy Elliot ed il suo stile, portando la canzone ai margini della top 20 nella hot 100 (alla posizione n.22). D'altronde è imposibile non rimanere contagiati dall'energia del pezzo, che non ha nulla da invidiare alle maggiori hit di Missy.
7) Love Song To The Earth – Various Artists
Una lunghissima schiera di artisti (Paul McCartney, Jon Bon Jovi, Sheryl Crow, Fergie, Colbie Caillat, Natasha Bedingfield, Leona Lewis, Sean Paul, Johnny Rzeznik, krewella, Angélique Kidjo, Kelsea Ballerini, Nicole Scherzinger, Christina Grimmie, Victoria Justice e Q 'orianka Kilcher) ha partecipato ad un progetto benefico: si tratta di "Love Song To The Earth", una canzone rilasciata con lo scopo di sensibilizzare le masse al rispetto del pianeta su cui viviamo.
Se, dunque, già i nomi coinvolti e il fine ultimo della canzone rendono interessantissimo già sulla carta questo brano, il pezzo e la magistrale interpretazione dei vari interpreti fa il resto. Se, spesso, nelle mega collaborazioni non tutte le voci sono adatte ai brani e spesso una voce predomina sulla altre, in questo caso tutti gli strumenti sono perfetti per la canzone e tutti gli artisti coinvolti interpretano perfettamente la canzone, rendendo questa power ballad un brano armonioso e divino nell'interpretazione.
Nessuno tenta di strafare e nessuno è oscurato, tutte le voci cooperano e si uniscono in una power ballad veramente emozionante ed esplosiva e con un fine estremamente nobile. Cosa volere di più?
6) Immortal – Marina And The Diamonds
La cantante inglese Marina And The Diamonds ha pubblicato quest'anno il suo terzo album in studio, "Froot",  che segue il successo del precedente "Electra Heart", per il quale ha optato per una strategia promozionale molto particolare: ogni mese a partire da Novembre 2015 la cantante ha rivelato un "Froot Of The Month", ovvero un singolo promozionale dall'album, associato ad un frutto. Dopo la titletrack Froot (pubblicata nel novembre 2014, associata all'uva) e Happy (pubblicata nel dicembre 2014 ed associata al limone),il 2015 di Marina And The Diamonds si è aperto con Immortal, brano pubblicato il 1 Gennaio 2015 ed associato al mirtillo.
La canzone ha fin da subito ottenuto elogi dalla critica: la canzone è un misto di pop, indie-pop e dream-pop, il tutto con sonorità che creano un'atmosfera magica ed onirica che valorizza fortemente la particolare voce dell'interprete. Ma il dettaglio che più colpisce di questa canzone è sicuramente lo splendido testo che parla di questioni esistenziali, con cui tutti, nel corso della vita, avremmo a che fare.
Il brano parla del rapporto tra l'uomo e la morte, del desiderio di rimanere "immortali" nella memoria comune, che si contrappone alla consapevolezza che tutti prima o poi dovremo morire ma che, anche alla fine dei tempi, resteranno per sempre indelebili le tracce dell'amore e della memoria di tutti coloro che sono morti.
5) Fight Song – Rachel Platten
Dopo aver provato per oltre un decennio di affermarsi nella scena musicale, in questo 2015 è giunto il momento del successo per Rachel Platten: la cantante è riuscita, nel corso di quest'anno, a trovare la sua prima vera hit nel lead-single del suo terzo progetto discografico (intitolato Wildfire e che sarà pubblicato il 1 Gennaio), la magnifica Fight Song.
La canzone, con un testo che incita all'autostima e al self-empowerment, pop ma con influenze country, è riuscita ad avere il successo meritato, anche se solo nei paesi anglofoni, arrivando alla prima posizione nella classifica dei singoli del Regno Unito e alla sesta posizione della Billboard Hot 100. Successo assolutamente meritato, almeno secondo me, da questa canzone, capace di emozionare (grazie alle strofe estremamente toccanti e ad un testo degno di nota) ma anche catchy e orecchiabile al punto giusto.
4) Echoes In Rain – Enya
Dopo anni di assenza dal mondo della musica, la leggendaria regina del celtic-pop, Enya, quest'anno è tornata con un nuovo album, intitolato Dark Sky Island. Ad anticiparlo il lead-single Echoes In Rain, bellissima uptempo celtic-pop che non si discosta particolarmente dallo stile della cantante. Il testo della canzone parla di un viaggio sotto la pioggia: la cantante immagina di guardarsi attorno durante un alluvione e descrive la meraviglia della luce che ritorna subito dopo la pioggia.
La canzone è passata praticamente inosservata un pò ovunque, come prevedibile per un pezzo di musica celtic-pop, ma Enya non può certo lamentarsi: nonostante gli 8 anni di assenza, con un solo singolo passato innoservato in tutte le classifiche mondiali e con una promozione praticamente nulla, l'album sta avendo un sorprendente successo commerciale vendendo finora oltre 500k copie mondialmente in sole 4 settimane.
3) Yalla – Inna
In questo 2015 abbiamo potuto assistere anche a comeback passati in sordina, come quello della popstar rumena Inna, famosa per aver ottenuto, alle nostre latitudini ed in generale in tutt'europa, tra il 2009 ed il 2011 svariate hit come Hot e Sun Is Up. Se, dunque, i primi due album si sono rivelati veri successi per la cantante, il terzo ed il quarto album, intitolati rispetticamente "Party Never Ends" ed "INNA" sono stati veri e propri fiaschi.
Soprattutto l'ultimo album, complice anche la scelta di commercializzarlo 4 mesi prima in Giappone rispetto al resto del mondo e di quella di non pubblicarlo in formato fisico (se non in Giappone), ha deluso fortemente le aspettative commerciali, nonostante si trattasse di uno dei migliori lavori degli ultimi anni, con cui la cantante, pur non allontanandosi dal genere Euro-Dance che la contraddistingue, ha proposto musica molto più matura rispetto ai precedenti, con molto meno autotune e dance, e influssi da numerosi generi musicali, per creare un album sicuramente variegato e di qualità.
Il terzo singolo estratto da quest'album è proprio l'emblema di questa maturazione e della fusione tra il genere euro-dance tipico di Inna a generi diversi e culture diverse: si tratta di Yalla, up-tempo dance-pop con fortissimi influssi della musica orientale, il tutto per un sincretismo riuscitissimo non solo a livello musicale ma anche a livello linguistico. La canzone, infatti, è cantata per metà in arabo e per metà in inglese. Personalmente trovo questo esperimento estremamente riuscito: impossibile resistere al travolgente ritmo euro-dance unito al fascino delle sonorità orientali e alla particolarità della lingua araba.
2) Run Away With Me – Carly Rae Jepsen
Nonostante il lead single "I Really Like You" avesse deluso tutti coloro che si aspettavano musica matura da lei, essendo estremamente orecchiabile, pop e catchy ma anche piuttosto banale e ripetitivo, mostrando un lato della cantante che non si discostava da quello emerso con la sua più grande hit "Call Me Maybe", Carly Rae Jepsen ha stupito tutti: il suo terzo album, "Emotion", infatti, è estremamente maturo e ben lontano dalle atmosfere del precedente "Kiss" e del lead-single "I Really Like You". Dall'album, elogiato dalla critica, sono stati estratti finora 3 singoli: il già citato "I Really Like You", "Run Away With Me" e "Your Type".
In particolare "Run Away With Me", secondo singolo estratto, è un brano capace di conciliare sia tutti coloro che volevano da Carly Rae Jepsen un brano pop e catchy con tutti coloro che volevano musica matura: si tratta di una up-tempo con forti influenze del pop-rock anni '80, con un testo a mio avviso bellissimo che parla di una fuga ed un ritornello catchy ma comunque di qualità.
Anche in questo caso i risultati commerciali (a differenza del precedente singolo) hanno deluso in molti: la canzone si è rivelata un sonoro flop, non entrando neanche nella top 100 dei singoli più venduti in USA.
Ghosttown – Madonna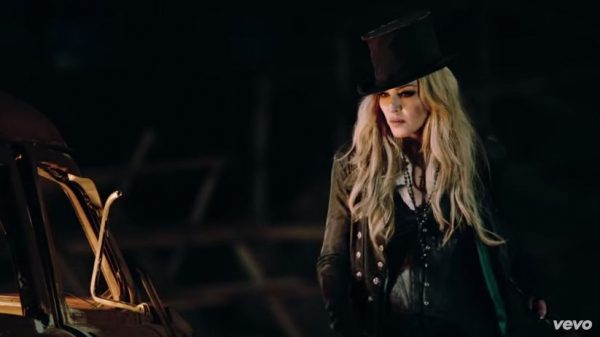 Dopo vari album (Hard Candy ma soprattutto MDNA) che avevano deluso il pubblico ed i fan, e che obiettivamente erano album poco validi e fatti troppo in fretta, quest'anno la regina del pop, Madonna, ha proposto quello che è uno dei migliori album della sua carriera: lo splendido Rebel Heart. Nonostante l'era discografica ed il relativo successo dell'album siano stati fortemente compromessi da un leak anticipato, l'album è riuscito ad accontentare tutti o quasi i fan. Tra i brani dell'album sicuramente spicca la splendida Ghosttown, magnifica power-ballad estratta come secondo singolo.
I risultati commerciali di questo pezzo (così come per tutti gli altri singoli da Rebel Heart) hanno deluso e non poco, ma il brano non ha fatto altro che ricevere consensi praticamente unanimi, complice anche un testo emozionante e delle strofe raffinatissime che esplodono in un magnifico ritornello capace di colpire all'istante l'ascoltatore.