Top20 migliori duetti tra donne degli ultimi 20 anni
20 duetti tra donne davvero azzeccati. Ecco la classifica dei migliori secondo EW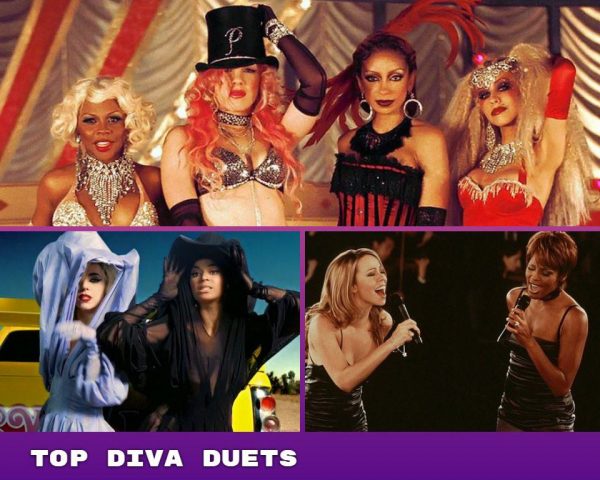 L'uscita del singolo Girls, con Rita Ora, Bebe Rexha, Cardi B e Charli XCX, sembra aver aperto un bel ponte nostalgico nei confronti dei duetti tutti al femminile. Negli ultimi 20 anni ne abbiamo ascoltati tanti, alcuni meravigliosi ed indimenticabili, altri che avrebbero forse fatto meglio a rimanere segreti.
Per celebrare il 20° anniversario di The Boy Is Mine, uno dei connubi meglio riusciti della musica R&B, Entertainment Weekly ha voluto stilare una propria classifica dei 20 duetti tra donne migliori degli ultimi due decenni.
D'accordo o pure no con le posizioni, la qualità è davvero tanta:
---
20. Charli XCX feat. Tove Lo & ALMA – Out Of My Head (2017)
Charli XCX è una delle giovani cantautrici che dal debutto ha racimolato il maggior numero di featuring, specialmente con colleghe dello stesso sesso. Secondo EW Out Of My Head, singolo tratto dal suo ultimo mixtape, Pop 2, merita un posto in top 20.
19. Janelle Monáe feat. Erykah Badu – Q.U.E.E.N. (2013)
Q.U.E.E.N., fa parte però del disco The Electric Lady
18. Christina Aguilera feat. Lil' Kim – Can't Hold Us Down (2002)
Questo singolo non necessita di troppe presentazioni Can't Hold Us Down, duetto del 2002 tra una giovanissima Christina Aguilera e la bombastica Lil' Kim. La traccia fa parte di Stripped, capolavoro assoluto di Xtina assieme a Back to Basics
17. Mariah Carey feat. Da Brat & Missy Elliott – Heartbreaker Remix (1999)
Tutti conoscono Heartbraker di Mariah Carey & Jay-Z, dall'album Rainbow. Non altrettanti sono però al corrente dell'esistenza di un remix del brano, con Da Brat e la regina del rap Missy Elliott. Un trio che sa il fatto suo…
16. Reba McEntire & Kelly Clarkson – Because Of You (2007)
L'attrice e cantante country Reba McEntire dopo una pausa lontano dalla musica ha pubblicato nel 2007 una raccolta di duetti intitolata Reba: Duets. Al suo interno una cover della hit di Kelly Clarkson (che canta con lei) Because Of You.
15. Britney Spears feat. Madonna – Me Against The Music (2003)
Duetto a dir poco iconico che ha dominato le classifiche mondiali nel 2002. Sono Madonna, la regina del pop, e Britney Spears, all'epoca sua degna rivale alla successione dell'impero pop. Me Against The Music fa parte del disco In The Zone.
14. Rihanna feat. SZA – Consideration (2016)
Rihanna non ha fatto moltissimi duetti al femminile, mentre ben più numerosi e conosciuti sono quelli avvenuti assieme ai colleghi uomini. Tra gli ultimi featuring registrati c'è quello con SZA in Consideration, per l'album ANTi. Inizialmente la canzone doveva entrare a far parte del disco CTRL di SZA ma infine le due hanno pensato fosse un pezzo perfetto per ANTi.
13. Dolly Parton, Linda Ronstadt, & Emmylou Harris – After The Gold Rush (1999)
Metti tre leggende del country / rock e una canzone / poesia di Neil Young, After The Gold Rush, e questo duetto è il risultato:
12. Keyshia Cole feat. Missy Elliott & Lil' Kim – Let It Go (2007)
Cambiano decisamente i toni, con tre leonesse quali Keysha Cole, Missy Elliott e Lil' Kim. Il loro duetto Let It Go ha fatto benissimo negli States, arrivando alla 1 nella Hot R&B/Hip-Hop Songs e alla 7 nella classifica generale singoli.
11. Nicki Minaj feat. Beyoncé – Feelin' Myself (2014)
Mesi dopo aver lanciato Flawless Remix, Beyoncé e Nicki si sono riunite per questo pezzo, non troppo conosciuto ma dall'indubbio potenziale.
10. Cardi B feat. SZA – I Do (2018)
In questa top 20 c'è uno spazietto anche per le ultime uscite. Riecco SZA, questa volta con Cardi B per una traccia, I Do, tratta dal debut album della femcee. Se non l'avete ancora ascoltato, rimediate subito:
9. Alicia Keys feat. Beyoncé – Put It In A Love Song (2009)
Put It In A Love Song rimarrà celebre più che per il duetto tra voci grandiose per la storia senza lieto fine di quello che doveva essere il video ufficiale, girato, annunciato, e mai rilasciato. Tutt'oggi la clip è un mistero, e tale rimarrà probabilmente per l'eternità, con buona pace dei fans che ancora lo aspettano.
8. Ariana Grande feat. Nicki Minaj – Side To Side (2016)
Abbiamo apprezzato anche noi Side To Side, ma a dire il vero non ci aspettavamo per la canzone una posizione così alta in classifica.
7. Mariah Carey & Whitney Houston – When You Believe (1998)
Una lacrimuccia qui scende inevitabilmente. Colonna sonora del film d'animazione Il Principe d'Egitto, When You Believe ha unito due delle più grandi donne della storia della musica, Mariah e Whitney. La loro performance vocale si commenta da sé, per una ballad che si è aggiudicata anche il premio Oscar per la miglior soundtrack, segnando in un certo senso la fine del secolo d'oro del bel canto e delle Dive, quelle vere!
6. Ciara feat. Missy Elliott – One, Two Step (2004)
Ancora Missy Elliott, in questo caso per fare da supporto alla collega e amica Ciara nel celebre singolo One, Two Step del 2004, quando Ciara era sulla cresta dell'onda. Un brano esplosivo che ci fa mancare davvero tanto quei tempi…
5. Eve feat. Gwen Stefani – Let Me Blow Ya Mind (2001)
Un connubio proposto più volte quello tra Gwen Stefani e Eve, ma senza dubbio riuscito nel migliore dei modi in questa Let Me Blow Ya Mind. Un successo stratosferico sia da parte del pubblico che dalla critica. Addirittura è stata la prima canzone a vincere il premio nella nuova categoria Best Rap/Sung Collaboration nel 2002, e ad oggi è l'unico duetto femminile ad essere riuscito nell'impresa in 16 anni.
4. Ariana Grande feat. Iggy Azalea – Problem (2014)
Seconda presenza in top 10 per la giovane Ariana, che oltre a Nicki Mnaj ha duetto anche con la rapper australiana Iggy Azalea. Problem è stato uno dei maggiori successi del 2014, primo estratto dell'album My Everything.
3. Lady Gaga feat. Beyoncé, Telephone (2009)
Il podio si apre con il duetto più acclamato e chiacchierato degli ultimi 10 anni, quello tra l'allora personaggio dominante della scena pop, Lady Gaga, e l'instancabile Beyoncé. Grande la canzone ed epico il video, podio inevitabile.
2. Brandy & Monica – The Boy Is Mine (1998)
L'abbiamo citata nell'introduzione all'inizio, ed eccola qui The Boy Is Mine con la sua medaglia d'argento. Sono passati già incredibilmente 20 anni da questa canzone che ha segnato la svolta della carriera di Brandy e più in generale della storia della musica del periodo. Video più trasmesso del 1998 (quando MTV ancora contava), 1 Grammy, decine di nominations e altrettanti premi. Esiste anche un seguito, It All Belongs to Me, però rimasto semi-sconosciuto.
1. Christina Aguilera, Mya, Lil' Kim, & P!nk – Lady Marmalade (2002)
Poteva non essere Lady Marmalade alla numero 1? Lasciamo parlare la musica…
---
Cosa ve ne pare delle scelte di EW? Siete d'accordo o secondo voi hanno escluso pezzi ben più meritevoli?