Top5 peggiori duetti tra donne degli ultimi 20 anni
Dopo i duetti migliori, spazio ai 5 peggiori...grandi nomi tra i flop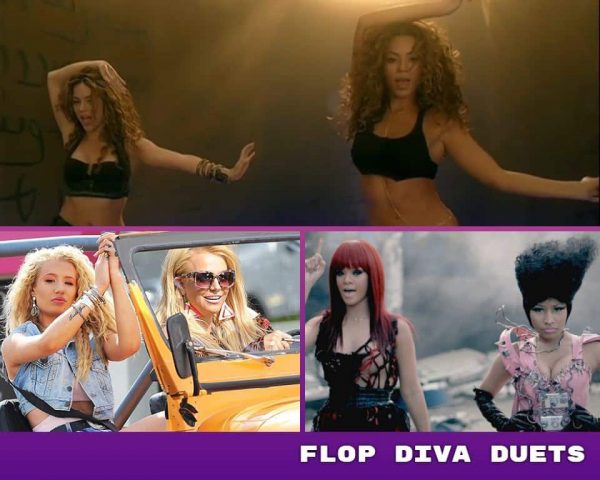 Ieri abbiamo voluto riproporvi la lista stilata da EW su quelli che a loro detta sono stati i 20 migliori duetti tra donne degli ultimi 20 anni. Dopo la parte bella, però, arriva quella "brutta".
In questi ultimi anni, in effetti, molte volte abbiamo avuto aspettative altissime per canzoni che poi, una volta ascoltate, ci hanno a dir poco deluso. Per questo la testata americana ha scelto 5 duetti a loro dire mal riusciti, che meritano di essere considerati i peggiori degli ultimi due decenni. 
Facciamo subito una premessa. Tra questi brani noi non avremmo sicuramente inserito Beautiful Liar, magari non eccelso ma nemmeno tanto malvagio da meritare di finire in una top5 del genere. Ribadendo, però, che si tratta di una chart stilata da EW, è corretto riportare le loro scelte, che sono le seguenti:
5. Nicki Minaj feat. Rihanna – Fly (2011)
Unire Nicki Minaj e Rihanna, due regine delle classifiche, sulla carta potrebbe sembrare una cosa facile…musicalmente, invece, non si può dire altrettanto. Fly, il duetto estratto da Pink Friday nel 2011, non è certamente all'altezza delle aspettative. Ad oggi, infatti, quanti sinceramente (togliendo i fanbase delle due artiste) si ricordavano della sua esistenza? E pensare che Nicki Minaj l'aveva presentato all'epoca come: "Una delle sue canzoni più belle in assoluto". Per sua fortuna non è così, altrimenti sarebbe da preoccuparsi.
4. Stargate feat. P!nk & Sia – Waterfall (2017)
Altra enorme delusione, forse una delle più grandi delusioni dello scorso anno. Quando abbiamo letto che gli Stargate avevano unito due voci e talenti unici come Sia e P!nk per un singolo eravamo a dir poco entusiasti. I buoni propositi, però, non sono stati per nulla ripagati, è quello che poteva essere davvero un duetto epico, concretamente non è stato che una canzoncina senza arte né parte, resa appena sufficiente solo per la presenza di due timbri che renderebbero ascoltabile anche l'elenco telefonico. Gli Stargate devono farsi perdonare; Waterfall è già nel dimenticatoio.
3. Pari merito: Shakira & Beyoncé – Beautiful Liar // Shakira & Rihanna – Can't Remember To Forget You
A quanto pare ai giornalisti di EW i duetti di Shakira con le colleghe Beyoncé e Rihanna non sono proprio andati giù. Passi la bocciatura di Can't Remember To Forget You, una canzone di sicuro non all'altezza di queste due grandi artiste, ci sorprende molto di più invece la presenza di Beautiful Liar che, anzi, eravamo convinti di ritrovare nella top20 dei migliori. Secondo EW, Shakira ha una voce così particolare che ogni qual volta che viene accostata ad un'altra dello stesso sesso il risultato è "disastroso e dimenticabile". De gustibus
2. Rita Ora feat. Charli XCX, Bebe Rexha, & Cardi B – Girls (2018)
In nemmeno due settimane Girls si è già guadagnata la medaglia d'argento come secondo peggior duetto al femminile degli ultimi anni. Un traguardo notevole per Rita Ora, che sicuramente aveva ben altre aspettative per questa sua super collaborazione al femminile. Rita ci piace molto e secondo noi è un talento che ancora non è esploso come meriterebbe, ma indubbiamente questa canzone è troppo anonima e piatta per farsi notare, e ci sta il secondo posto in questa classifica.
1. Britney Spears feat. Iggy Azalea – Pretty Girls (2015)
Eh eh…se Lady Marmalade era scontata alla #1 dei top, Pretty Girls era scontata alla #1 dei flop. Sebbene a qualcuno sia piaciuto, con tutto il rispetto questo singolo è stato davvero una sciagura per le carriere di entrambe. Il ritornello fastidioso e bambinesco, unito ad un video tanto ironico quanto trash, sono i motivi per cui anche secondo noi merita questa posizione.